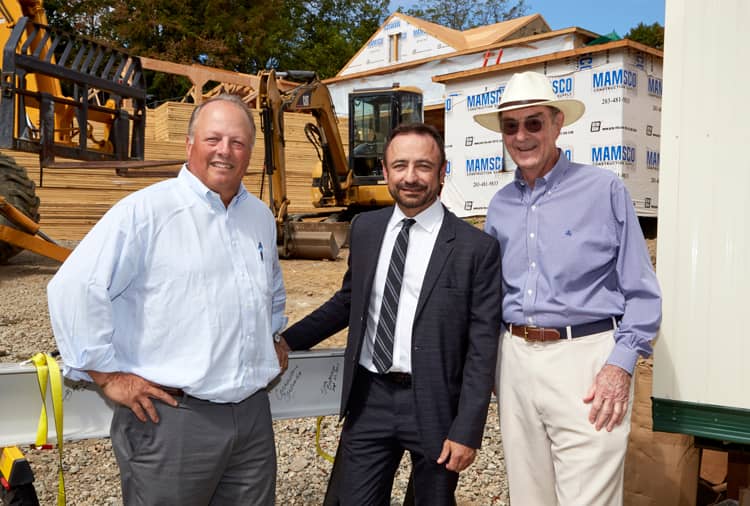 The Greenwich Historical Society celebrated a special milestone in the Capital Campaign to reimage its campus. Town dignitaries, Capital Campaign donors and special guests and supporters gathered in the parking lot of the campus to sign a beam before it was hoisted in place to support an elevator to be placed in the new welcoming lobby.
The Capital Campaign leadership announced that the Historical Society was within $621,000 of reaching the $13.5 million goal set up two years ago for constructing the campus and one year ahead of schedule for the completion of the project. Executive Director Debra Mecky cited several significant sources of funding for meeting the goal, including:
$250,000 construction grant from the State of Connecticut Department of Economic and Community Development for the parking lot expansion, made possible through the efforts of CT State Senator Scott Frantz and CT State Representative Livvy Floren.
$50,000 grants from the Community Development Block Grant Committee and First Selectman Peter Tesei for an elevator.
$50,000 State Historic Restoration Fund grant from the State Historic Preservation Office for the restoration and repairs to the Justus Luke Bush Storehouse.
Due to the generous gifts, Campaign Chairman Peter Malkin reported that the Historical Society Board had authorized an additional $5 million to be raised toward the Historical Society's endowment, for which two $250,000 gifts have been received to date to support education programs in Title One schools.
Greenwich Historical Society Chairman Davidde Strackbein underscored how the new campus will enhance the programs and services to the community and further the Historical Society's mission: "A year from now, we'll have double the parking space, a striking welcoming lobby with an elevator to the second floor, a new museum and gift shop and a self-service café. Most important, it will further our mission to preserve Greenwich history through the provision of a new Archives and Library and new Museum galleries."
Special guests in attendance included: State Senator Scott Frantz, CT State Representative Livvy Floren, First Selectman Peter Tesei, Selectman John Toner and Capital Campaign Committee members Bruce Dixon, Robert Getz, Barbara MacDonald and Haley Elmlinger. Also present were lead architect David Scott Parker, Andy Ashforth, CEO & President of A.P. Construction Company and Owner's Representative Andy Fox.