September 23, 2017
Henkel, Ocken Lead Brunswick to Opening Win at Hotchkiss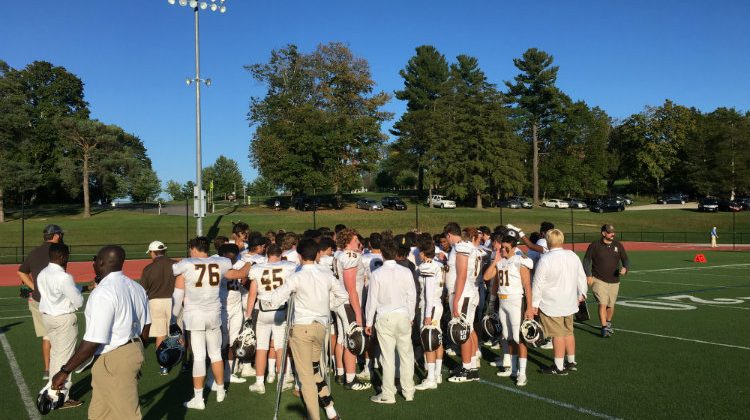 By Rob Adams
They were on the outside looking in.
The Brunswick School football team finally played their first game of 2017, and they rolled to a 28-7 win over Hotchkiss School in Lakeville on Saturday.
Quarterback Nicky Henkel threw for 291 yards two touchdowns on 18 of 21 passing. He also ran seven times for 22 yards and a touchdown.
Brunswick amassed 399 yards in total, while the defense held the Bearcats to 118 yards.
Still, not everything was positive. Henkel fumbled twice, while the team amassed 17 penalties for 140 yards.
"It was something that we dealt with last year, to be honest with you," Bruins head coach Jarrett Shine said. "So we have to work on that this week and minimize those mistakes.
"I mean it's our first game, so we're going to make mistakes and be rough around the edges."
The Bruins were led on the ground by senior Jack Ocken, who ran for 54 yards in his first varsity football game.
"It was awesome," he said. "I haven't played football since about seventh grade. It's a great team. I'm having a lot of fun."
The crowd had barely arrived at Sprole Field when the Bruins scored their first points. Following the opening kickoff and an exchange of offsetting penalties, Brunswick intercepted Hotchkiss quarterback Tommy Lewis.
Henkel struck on the first offensive play from scrimmage, finding junior Cornelius Johnson for a 25-yard score. Sophomore kicker Chris Chavez hit the first of his four extra point tries to give the Bruins a 7-0 advantage just 38 seconds into the game.
Later in the quarter, Henkel hit senior tri-captain Sean Amill for a 14-yard score to help extend the lead to 14-0 after one quarter.
"That's a little chemistry between Nicky and I," Amill said. "We ran a double move, post corner, and he put the ball where I could make a play."
Henkel added his touchdown run with 7:34 remaining the second quarter, but the rising number of penalties and mistakes left some in the crowd feeling like the Brunswick should have been much more than 21-0.
A Michael Gottlieb touchdown run from eight yards out with 7:47 remaining in the third quarter extended the lead to 28-0 before bruising running back Nate Faison plunged in from a yard out to get the Bearcats on the board.
"We threw the ball well," Shine said. "We ran the ball well, and defensively we brought the pressure to the quarterback. We made some plays in the secondary."
The Bruins' next opponent is one that they've had circled on the calendar since last November. Cheshire Academy beat Brunswick 45-20 in last year's Wayne Sanborn Bowl at Cheshire.
This time, the two teams will meet at Robert L. Cosby Field Friday night at 7:00 p.m.
"We have a short week ahead of us," Shine said. We're gonna start with a nice practice on Monday and we're going to get for Friday night lights against Cheshire."
"I'm so excited for it," Amill added. "Coming off the field, when we were in the huddle with the guys, we said we were going to enjoy this win but now we can finally say the name 'Cheshire.'"
Tags:
Bruins
,
Brunswick
,
Connecticut
,
cthsfl
,
Erickson League
,
Football
,
Lakeville
,
radio
,
Rob Adams
,
Sports