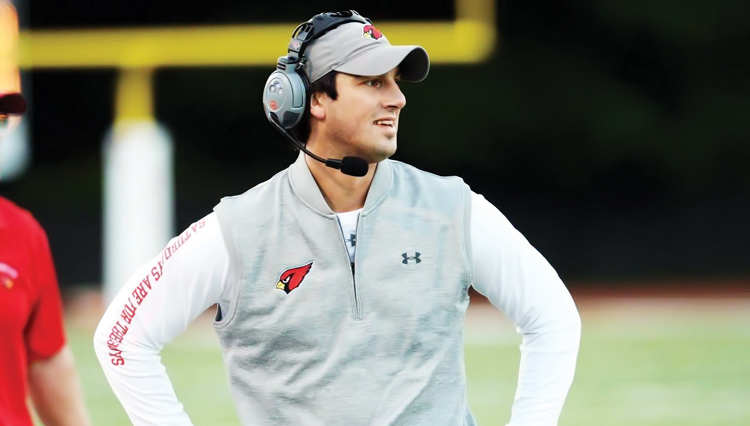 By Rob Adams
Second verse, same as the first.
After putting up 70 points in their season-opening win against Trumbull, Big Red improved to 2-0 with a 49-7 pasting of Trinity Catholic in Stamford on Saturday.
Junior running back Tysen Comizio helped the Cardinals find their running game, with 130 yards on 11 carries and three touchdowns.
A healthy and productive running game gives the Cardinals more options, and thus takes a certain amount of pressure off of junior quarterback Gavin Muir. The signal-caller was one of Max Preps' USA Football players of the week coming off his five touchdown performance against Trumbull.
This week, Muir threw three touchdowns on 14 of 20 passing for 162 yards.
Playing under hot conditions at Gaglio Field, Big Red struggled at first to find its offensive rhythm. Trinity Catholic initially looked sharp, with senior quarterback Sam Adolf directing a good opening drive before they stumbled as well.
"It was a great win for us, but the common theme is that we haven't been coming out of the gate as hot as we need to," Cardinals senior captain Henry Saleeby said. "Coming out really sets the tone for the game for the rest of the game and if we can keep that momentum from beginning to end, I'm really confident in our ability.
"I think we're a good football team, in terms of all 11 players on defense making an effort getting to the ball," fellow captain Robert Lanni added. "One of the adjustments we made was slowing the game down in our heads, and focus on our assignments."
The Cardinals responded with an 11 play, 70 yard drive in three minutes before sophomore Spencer Hartley capped it off with a one-yard run.
After a short Trinity Catholic punt, Muir and senior receiver Jael Negron teamed up for a 15 yard strike to give Greenwich a 14-0 lead 2:27 remaining in the first.
The teams would exchange interceptions before the end of the first frame.
Not long after that, it became all Greenwich. Or, more to the point, a lot of Comizio.
Breaking a run off the right side, Comizio stayed on his feet and avoided a last try by John Petrizzi to score from 90 yards out and open up a 21-0 lead with 10:26 to go in the half.
"I thought we struggled running the ball last week," Greenwich head coach John Marinelli said. "I thought they did a great job of coming back this week and controlling the line of scrimmage."
The Cardinals would then put their on-sides kick team to use, and for the second week in a row, the play worked to perfect, as junior Gramoz Bici came up with the loose ball.
"We have a slew of on-sides kickers that we can help us get the ball back," Marinelli said. "We preach special teams and we work on it every day in practice. (Assistant coach) John Woodring does a fantastic job on special teams and we've just got to keep it up."
Bici, along with junior linebacker Jack Feda, led a spirited defensive unit that held the Crusaders to just 124 yards of total offense. The Cardinals, by comparison, amassed 314 yards.
Big Red took advantage of the on-sides kick, going 60 yards in 2:56, capped off by a four-yard Comizio run.
Comizio would end his performance with his third score of the quarter, running in from two yards out.
But they weren't done. Trinity Catholic finally got on the scoreboard, as Adolf found Anthony Anderson for a 59 yard catch and run to cut the deficit to 42-7. The Cardinals took the ensuing kickoff and marched 60 yards in 40 seconds. Negron and Muir locked up again, this time from 24 yards out.
Elias Gianopolous added to the scoring with with a 10 yard TD catch from Muir.
Running clock would speed up the game as the Cardinals improved to 2-0. The Crusaders dropped to 1-1.
Greenwich is off until they play their home opener against Norwalk on Monday, Oct. 2 at 6:00 p.m.