September 13, 2017
ONSF 5K Run/Walk to Raise Funds for Opioid Research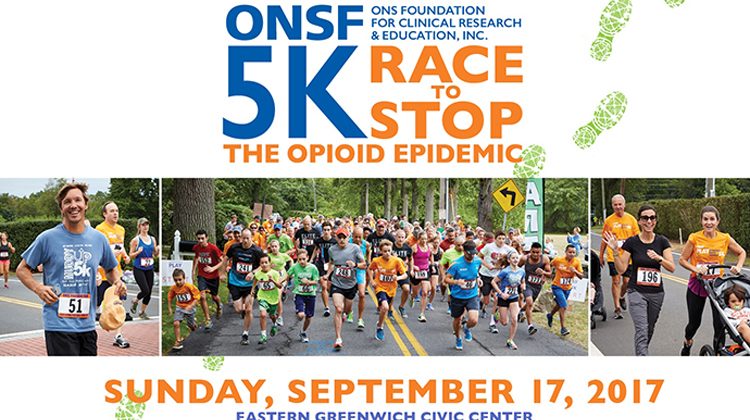 ONSF will hold its 5th Annual ONSF 5K Run/Walk & Expo – Race to Stop the Opioid Epidemic on Sunday, Sept. 17.
Registration begins at 7 a.m. and the start of the Run/Walk is at 9 a.m., Children's Run/Walk is at 10. The meeting location is the Eastern Greenwich Civic Center, 90 Harding Rd. Racing along the streets of Old Greenwich this flat 5K course proves to be challenging for the experienced runner as well as enjoyed by beginners.
Proceeds from the event will directly benefit their current research project "Unraveling the Opioid Epidemic in Post-Surgical Patients." Utilizing its nationally recognized skills, ONSF (ONS Foundation for Clinical Research & Education) will work diligently to unravel some of the country's opioid epidemic with specific emphasis on reducing and eventually eliminating the use of narcotics postoperatively. The Institutional Review Board at Greenwich Hospital has vetted and approved this study.
Unique this year is a 'drop-off box', donated and supervised by the Greenwich Police Department. Participants are encouraged to bring their unused/expired prescription and over-the-counter medications to deposit in the drop-off box on race day.
For further information, call 203-869-3131 or visit ONSF.org
Tags:
5K Run/Walk
,
fundraiser
,
greenwich
,
old greenwich
,
ONSF
,
opioid research