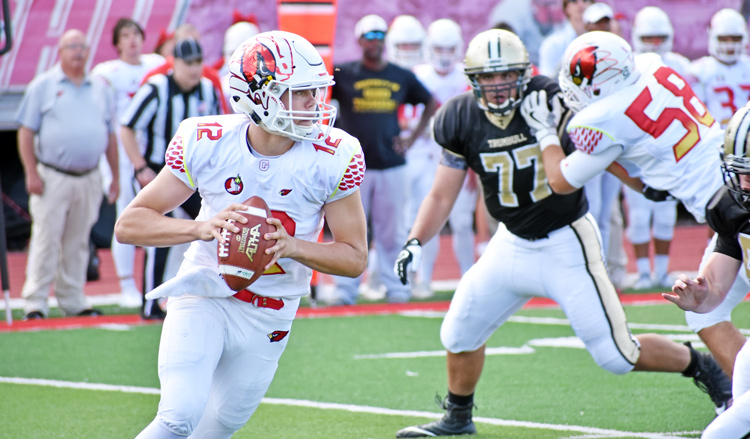 By Paul Silverfarb
Sentinel Editor
Although the Trumbull High School football team was the home team during its season-opening game being played at Sacred Heart University, it was Greenwich High School that made themselves feel right at home.
Scoring early and often, the Cardinals opened a big second quarter lead and never looked back, throwing 70 points up on the scoreboard and beating the Eagles 70-16 Saturday afternoon.
"We did some things really well," said GHS head coach John Marinelli. "We're young, so for our guys to turn that switch and football IQ when we're off the field, come back on the field and put it all together says a lot. I don't think the score is indicative of how good we are or how bad they played. They are a very good football team. They are well-coached and they're going to be there at the end of the year. We just have to continue to get better and better."
Having himself a game was GHS quarterback Gavin Muir. Not only did he finish going 22-for-28, but he threw for six touchdowns and just under 300 yards. Four of those touchdowns were from at least 20 yards out.
"This is so much fun," Muir said. "Football is just such a fun sport to play. Coming out here with my friends and teammates is awesome to execute like this. We didn't get nervous after our first possession. The whole sideline was upbeat and excited because we knew what we could do. This win is good for us because now we can build upon it for next week. We didn't want to get in a hole 0-1 because for us every game is a playoff game."
If this was like a playoff game for Muir and the rest of the Cardinals, then Big Red passed with flying colors.
After a 1-yard touchdown run by Jack Warren to open the scoring for Greenwich, the offense was on full display. Trailing 10-7, the Cardinals kept the points coming at a fast and furious.
Big Red reclaimed the lead when Jael Negron took the pass from Muir and went seven yards for the touchdown at 14-10 lead. Then the offense exploded. Tysen Comizio took home two touchdowns off deep passes from Muir, one from 48 yards and the other from 53 yards. Elias Gianopoulos grabbed a 23-yard touchdown reception, while Lance Large scored on the 32-yard touchdown reception.
Not to be outdone was Henry Saleeby. Muir snapped the ball and hit the lateral to Negron. Negron then fired the ball to Saleeby, who made the acrobatic catch in the corner of the end zone for the 25-yard touchdown.
Comizio then took home a 2-yard touchdown run and Teddy Bacon scored on a 1-yard run. On defense, Evan Weigold was lights out and netted some points as well, picking off a pass from THS quarterback Colton Nicholas and running it back 39 yards for the pick-six.
"It was so much fun to play with my teammates and score a bunch of points," Negron said. "We knew they were coming after us and we knew it was going to be a hard game, but we just had to get through the first quarter. We have so many talented guys. We just put the ball in the air and we made the plays."
To read much more on the game, including more quotes from Marinelli and the Cardinals, check out Friday's Greenwich Sentinel.