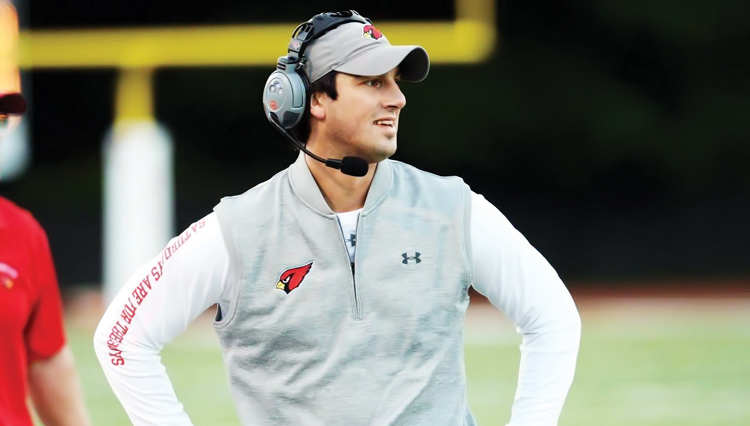 By Rob Adams
The word for the bird in 2017 is "young."
The Greenwich Cardinals football team might not be senior laden, but it is talented.
Big Red is coming off a 7-4 season in 2016, but that fourth loss was in the Class LL quarterfinals to Darien.
While that was an achievement, head coach John Marinelli said that won't be enough this year.
"We're not saying goodbye on Thanksgiving morning," he said during a wide-ranging interview at GHS. "Our goal every single year is to win a state championship. We take it very seriously."
"Our expectation is to be playing on December 9," he said, noting the date of the CIAC title games.
Marinelli blames himself for allowing the 2016 team to think the goal was only to make the state playoffs.
"It's huge to get to the playoffs, but it's my fault as a coach because we go to the playoffs and accomplished our goal," he added. "So after that game (a 29-3 loss), we made a decision as a staff to say that's not good enough.
"We're going to teach all of the great things that football has to offer young kids with the life lessons and all of that, but when you win or lose, that's one of the best lessons that you can deliver to your athletes."
Marinelli added that, "in participation trophy world, kids aren't learning how to win correctly and lose correctly."
The Cardinals don't intend to lose a lot in 2017, although a lot of that will be determined on Saturday, when they play Trumbull High School at Sacred Heart University in Fairfield. The game was moved as a result of several scheduling issues for the Eagles, including their annual Trumbull Fall Festival, which will take place on Saturday at Trumbull High School.
"I think, for the kids, it means something," Marinelli said of playing at the Division I facility. "For coaches, it's a football field. You play ball."
The Cardinals dynamic offense will be led by junior quarterback Gavin Muir. The signal-caller received playing time last year, as he backed up started Connor Langan. But Big Red will receive plenty of support on offense, with Tysen Comizio coming out of the backfield.
The receiving core will have depth, with Henry Saleeby, Jael Negron, and Lance Large being among the options that Muir can lean on.
"Our starting offense really has not had the opportunities to be on the field together more than maybe five plays this preseason, and our starting defense is the same way," he said. "In practices, they've been great."
Despite the decline in participation in football across the country, the GHS program is as healthy as ever, and Marinelli is quick to acknowledge the history that exists in a town that has two strong programs.
"There are kids that are going to choose to go to Brunswick, and there are kids that are going to choose to go the Greenwich," he said. "Both Jarrett (Shine, the Brunswick School football coach) are I have the greatest amount of respect for each other and I want them to win a championship every year. It only proves the strength of Greenwich."
Marinelli never forgets that, besides the classic Cardinal running game, and the eventual move into the spread offense, Big Red has always been known for defense, dating back to the days of head coach Mike Ornato.
"That's a special thing for our defense: to bring back the 'Steel Curtain' of the defensive battles here," he said, referencing the nickname of the legendary Pittsburgh Steelers defense of the 1970's. "Everyone thinks of me as an offensive guy, but I played defense in college. I take a lot of pride in defense."
Besides Trumbull, the Cardinals have their hands full with Trinity Catholic on September 16. The schedule is quirky, with a rare Monday night game on October 2 – the Cardinals' first game at home – against Norwalk.
Then comes October 14th, and the third edition of the "Marinelli Bowl," in which the Cardinals host the New Canaan Rams, coached by John's father, Lou.
The Cardinals will host Westhill for homecoming on Oct. 21, and travel to Ludlowe on Oct. 27.
November will be an interesting month, beginning with a home date against Ridgefield on Nov. 4, and senior night against Danbury on Nov. 10.
The final two games could determine their playoff fate, as the Cardinals visit Southern Connecticut Conference foe Xavier at West Haven High School on Nov. 16 before the regular season ends on Thanksgiving morning in Westport against Staples.
So where do the Cardinals fit in the Fairfield County Interscholastic Athletic Conference?
"I'll tell you what," he said. "If we can play New Canaan competitively, I'll tell you then.
"Until we prove that we can play four quarters against the best teams, we're not going to be a top team.
"We have to create that culture."
Note: The Greenwich/Trumbull game can be heard on WGCH Radio (1490 AM), with Rob Adams, Josh Somma, and Sentinel Editor Paul Silverfarb calling the action.