August 12, 2017
Standard, Navy Veteran and Greenwich Resident, Passes Away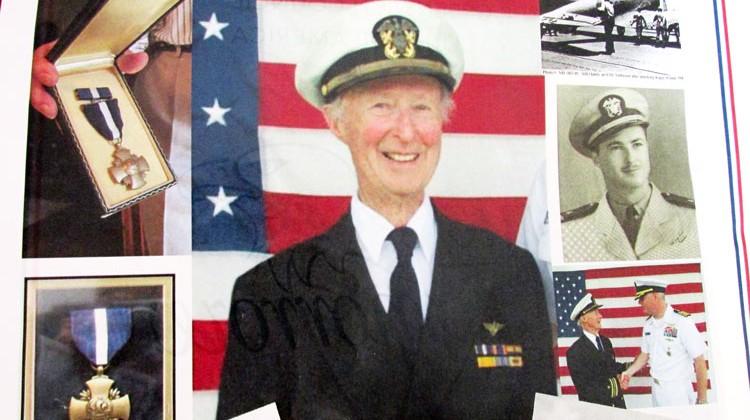 By Paul Silverfarb
Sentinel Editor
Chuck Standard, a World War II Pacific naval aviation pilot and long-time Greenwich resident passed away Thursday.
Standard, who was proud to call Greenwich his home and was the former president of the Retired Men's Association of Greenwich, was 98-years-old.
"Chuck was a dear friend who just happened to be an authentic American hero," said Greenwich State Representative Fred Camillo (R-151). "Always with a smile on his face, he was arguably the most beloved Greenwich resident for many years. I will miss him, his hugs, and his presence at town events. America has lost a hero, and Greenwich has lost a legend."
Town of Greenwich First Selectman Peter Tesei said that the town has lost an American hero.
"Chuck Standard served our country with courage, valor and brave determination," Tesei said. "He was "the greatest generation" residing here in Greenwich and we were blessed to have him and his late wife Nancy as members of the Greenwich community. Chuck  will remain forever in our hearts. God bless you Chuck."
Standard graduated from Purdue University. While in WWII, Standard flew his Helldiver SB2C off the carrier USS Yorktown across the Philippine Sea, searching for Japanese ships to sink.
"Chuck Standard represented the greatest of American values in his patriotism, sacrifice, sense of community and outstanding character," said Connecticut State Senator L. Scott Frantz. "He will be sorely missed as one of the standouts of the Greatest Generation, and his legacy will live on forever further inspiring future generations."
Back on Sept. 18, 2015, Sentinel reporter Anne Semmes wrote a feature on Standard, which could be found here.
To read an expanded article on the life of Standard, check out the Greenwich Sentinel when it returns to print on Aug. 25.
Tags:
Chuck Standard
,
greenwich
,
world war II