July 29, 2017
Greenwich's Hintzen Living the Dream With Orleans Firebirds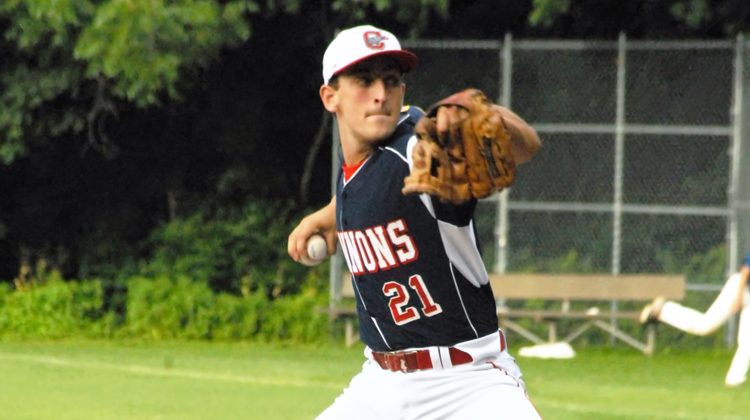 By Paul Silverfarb
Sentinel Editor
Ever since he could remember, Greenwich resident and Florida Southern College pitcher JT Hintzen has enjoyed seeing high-quality baseball in the summer.
During the summer months, Hintzen and his family would spend some quality time at Cape Cod. While he enjoyed his time on the sand and swimming in the cool ocean, Hintzen was eager to find the baseball diamond and watch some Orleans Cardinals games.
Some things have changed since then. For openers, the Orleans Cardinals are now the Orleans Firebirds. And Hintzen isn't sitting with the fans watching his favorite summer league team compete. The standout pitcher is now a member of the team and enjoying every second of his experience in the famous Cape Cod League.
"For me this is a dream come true," Hintzen said. "I grew up watching the Firebirds play—granted they were the Cardinals back then. Now that I am actually playing for them, it's an amazing experience. It's like I've come full circle."
When Hintzen was a child, his grandparents had a house not far from Orleans, Mass., on Route 6 in Wellfleet. Throughout the summers on the Cape, Hintzen and his family would attend Cape Cod League games in Orleans all the time.
After a successful campaign at Florida Southern this past spring, Hintzen's hard work has paid off.
"My coach, Lance Niekro, played for this team back in 1999 and thought I would be a good fit here this year," Hintzen said. "My assistant coaches also played in Falmouth, another team in this league. A nice thing is that myself and Logan Browning are the first people that Florida Southern coaching staff has sent to the Cape Cod League in like eight years of coaching. They believed in me and Logan, and that's an amazing feeling."
And the Cape Cod League has produced some athletes that are currently making waves throughout baseball.
Current young stars like the New York Yankees' Aaron Judge, Chicago Cubs' Kris Bryant, Cleveland Indians' Jason Kipnis, New York Mets' Matt Harvey, Washington Nationals' Matt Wieters, and many others made a name for themselves in the Cape Cod League.
"It's a lot of fun and you meet a lot of new people," Hintzen said. "You have guys from teams all over Florida, California and all over the country. You get to learn their story and how they got here. A lot of us are probably going to go on and play professionally, so it's pretty cool to see that."
Right now, the season has been nothing short of memorable. The Orleans Firebirds are 27-13 at press time and are leading the Cape Cod League Eastern Division by three points. The Yarmouth-Dennis Red Sox are second, with a record of 25-13-1, while the Chatham Anglers are a distant third place.
"We are in first place and that's a great spot to be in," Hintzen said. "I get a lot of run support from these guys in the lineup and that helps. If you make a mistake on the mound, the hitters here will pounce on you. It's more rewarding when you make a big play or execute a big pitch."
For Hintzen, playing a 44-game season has been grueling, but he's loving every second. As of Tuesday, he has played in 14 games this season and has a 2-0 record with a 2.25 ERA. In 20 innings pitched, Hintzen has struck out 22 and only walked three while giving up 13 hits.
On Tuesday against Harwich, Hintzen hurled two perfect innings in relief, striking out three batters and walking none.
His two wins so far in the Cape Cod League were against Harwich back in July 10 and on June 27 against Yarmouth-Dennis.
The plan for Hintzen while playing for the Firebirds is all about exposure. With Major League Baseball scouts at every game, Hintzen wants to get his name out there and show that he has the talent to succeed at the next level.
"Hopefully, you get your name out there and you go back to your respective school next season, where a couple of scouts already have your name on their list and they are there to watch you play and draft you the next year," Hintzen said.
So far this Cape Cod Summer League season, Hintzen has learned how to better mix his pitches.
"I don't have the best fastball on the team or anything like that, but I am able to improve on my mental toughness and just execute pitches when needed," Hintzen said. "I keep hitters on their toes. And you have to do that because the hitters in this league are so good that if you make a mistake, they'll take the ball over the fence every time."
With the stellar pitching that Hintzen is a part of, combined with the offensive firepower and the lock-down defense, it's no wonder why the former Greenwich Cannon and GHS standout is having a blast.
"In the bullpen we spend a lot of time talking, and we watch our guys play and we say that if this was a college team, we would probably go to the College World Series each year," Hintzen said. "It's like having a top Div. I defense and offense there to back up the pitchers."
As an upcoming junior at Florida Southern, Hintzen had a solid season last year. In 21 appearances and 31.2 innings pitched, Hintzen struck out 53 batters, gave up 27 hits and only nine walks, while pitching to an ERA of 2.56. 
While Hintzen is determined to show scouts throughout the league what he's made of, the Florida Southern baseball pitcher is also trying to have as much fun playing in the Cape Cod League as possible.
"There is the possibility that this is the highest level that I play in and that my career might be over after this," Hintzen said. "Hopefully that won't happen, but I want to have as much fun as possible and hopefully win a Cape Cod championship. That will be a great highlight in my life, but at the same time I want to get noticed so I could hopefully get drafted and continue to play baseball. That would be great."
Editor's Note: The standings of the Orleans Firebirds, as well as stats on Hintzen have been updated since the story appeared in the Sentinel. Stats and standings are current as of July 29.
Tags:
Cape Cod League
,
ctbase
,
FCIAC
,
Firebirds
,
Florida Southern
,
Florida Southern College
,
greenwich
,
Greenwich baseball
,
Greenwich High School
,
JT Hintzen
,
NCAA
,
Orleans Firebirds