July 15, 2017
FAP Celebrates 20th Anniversary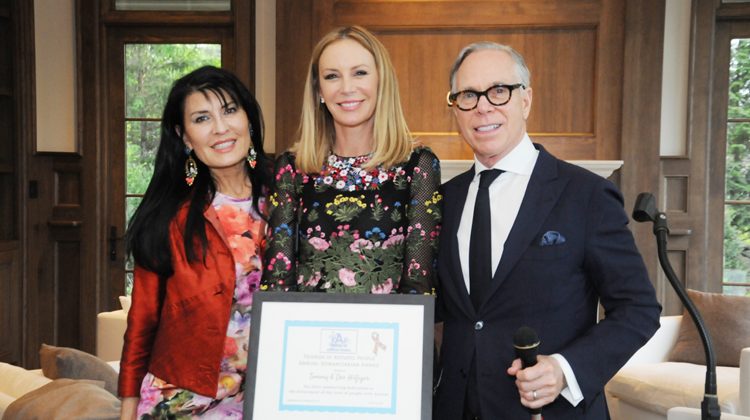 On May 24, Friends of Autistic People (FAP) celebrated its 20th anniversary with a cocktail party honoring Tommy and Dee Hilfiger. The event took place at a Greenwich backcountry home recently built by Greg Silver, and featured a live auction and fashion show.
The event was emceed by News 12 Connecticut reporter Marissa Alter. Magician Ben Zabin entertained the crowd. A special segment of the celebration was an informal fashion show with models on the Autism spectrum and friends, who wore Hilfiger outfits that were gifted to them. The show was led by Miss Connecticut, Olga Litvinenko.
FAP founder Brita Darany von Regensburg's daughter, Vanessa, who has profound nonverbal autism was among the models. "Vanessa loves fashion but I never thought I would see her modeling in such a big social event as it is quite challenging with is sensory overload and could have led to an outburst had I not prepped her for weeks describing every aspect of the event," Darany said.
Darany spoke about the non-profit's original mission to educate the public, the parents and elected officials about autism and to create an environment where children with autism can live, improve their skills, work and thrive when they become adults. She also announced that FAP will hold a legislative forum in the fall.
The Hilfigers also spoke about their involvement with autism through their personal experience as they too have a child with autism.
Stanwick School students Alex and Emily Catterson, second-prize winners of the Pitch to your Peers contest (PYP), presented their $2,000 check to FAP.
Susan Kane Catering and Val's Putnam Wines & Liquors generously donated the food and drinks for the occasion.
For further information or to donate, contact FAP, at fap.autismct@gmail.com, 203-661-8510 or autisticadults.org
Tags:
anniversary
,
FAP
,
Friends of Autistic People
,
greenwich