July 7, 2017
'Girls with Impact' Prepares Girls for Success Early On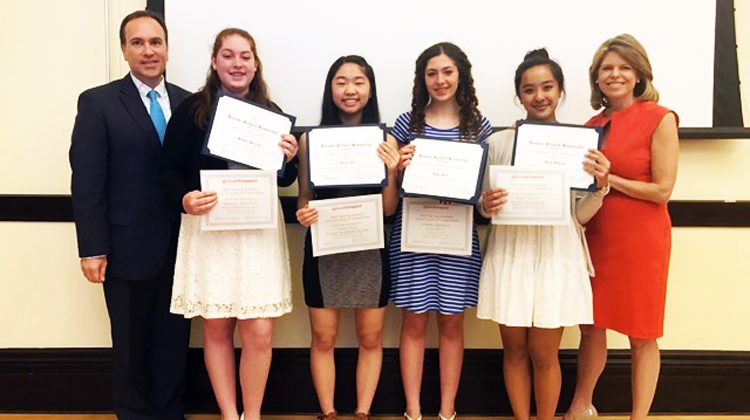 By Michelle Moskowitz
Sentinel Correspondent
The playing field for women entrepreneurs and the ability to secure top-level positions across all industries is about to change in Connecticut, and in the nation at large.
That change is starting this fall with a new digital training ground and support system called "Girls with Impact," an online, real-time entrepreneurship program created exclusively for teen girls.
Designed with help from Harvard experts, the 12-week program teaches girls in grades 9-12 the strategic and leadership skills necessary in taking an idea and turning it into a viable business, a nonprofit or a community project.
The Greenwich-based CEO and founder, Jennifer Openshaw, is on a mission to empower all young girls (starting in Fairfield County) to reach their highest potential by providing them with skill sets early on that will position them to become future leaders and innovators.
Today, women comprise just four percent of CEO's in the United States, 14 percent of engineers, and 36 percent of entrepreneurs.
"The only way to change the trajectory of women in the workplace is to start with the next generation—not tomorrow, but today," said Openshaw.
Openshaw's goal is in tandem with the United Nations' women's equality program, "Planet 50-50 by 2030: Step It Up for Gender Equality."
Openshaw calls her GWI Academy a "mini-MBA" program—which would have been great to have when she was a young girl to give her a head start, she said.
Through engaging live tutorials by top-notch professionals and utilizing interactive software tools, the girls learn how to craft a business plan, develop a sales channel, secure market flow, and conduct research analysis with industry experts.
First, students learn how to "ideate," or brainstorm by identifying a problem, a need, or a niche in an underserved market within their communities, thus fostering a strong component of community service as well as business acumen.
"We teach girls the core skills that can help turn their passion into impact," said Openshaw.
The program's curriculum encompasses strategizing and problem solving, money management, networking and sales and growth.
"There is a lot about life in general that entrepreneurship can teach us," Openshaw said.
Working herself since the age of 14 to help earn extra money for her family, Openshaw is a female pioneer—serving as a national financial leader and innovator, author, and media commentator.
Her expertise and stellar reputation stem from a long list of "breaking the barriers" for women by securing leadership positions both in finance and technology–positions not typically held by women.
Openshaw has been a Silicon Valley entrepreneur, a Dow Jones columnist, a financial leader with firms such as Bank of America and JPMorgan Chase, and a partner at Mercer Consulting, where she led the "When Women Thrive" research platform.
She has also written three books, "The Socially Savvy Advisor," "The Millionaire Zone" and "What's Your Net Worth?" and has served as an adviser to many Fortune 500 firms, including Microsoft, where she served as a spokesperson.
In 1999, she started "Women's Financial Network" and served as the second executive director of the 60-year-old Financial Women's Association, where she implemented a student program.   
Openshaw holds an MBA in finance and a BA from UCLA.
CBS MarketWatch founder and publisher of USA Today Larry Kramer said that Openshaw is "one of the most outspoken proponents for empowering women to control their financial lives."
At the Stamford Innovation Center last week, Openshaw presented the program's first pilot group of girl entrepreneurs (three from Greenwich High School) to an enthusiastic crowd, including Greenwich First Selectman Peter Tesei, community leaders, program supporters and proud parents and friends.
First up to the podium to present her idea was GHS student Jody Bell, 16, who created "In Case of Deportation" (I.C.O.D), an online resource designed to help the children of families separated by deportation.
Bell said she "felt compelled to start the project because she had friends struggling with this issue" and was focused on building a user-friendly, peer-to-peer network designed for kids ages 8 to 18 that would provide local support services in critical times.
The next leader to present was GHS's Jamie Yee, 15, who created "No Problem Periods," which supplies menstrual kits to homeless women throughout Fairfield County.
"My goal is to help with the health and integrity of these homeless women," said Yee, adding that each kit comes with the necessary essentials, as well as a piece of chocolate, which she said can come in handy during that time of the month.
Recently launched is the "Babysitter's Club of Connecticut," created by GHS's Maddie Bassalik, 16.
The company matches well-suited CPR-certified babysitters with families based on their children's hobbies and interests, and offers tutoring services.
Providing a form of transportation for the babysitters was a key part of her business venture.
Jamie Takami, 16, from Fairfield Ludlow High School, is a lifeguard working on the development of "SonarSaver," technology-based sonar goggles that can better detect submerged victims to save lives.
"Three-hundred and sixty thousand people die from drowning each year," said Takami. "We need to reduce the time it takes to find our victims."
After each girl eloquently presented her business venture to the audience, Tesei provided the girls with a certificate from the office of U.S. Sen. Richard Blumenthal, who was unable to attend.
Several of the girls' parents spoke of "witnessing the incredible transformations" in their daughters during the 12-week program, citing improved organizational and impressive leadership skills. Tesei, meanwhile, struck a chord by sharing his admiration for a program that "combines both a strong leadership component with a human one as well, particularly in a digital age."
"Today's presentation was extraordinary in terms of the ideas and the thought that went into these enterpreneurial endeavors," said Tesei. "I like the fact that they are not only focusing on the whole entrepreneurial thinking, but also have a strong and deep human service impact. I think that is an important element as we develop future leaders."
He added, "I feel like the future is bright having the knowledge that this is the next generation that is going to be here for all of us and lead the way."
After completion of the program, girls receive monthly mentoring check-ins, as well as access to a vast online community, which, over time, will evolve into the "largest pipeline of next-generation business and community leaders," Openshaw said.
"Networks really matter," she added. "We need to provide and equip our young girls with a powerful network that will serve them well in the future."
To enroll in the course, students must have a GPA of 2.7 or above and submit a video interview. Standard tuition fees are $495, but early enrollment by Aug. 15 reduces the program fees to $395.
Openshaw's overarching goal is to build a strong network of community partners so that GWI can exist in every community and provide each girl (including underserved girls) with a competitive advantage that can help them flourish in the future.
"I want to touch people on a large scale and truly move the needle for women," said Openshaw.
For more information or to enroll in the fall program, visit girlswithimpact.org.
Tags:
entrepreneurs
,
Girls With Impact
,
greenwich
,
GWI
,
women entrepreneurs