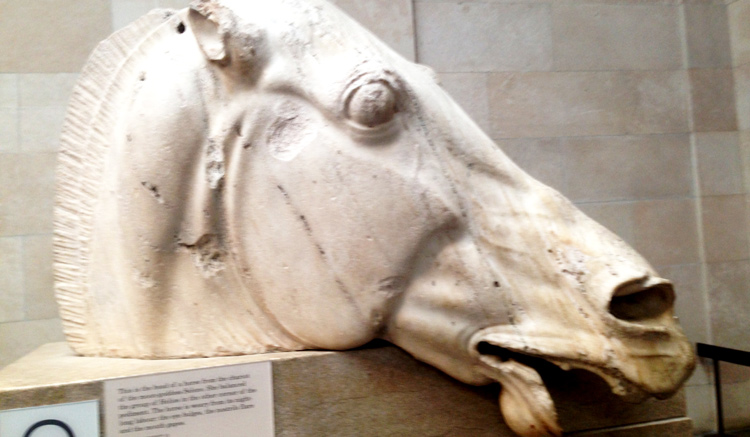 By Anne W. Semmes
Sentinel Columnist
Traveling to London last week on freelance business, there was some concern over the recent spate of terrorism. But step into a black taxi and the driver puts you at ease with his friendly, well-mannered presence. And these drivers know their city. "We apprentice three years before we get our license and we have to know all the streets and cultural sights." Hear this, you American cab drivers!
The tragic Grenfell Tower fire in North Kensington was on everybody's mind, and by the time I arrived in the South Kensington area—where I was lucky to be staying with friends—I'd learned the controversy over expensive apartment dwellers now having to share some of their new high-rise space with those "working-class" Tower refugees.
Otherwise, the city was a happy, humming place. Those hanging flower baskets that we adopted are everywhere in London. Transport hums as well. A train trip to Buckinghamshire showed me once again the marvel of the frequent, fast trains. "You Americans are automobile people," I was reminded, as I wondered aloud to a passenger.
The only times that heightened security showed itself was in accessing the great British Museum. There, you are corralled through lines ending in a separate tent where all museum-goers had their bags and parcels checked. Whether or not such measures would have prevented that drunken vandal in 1845 from smashing the famed Portland Vase, dating from circa 20-30 B.C., it is worth the wait to enter this vast repository of treasure.
It was the Parthenon marble metope treasures I was headed for, thanks to Lord Elgin, who "rescued" them in the early 1800's from the Ottoman Turks who were using the site as a fortress. My sentiments had lately shifted toward the Greeks' insistence that they be returned to Athens and its new Acropolis Museum. But surely being based in London, these magnificent sculptures are more readily seen by the world?
Other art I was able to take in was prompted by our own Bruce Museum director Peter Sutton, who'd brought the wonders before us in John Singer Sargent's less known watercolors earlier this year. On view in the Dulwich Picture Gallery in South London were some 80 Sargent watercolors.
Along with the luminous Venetian water scenes with gondolas, there were those World War I studies you can usually see in the Imperial War Museum (which I nearly got to). One of them shows two British soldiers, one a Highlander in his kilt, picking fruit off a tree and eating it. The title is, "Thou Shalt Not Steal." "Stealing from the native population was frowned on by the military authorities," says the show's catalog.
It is the English protocol—civility—the manners one sees everywhere traveling in London and environs. Whether in a restaurant, or taxi, or tube, or train, there is a graciousness, a kind hand always ready to help you with your bag. Somehow, the Bristish do not operate at our accelerated pace.
But with young children there's still that heavy schedule. I've seen it now in San Francisco, in Greenwich, and now in London. My hosts had an 11-year-old and a 7-year-old, and there was swimming, and viola, and a string of activities such as taking the 11-year-old to the Thames for a birthday party boat ride (with built-in detective hunt).
I saw the kindness when these two children fought over who would make me the milk-frothed coffee I loved. The 7-year-old boy was particularly proud of this activity, working the splendid coffeemaking machine. It was he who brought to me my first taste of their summer drink, the elderberry cordial, a favorite of the English apparently from Victorian times.
Surely the elderberry is grown in the Metropolitan Green Belt around London, created to keep in check the urban sprawl. That is where my destination was in Buckinghamshire—a village called Jordans, where William Penn is buried, and where supposedly a barn is made from timbers of the Mayflower. Alas, my work there on a writing project kept me from visiting these sites. On my return trip to the train station, my hostess showed me proof of the green belt's worth, as both a red fox and a badger leapt away as we approached.
There was lovely parkland near my London host family—Holland Park. And there I was taken to see the amazing summer performance of the Royal Ballet School. Dancing before us were surely the great ballet stars of the future, some as young as age eight dancing away to great music. At the end, with the applause dying away, two young dancers came from off stage to speak of the nearby Grenfell Tower disaster, and in particular of the loss of one promising artist, age 19, who had striven in her embrace of the arts just as they do. Donations were requested for those impacted by the disaster.
There were other highlights: a high tea with the daughter of a Greenwich friend hard at work on a historical novel, who was off to Cornwall to give the novel its finishing touches. And there was that riveting afternoon meeting archaeologist Anne McCabe, a Harvard classmate of my hostess. Anne shared both her focus on Byzantine history— she's authored "A Byzantine Encyclopedia of Horse Medicine"—and is most savvy about how the ancients treated their horses!
And she also spends time on digs of neighborhoods around the Athenian Agora with the American School of Classical Studies based in Athens. She needs to come speak in Greenwich!
A last word is saved for nature. In England, there are no screens. An open window only brings the bird song. Blackbird song. It came to me at 4 a.m. each morning, only for a half hour. It is pure beauty—but only the very early bird hears. The bird only showed itself once to me, my last morning, when lo and behold a double rainbow bloomed over the still city. It was an invitation, I felt, that I must return.