June 30, 2017
Fashion Truck Delivers the Latest Trends 'On Wheels'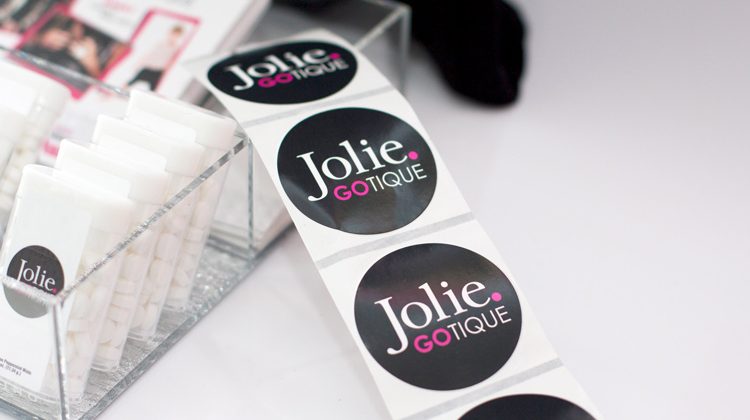 By Michelle Moskowitz
Sentinel Correspondent
Mobile pop-up shops are becoming the next big retail trend to hit town.
Many locals have been lunching on savory grilled-cheese sandwiches at Melt-Mobile, or a rack of ribs at the Three Little Pigs BBQ food truck (usually stationed in front of the Greenwich Library).
But now, thanks to local proprietor Penny Goffman, Greenwich women (and their daughters ages three and up) can shop for unique, contemporary fashions and accessories by stepping foot inside a 24-by-8-foot glamorized fashion boutique on wheels.
The emerging brand is Jolie Gotique, which for more than a year has been serving both Fairfield and Westchester counties with its concierge shopping services and online shopping site and blog, updated almost daily with Goffman's fashion finds and inspirations.
In May 2016, Goffman unveiled the stark fuchsia pink, black and white fashion truck as a cost-effective, yet innovative way to expand her growing brand while building community—via customized parties, business events and fundraisers.
Casual, chic vintage tops for day or night, thin-belted fitted dresses, skinny denims, lavender cross-body clutches, and wrap-around leather bracelets are just a sampling of the curated items available—perfectly displayed among high-gloss white lacquered furnishings—complete with surround-sound music, a flat-screen TV for demos, and a full-size fitting room to ensure the perfect fit.
Goffman's goal is to deliver an "upscale shopping experience to the Greenwich market, without the upscale prices."
"How you feel in your clothes is just as important as how you look, and I wanted to bring more contemporary styles to the Greenwich area," says Goffman.
Gotique's price points run from $6 for emoji socks up to $250 for a cashmere sweater.
"There are so many small, great fashion lines featuring today's trends at good price points now," says Goffman.
Goffman says there are more than 900 pop-up shops across the country, and that they are increasing at a rapid rate.
"Brick and mortars are going to be non-existent over the next decade," said Goffman. "And I didn't want to have to pay an expensive rent in town."
While having some retail experience under her belt, she ultimately attributes her parents successful "schemata" business in Montreal ("schemata" denoting clothing among Canadian Jewish communities) with planting the fashion seeds while growing up.
Goffman often went to work at her father's factory, which produced many fashion wears including denims and work uniforms for employees.
With a business degree from McGill University in Montreal, Goffman worked in finance for a few years when she moved to Manhattan.
Then Goffman "did a 180 with her life" and enrolled in New York University and earned a master's degree in education, since she always loved being with children.
She immediately got a job as a kindergarten teacher at Greenwich's Carmel Academy, so she and her husband decided to leave the city.
While Goffman was settling in the community, she admitted that it was "at first very different, in terms of accessibility to trendy fashions, coming from New York City and Montreal."
But several years later she would become a fashion entrepreneur in the making.
While she very much enjoyed teaching and building her young family with two kids, she started taking mental notes of the many compliments she received on her "great sense of style" from both friends and strangers.
At first, she helped friends "leverage what they already had in their closets and showing them how a white t-shirt could be worn fashionably in so many ways."
But increasingly, people inquired as to where she shopped, and how she learned how to style her outfits – and that's when she knew she was on to something.
"I think styling can totally be learned—it's all about how you put something together."
The business is named for her beautiful young daughter and fashionista-in-the-making, Jolie, and Goffman often refers to her budding business as "a fashion and lifestyle brand run by girls, for girls."
Her "mini'" fashion collection features camo Capri leggings, "I heart pizza" muscle tanks, festive party dresses, and sprinkled donut tees—many of which her daughter models with a bright smile.
With her town of Greenwich vendor's permit in hand, the Jolie Gotique truck can appear at any location (she says she prefers parallel parking for optimal marketing exposure) and provide a turn-key, customized shopping experience.
"I buy a ton of unique styles, but in very limited quantities, so not everyone is wearing the same piece."
Goffman currently showcases about 30 unique brands (many from Los Angeles), and says she is constantly sourcing new finds online, as well attending trade shows as to find "the latest and greatest pieces" for her clientele and for upcoming events; she has a few booked every week.
Some of her favorite contemporary brands trending now include Blanc-Noir, Bella-Dahl and Jack.
The Jolie Gotique fashion truck can be customized for a variety of parties and events including the following:
• Home parties, such as birthday parties for adults and kids, book clubs and bridal showers.
• Business events, such as restaurants, health clubs and spas. Hoffman heavily utilizes social media to promote one's business and brings a crowd of her own to an event, leveraging her current database of over 700 active shoppers, 3,200 followers on Instagram and 800 Facebook followers, many who are local.
• Corporate parties, such as a reward for hard-working employees or a unique holiday gift idea.
• "A Gift of Love." Husbands and boyfriends can book the boutique exclusively for their loved one—think of a "Pretty Woman" shopping spree as Goffman adorns the fashion truck with flowers and champagne, and serves as personal stylist for the event.
Goffman has already developed partnerships with many local businesses, including Green & Tonic, Glam Glow, The J-House Hotel and Go Figure.
She has also teamed up with local non-profits such as Kids in Crisis, The Boys & Girls Club, and the Breast Cancer Alliance, to which she donates a portion of her proceeds.
Goffman credits her mobile fashion business as providing the 'ultimate pathway in getting to know the heart and soul of the Greenwich community."
"I love the diversity of this town and I get to meet so many great people, and really know what's going on in Greenwich," says Goffman.
"There are so many wonderful, powerhouse women in this community who are going for it—so intelligent and so passionate."
The fashion truck operates from April 1 to mid-November, as she says it can be hard to drive in inclement weather.
Up to 30 people can peruse fashions and shop in the truck simultaneously, but Goffman adds, "It's just a special, fun way to bring people together."
Visit www.joliegotique.com to shop the latest trends or to book a special event. Or follow Penny on social media at @joliegotique for up-to-the-minute fashion trends and what's going on in town.
Tags:
greenwich
,
Joile
,
Jolie Gotique
,
mobile shopping
,
Penny Goffman