June 29, 2017
Bikers 'Trek' Into Greenwich in ALS Tri-State Trek Event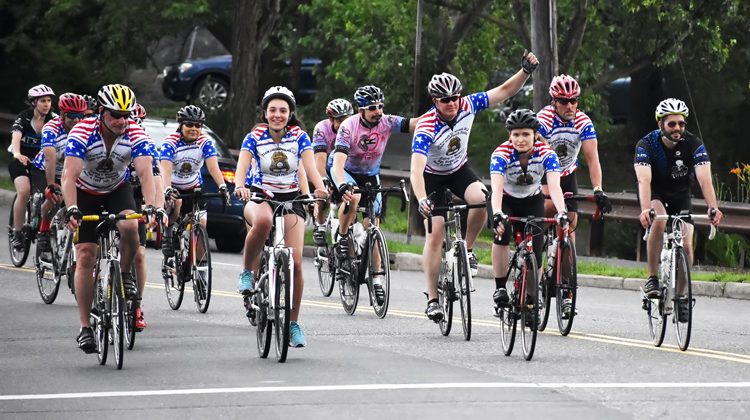 By Paul Silverfarb
Sentinel Editor
For three days, around 400 bicyclists were off on a grueling 270-mile trek that started just outside of Boston and finished Sunday afternoon at Greenwich's Roger Sherman Baldwin Park.
The course was challenging and tested the strength of the bikers that took to the Tri-State Trek. And it's no coincidence that the course was tough, because tough can only begin to describe what living with amyotrophic lateral sclerosis (ALS) is like.
"I am not a very good biker," said Greenwich Police Lieutenant Richard Cochran. "It's painful to me. I didn't even own a bike before we started doing this, so for me to go out of my comfort zone and do this for ALS victims is tough. I'm suffering right now because I didn't train for it as much as I usually do, but it's nothing compared to what ALS sufferers are going through."
So for three days, riders took to the streets to raise both money and awareness for the ALS Therapy Development Institute's biggest event of the year, the Tri-State Trek.
"It's emotional each and every year that we ride," said Brian Tornga, a 10-year veteran of the Greenwich Police Department and teammate with Cochran on Team Greenwich Police. "It's a hard ride, but they specifically make it difficult because of the difficulty it is living with ALS. It's probably one of the most cruel things in the world. I talk to people every year on the ride and they talk about growing up and how to do things and this is absolutely backwards. Every day you find out what you can't do. So we do something like this to try and raise money so we can knock this damn thing out. That's why we ride. We do a little bit to give back as much as we possibly can."
So on Sunday afternoon, riders that started from Boston, and others that joined up along the route, finished the race together in Greenwich, the official finish line for Tri-State Trek. The finish line was moved from Westchester County to Greenwich in honor of Sgt. Roger Petrone, who passed away from ALS three years ago and who the Team Greenwich Police honor every year.
"This felt good because I was doing something with other people to help an important cause," said Sydney Petrone, Roger Petrone's daughter who biked the final leg of the Trek and helped lead Team Greenwich Police to the finish line. "It's great to see so many people here. It means a lot to me."
ALS is a progressive neurodegenerative disease that affects nerve cells in the brain and the spinal cord. It affects around 20,000 people per year and there is no cure.
However, that's something that the ALS Therapy Development Institute is determined to change.
"For me personally, this event is really important because it's the everyday job that I do," said Ben Engle, Development Director at ALS TDI. "ALS Therapy Development Institute puts 86 cents to every single dollar directly into our lab, which is something not a lot of nonprofits can say. The money is going to the right place and we are doing the right thing with the money. And hopefully more people will join us next year and help us raise more."
And Greenwich came out to support ALS TDI and its riders. People lined the street leading up to Roger Sherman Baldwin Park and kept it going to the finish line, waving homemade signs and ringing cowbells in support.
"It was so much fun," said Greenwich Country Day School's Andrew Niblock, who was diagnosed with ALS last year. "I had a lot of fun, so it worked well. But there was nothing like coming down The Avenue and having so many friends and family and students cheering at the bottom. It was the most amazing thing and so rewarding."
Niblock, who was named this year's Greenwich International Film Festival's Community Changemaker, wasn't going to miss this event for the world. For a person that loves the outdoors like Niblock, riding the final leg of the Tri-State Trek wasn't an option for him and this teammates on Team Niblock.
"It was terrific," said Niblock. "I had a lot of friends. I have always been a team sport guy and the best part of it was the teammates and that held true today. Anything that I can do to be helpful and anything I can do to bring attention and draw support is important to me. This is just such an amazing event."
It's amazing and it's the support that's so amazing," Tornga said. "Everybody lined up at the end, ringing cowbells and everything the entire time. Being here and remembering Roger's voice on the radio, working with him and seeing what kind of guy he was is very emotional. The support at the finish line is incredible.
And it's obvious how appreciative the ALS TDI community is to Greenwich.
"I have never seen anything like it," said Carol Hamilton, senior director of development for ALS Therapy Development Institute. "With Roger Petrone from the Greenwich Police Department, who is kind of the memory that so many people have gathered because of, and now Andrew Niblock from Greenwich Country Day School, the Greenwich community has been great. I have not seen a community stand behind it's people like Greenwich has. I'm so grateful."
Colette O'Neill, Senior Director of Marketing, Communications and Public Relations for ALS TDI, said she was in awe on how the Greenwich community has gone above and beyond for her organization.
"We have been feeling it for years with the Greenwich Police Department in particular, and now with Andrew Niblock," O'Neill said. "We owe it to the community even more to get the work done much faster and Greenwich is helping us do that. So we are just very humbled to be here and be surrounded by this remarkable energy that Greenwich has."
This year, the Tri-State Trek raised an amazing $789,842.17 and that money will travel back up to the ALS Therapy Development Institute in Massachusetts and find its way into the labs ASAP.
"It's a time of unique hope," O'Neill said. "We have never been so excited and we really feel like we are in a very interesting time. There's been two years of amazing work done, but we are not there yet. We are getting there and the day that we can have something where people can be able to call a treatment will be so incredible and emotional."
"The money that was raised before this event is already in use in the lab," Hamilton said. "We have a scientific plan that is flexible and elastic, so we can leverage it immediately. We have a potential treatment called AT1501. The money that we are raising today is going to help advance that so people can try that drug."
Raising the funds needed to help find a way to rid the world of ALS is obviously the top priority of the Tri-State Trek. However, seeing the ALS community come together with friends and families to embrace the riders when they cross the finish line after three days of intense bicycle riding is quite emotional.
"This moment means an awful lot," Hamilton said. "Not only the Tri-State Trek the biggest fundraiser we have of the year, but it's an opportunity for 400 people who care about the people of this disease to gather and to show them that they are willing to ride 270 miles for them. It means a lot to be a part of that."
"The Tri-State Trek means everything to me," Engle said. "It's a family and everybody here comes together here. It's obviously an emotional event. It's very powerful to see all these people come out for one cause that not a lot of people know about and it still remains underfunded. But we are trying to change that."
And helping raise money to find a cure is a personal mission of Cochran and many more that took part in the Tri-State Trek.
"I'm not a scientist and I'm not a doctor, so this is the only thing that I can do," Cochran said. "Once you've seen what ALS has done to these poor victims, I can't help but get involved. This is the only thing that I can do, so I do it for Roger. I made him a promise on his death bed that I would continue to support him and look for a cure. Hopefully one day I won't have to bike."
Tags:
ALS
,
ALS TDI
,
ALS therapy development institute
,
EndALS
,
greenwich
,
Tri-state trek
,
What Would You Give