June 16, 2017
Zavattaro, Scott Pace Greenwich During New England Meet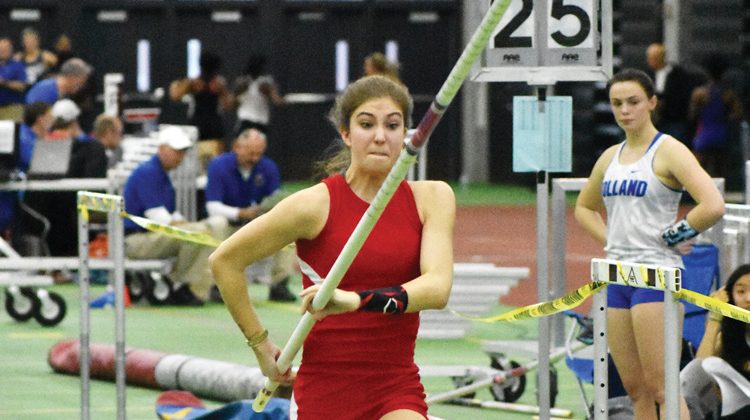 By Paul Silverfarb
Sentinel Editor
Greenwich High School had some stellar performances during this year's New England Interscholastic Track and Field championship meet.
During the event, which took place last week at Norwell High School in Norwell, Mass., Big Red placed three individuals and a relay team in the top 10.
"I really think a lot of the success that we had during the indoor season has prepared them mentally for when they get to big meets," said Evan Dubin, head coach of the Greenwich High School girls' squad. "If you asked me this a few years ago, going to New Englands was a like climbing to the top of the mountain. Not that they are taking that for granted now, but now it's just another meet. We do FCIACs, we do class LL, we do State Open and we do New Englands. It's what a Greenwich athlete does."
While the Cardinals fared well in the meet, no one had a better day than junior Lia Zavattaro. The junior pole vaulter, who finished second overall a week earlier in the CIAC State Open Track and Field Championships, vaulted her way to the top of the podium at New Englands, achieving a height of 11-09.
"We certainly knew she had the ability to do so," Dubin said. "For her to step up in a big meet and under all that pressure is really remarkable. It shows the degree of athlete she is and the ability to handle pressure physically and mentally. Pole vault is a fickle sport. There are so many technical pieces that one little thing could affect you. She's able to put it together consistently."
Zavattaro's top height almost never happened. On her third and final attempt at her entry height, the junior was able to clear the bar and advance. And the rest is history.
"Honestly there are no words to describe how amazing it is right now," Zavattaro said. "To go from almost not making my opening height and not placing in the competition. It's honestly great to have this title under my belt. I've worked extremely hard to try and get here and it's an incredible feeling and honor to be named New England champion."
And the people that Zavattaro beat were quite familiar faces. The top five finishers in the pole vault event were athletes that Zavattaro faced off against during the CIAC State Open championships.
"I think it's the first time something like that has happened in any particular event," Dubin said. "It just shows the dominance Connecticut has in that sport. For Lia to rise to the top and for the consistency, is great. She's done that all year. There's no indoor New Englands, so she didn't get to do this in the winter, so for her to step up first time competing at a big stage like this is really good for her."
Zavattaro upended junior Megan Biscoglio from Southington (11-09), senior Danielle Cass from Weston (11-03), senior Lauren Russo from Newtown (11-03) and junior Bridget Wirtz from Branford (11-03).
"In order to do that, I had to collect myself and to gather my thoughts and stay calm," Zavattaro said. "I love every single one of my competitors. The top five that medaled at New Englands are some of the most amazing competitors I could have asked for. It's an honor to be able to jump against such talented people."
On the boys' side, Big Red was paced by senior Safir Scott, who was quite busy at New Englands. Scott, who will be attending the University of Connecticut next fall, battled in three events and took home a top five performance in two of the three.
His best event was long jump, as the senior took home a distance of 23-01 ½ and that was good enough for the silver medal. He was three inches away from Milton Mass. sophomore Charles Smith, who claimed gold.
"Overall, I couldn't be happier with Safir," Greenwich High School boys' head coach Brian Robbins said. "He's an amazing athlete and a once-in-a-lifetime kid. He's going to go down in the Greenwich record books for a long time. He will be someone I remember all throughout my years of coaching."
Competing in the triple jump, Scott grabbed a distance of 46-04 ¾ and was two inches away from fourth place finisher Elie Kalambayi of Lynn Classical. Nashua North sophomore Triston Delicema won the event with a distance of 48-01 ½.
Scott's only hiccup was in the high jump, as he wasn't able to register a height.
Robbins said that It was a long day of competition for him, competing in three events in a grueling fashion.
"It started with the long jump, where he ended up jumping 23 feet, close to his personal best and taking second place," Robbins said. "In my opinion, it was his weakest jump and going into the triple jump I was excited to see what happens. He was seeded second there and I thought he had a chance to win it, but as the day went along you can tell his legs were getting a little tired. He ended up in fifth, which was still very good for him and he was very happy with those two jumps, but when it came to the high jump, it wasn't there because of how much jumping he already did."
For Scott, this was his fourth New England championship competition, battling in both the indoor and outdoor championships for the past two years. Robbins said that being a seasoned veteran in some high-level competitions will go far in preparing him for his events at the collegiate level.
"From my experience, seeing athletes go through New England championships, they could get there and get overwhelmed by all the competition, knowing how many elite athletes will be there," Robbins said. "You see that kind of competition in every single college track meet. You're competing against the best of the best from around the nation all the time. Him being able to do that for two years in a row and competing as a senior as one of the best athletes in America, he's going to continue to see that for a long time. It was good that he was able to get that experience in before he got to college. That way the nerves don't get in the way. He's a confident guy."
In addition to the duo of Zavattaro and Scott, Big Red had other performances that stood out.
Junior Emily Philuppides took to the track in the 800-meter run and ended the day with a top 10 performance. Her time of 2:12.17 was good enough for eighth place overall and was the fastest female from the state of Connecticut.
While she was hoping for a better performance, Philippides shouldn't be upset with her time. Her finish of 2:12.17 was better than her gold medal times in the CIAC class LL (2:14.26) and Opens (2:12.81) meets.
"Emily did well in the relay and also fared well individually," Dubin said. "The place wasn't what she wanted, but the times that the other girls ran were similar to that of the relay. They were really fast and the competition was really tough. Emily certainly belonged in the race and deserved to be more competitive. Unfortunately, faster girls were on the track on that day."
Philippides was also one of four people on the Greenwich 4×800-meter relay team. In addition to Philippides, senior Kristen Lodato, junior Letty McMillan and fresham Zoe Harris took to the track and finished the event eighth overall, posting a time of 9:34.13.
"The place wasn't what we were hoping for," Dubin said. "The competition level was very high. They all ran with tremendous effort and did a time that was consistent with what they have been putting up all year. It was just a bigger meet and tougher competition. We did well and I am proud of my girls."
As for Lodato, a senior, Dubin said he will certainly miss her hard work and dedication to the sport when she graduates in a few short days.
"She puts her entire heart and soul into this team," Dubin said. "For her to have a spot on this relay is what she comes to practice for every day. To be a part of this relay team competing at New Englands, she will give everything that she has to get the best time that she can."
Tags:
Brian Robbins
,
cttrack
,
Emily Philippides
,
Evan Dubin
,
FCIAC CIAC
,
GHS
,
greenwich
,
Greenwich High track and field
,
Lia Zavattaro
,
Safir Scott