June 9, 2017
Search For Remains In Old Greenwich Park Continues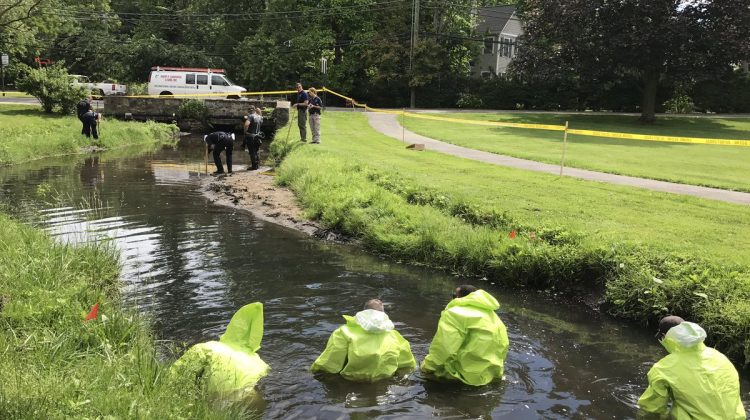 By Richard Kaufman
Sentinel Reporter
According to the Greenwich Police Department, the Connecticut State Police Dive Team returned to Helen Binney Kitchel Natural Park in Old Greenwich on Thursday in search of more human skeletal remains connected with the remains originally found in a wooded area off Harding Road back on April 26.
The Department of Energy and Environmental Protection recommended the dive team wear protective hazmat suits in order to guard against the presence of PCBs in the water. "Connecticut State Police came down with dry suits; they have protective clothing," said GPD spokesman, Lt. David Nemecek.
CSP Dive Team and GPD continues search for additional material/ remains from original case in April 17 pic.twitter.com/HkpwxBxcSR

— Greenwich PD PIO (@GreenwichCTPD) June 8, 2017

The PCBs were found during the testing for the upcoming pond dredging at the park, which is scheduled to take place in early July.
It's unclear yet if anything has been found as a result of the latest search, but Nemecek said the department has discovered additional materials during other searches that appear to be consistent with the same person. They have also recovered various animal bones unrelated to the case.
The Office of the Chief Medical Examiner has not yet offered any information on the identity, gender or cause of death, and Nemecek said that everything is still on the table such as foul play, fatal medical condition or a drug overdose.
Nemecek indicated that the GPD may revisit the site as well in the future as the search continues.
Tags:
Connecticut State Police
,
CSP
,
greenwich police
,
Helen Binney Kitchel Natural Park
,
human remains
,
OCME
,
old greenwich