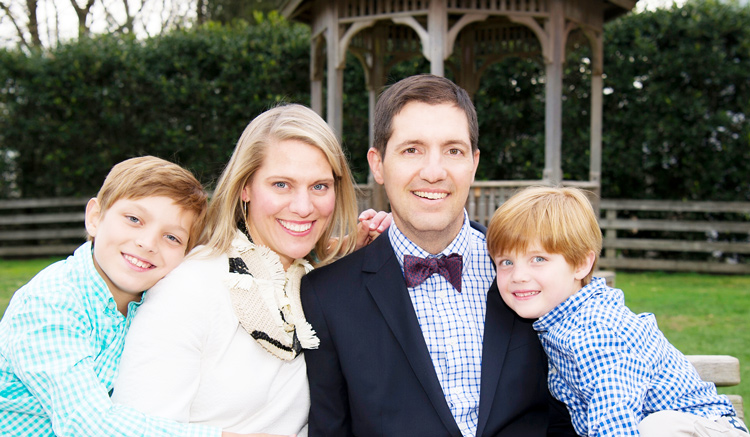 By Paul Silverfarb
Sentinel Editor
For Greenwich resident and headmaster of the Greenwich Country Day Lower School Andrew Niblock, there might be some days when things can get a bit frustrating.
Amyotrophic Lateral Sclerosis (ALS) has caused his muscles to weaken, and he can't do some of the exercising that he loved to do just one year ago. But ALS will never take away his love of his family, friends and co-workers, or his determination to battle the disease with everything he's got.
It's obvious that he's "in." Anyone who steps into Niblock's office at Greenwich Country Day School can pick up a baby blue wristband that supports his fight, with the words "I'm In" etched in the silicone.
And a lot of people are obviously in.
It's Niblock's determination to help spread the word about ALS and his dedication to one day helping figure out a cure that has caught the eye of the upcoming Greenwich International Film Festival.
Niblock couldn't be prouder to be named a Changemaker by the GIFF, saying that he believes that it's a part of something bigger.
"It's always nice to hear good things about yourself," Niblock said. "I certainly was honored and I am very humbled. I know that when you're a part of this community, both Greenwich and Country Day, you realize it takes a village to get anything done. That holds true in the ALS community as well. We all aim to be part of something bigger than ourselves."
Niblock will be honored by the Greenwich International Film Festival during its Changemaker Gala event on June 1. The jewelers Cartier and Betteridge will host a VIP cocktail reception from 6 to 8 p.m., and it will be followed by an awards dinner sponsored by Cuisinart at L'Escale.
"GIFF is proud to honor long time educator and head of the Greenwich Country Day Lower School Andrew Niblock as our Community Changemaker this year," said Ginger Stickel, executive director of the Greenwich International Film Festival. "He has inspired thousands of children and families over the course of his career and is now using his voice to help in the fight against ALS."
It's that voice that Niblock has been using to his advantage.
"I really do feel like in addition to being a father and a husband and a friend, and also being a teacher, now I have a responsibility and an opportunity with the ALS community," said Niblock. "I think it's an important time to do that."
And the ALS community couldn't be happier to have someone like Niblock in its corner.
"All of us here at ALS TDI are so proud that Andrew will be one of the honorees at the GIFF Changemaker Gala," said Carol Hamilton, senior director of development at the ALS Therapy Development Institute. "What a great choice. As Andrew so caringly shapes the minds and futures of the students at GCDS, so too will he have a role in changing the future of ALS."
The ALS Therapy Development Institute, located in Cambridge, Mass., is the world's first and largest nonprofit biotech that is 100 percent dedicated to innovative ALS treatments. They are funded by the global ALS.net community. The scientists at ALS TDI actively discover and develop treatments for ALS.
Niblock is a part of the ALS TDI Precision Medicine Program. Hamilton said the program allows Niblock to follow his own progression and use his personal data to help inform his medical choices, all while advancing the science towards effective treatments for all people living with the disease.
"He is truly a partner in the future of therapeutic discovery," Hamilton said.
In addition to Niblock's honor as Changemaker, the GIFF is also going to have two films, "Augie" and "It's Not Yet Dark," both centered around people living full lives with ALS, being screened at this year's GIFF.
"Couple that with Andrew's honor and we couldn't be prouder," said Hamilton. "The Greenwich community is about to see the love and strength that I get to see in people with this disease every day."
The strength of Niblock in the face of adversity has been nothing short of remarkable.
ALS is a disease of the nerve cells in the brain and spinal cord that control voluntary muscle movement. The disease attacks certain cells in the brain and spinal cord needed to keep muscles moving. Some of the signs of ALS, also known as Lou Gehrig's Disease, are muscle cramps and twitching; weakness in feet, hands or ankles and difficulty speaking or swallowing.
ALS doesn't come quickly, as there is a slow, but typically steady, progression. Starting last spring, Niblock was trying to figure out what was going on, as he noticed he was slightly more clumsy than usual and had some loss of strength. He went through several types of doctors.
"ALS is a diagnosis of a process of elimination," Niblock said. "By the time I got to the (Eleanor and Lou Gehrig ALS Center) at Columbia University in July, we already knocked some of the other things out of the running. Even after my diagnosis in July, we still perused possible tick-borne illnesses. We are always looking to see if it could be something else. However, I am also certainly in this journey preparing to fight for ALS."
With the disease progressing, Niblock has been determined to remain as active as possible. For Niblock, it's all about maintaining a healthy lifestyle. He keeps a very close eye on his sleeping habits and what he eats, and that's in addition to exercising quite a bit as well.
"I know that what sustains me and what keeps me hopeful and happy is what I do," Niblock said. "That's my family and my friends and my work. I'm in the very fortunate position to have a really amazing group in each of those. In all the ways that count, life is really good and I wouldn't trade places with anybody."
While time with his wife, Eliza, and two kids, McCrory (age nine) and Townsend (age six), is the highest priority, he also couldn't be happier to work with his extended family: the children, parents and faculty of Greenwich Country Day School.
"I am lucky enough to have a wonderful, supportive family, a great group of friends and the best job in the world for any one," Niblock said. "If you're looking for a happy place to be, this building is a good start."
While eating and sleeping correctly has been a huge help in staying strong, the mental help, from family, co-workers and friends has been just as critical.
"I have always been hopeful and that's never been stronger than in the past year. That's important," Niblock said. "I believe that when you're hopeful, when that's a character trait, it's hard to shake. You're going to have a bad day, but you can't stop being hopeful. Everybody I have met, everything I have learned, has made me more hopeful in this journey, not less."
And Niblock has every reason to be hopeful. Through the ALS community, Niblock has had a relationship and partnership with some amazing doctors and facilities from all over. In addition to Columbia University, Niblock has a relationship with Johns Hopkins and a doctor at Massachusetts General Hospital.
"I have met some of the most brilliant doctors in this field," Niblock said. "From everything that I have heard and the research that I have done, there is more exciting research being done around this disease than ever. I honestly believe the cure is on the horizon. I hope it's the near horizon, but I know it's coming. You have places like ALS TDI that have drugs in the mix that is one of the most exciting things out there. There's research being done in Boston and Houston that may be the difference-maker. You combine that with the adaptive technology that is now available. All of a sudden you have an ability that when parts of the body fail, there is a way through technology for people with ALS to engage and remain active in their lives."
The research and therapies being worked on are giving Niblock and the rest of the ALS community plenty of reasons to be optimistic. Niblock said that advancements in technology have come a long way in recent years.
"That gives them opportunities to remain hopeful," Niblock said. "Look no further than someone like Steve Gleason, who has a rapidly progressing form of ALS and has had it for six years now, and he's going strong. That is due, in a large part, to the technology. That's exciting. I think it's only going to get more impressive as the years go on. I don't believe that the typical life expectancy of people that have ALS is accurate any more. I believe that technology and the advances and therapies are going to make those numbers longer. I certainly plan on making those numbers really long."
It's a good thing that Niblock is keeping active, as he's going to be on the streets of Greenwich doing exactly what he loves.
As part of the Tri-State Trek, a bicycle ride from Boston to Greenwich that raises money and brings attention to the work ALS TDI is doing to find an effective treatment for the disease, Niblock will get on his bike and ride the final nine miles of the event.
"I am excited," Niblock said. "I began road biking about five years ago and that was one of my summer staples. I loved being out there. It was terrific to discover that there were different bikes which would allow me to continue to ride. While I don't ride as much, or as long, it is something I can still do. More so than even getting back on the bike is the idea that I have a collection of friends and family, both from the Greenwich community and all over the country, who are riding parts or all of that bike ride. It's going to be a great opportunity for all of us to get together and enjoy that time for the cause that is one of my life purposes now."
"We are so excited that Andrew will be riding the final leg of our Tri State Trek bike event at the end of June," said Hamilton. "Of course, most people with ALS can no longer ride a bike, so to have Andrew riding on their behalf down Greenwich Avenue will be so moving."
As for those baby blue bracelets: Back around November, Niblock got an email from a friend, who just heard about Niblock's diagnosis of ALS. And in the subject line were two simple words: "I'm in." So, while watching his son from the sidelines during a water polo match, Niblock thought about how nice it would be to have a rallying cry.
"I figured out that it didn't cost a whole lot to order up some silicone bands with the words 'I'm In' printed on them," Niblock said. "I ordered about 200 of them. They came in, and through word of mouth in this building with just faculty, and friends and family, they were gone in 10 days. So I ordered 500 more and I am at the last of them."
And those bands have seen the world. People have been taking photos of those bracelets and sending them back to Niblock. Whether it's in a pool, at a national landmark or hanging out with friends, those bracelets have seen a lot. And that's music to Niblock's ears.
"It's fun," Niblock said. "They've been all over the world and we have photographic evidence. So it's been fun and if you were to walk around the lower school here, you would see that many of the faculty wear them. That's awfully nice for me to see. It means so much."
While the bracelets have toured the world, Niblock is hoping that his voice and helping the ALS community will stretch just as far. And being named a GIFF Changemaker will help his voice spread.