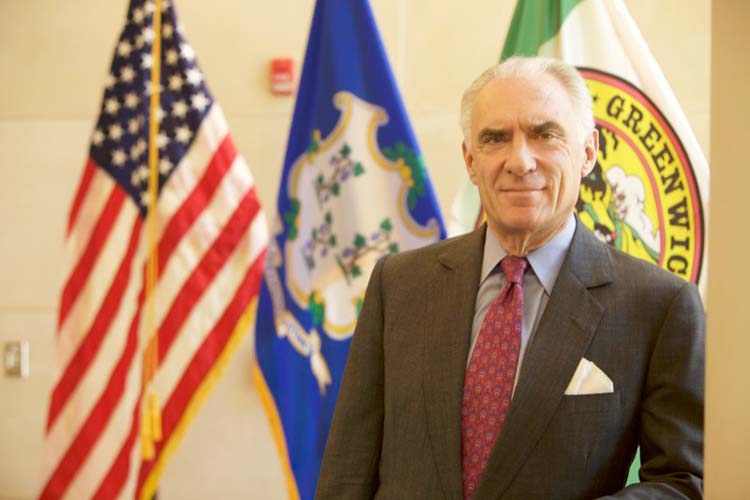 With official paperwork submitted electronically to the State Elections Enforcement Commission on May 19, Greenwich Democrat and finance expert John Blankley announced that he has formed an exploratory committee to consider a run for Connecticut State Treasurer.
Blankley is exploring a run for State Treasurer because he sees in the State Treasury position an opportunity to help solve some of the state's financial problems by applying his professional finance skills and years of business experience in treasury management, bond issuance and investing.
Blankley has 40 years of senior executive experience in the oil, gas, chemical and shipping industries. He has served as board member and Chief Financial Officer of BP North America, Stolt Tankers and Terminals and Harris Chemicals and as board member of MC Shipping. Blankley has a degree in Modern History from Oxford University, qualified as a Chartered Accountant with Price Waterhouse, and has been responsible for client-side acquisition of major information technologies throughout his career. He ran for State Senate in 2016, greatly improving the Democratic results in an overwhelmingly Republican district, and currently serves on Greenwich's Board of Estimate and Taxation.
Blankley is keenly aware of the economic challenges facing the state, and is ready to hit the ground running to address them. The major function of the State Treasurer is to oversee the state pension funds and in this area he will bring years of experience in fund management selection and sector allocation decision-making in order to maximize the return on investment on the state's pension fund assets.
Aware of the challenges, Blankley is optimistic about Connecticut and its future. Connecticut has the fourth-highest gross domestic product per capita in the country and ranks high in household income, productivity and innovation."That's why my wife and I decided to move here 30 years ago," Blankley said. "Problems have developed since then, and I don't want to minimize them, but I absolutely insist on talking about the things that are good in our state." Blankley and his wife, Vera, came to Greenwich from the UK in 1983 and have lived there ever since. He is currently the chairman of Flagship Networks, Inc., a computer consulting and systems integration company which he co-founded in 2000.
To learn more about the campaign, visit BlankleyForCT.com