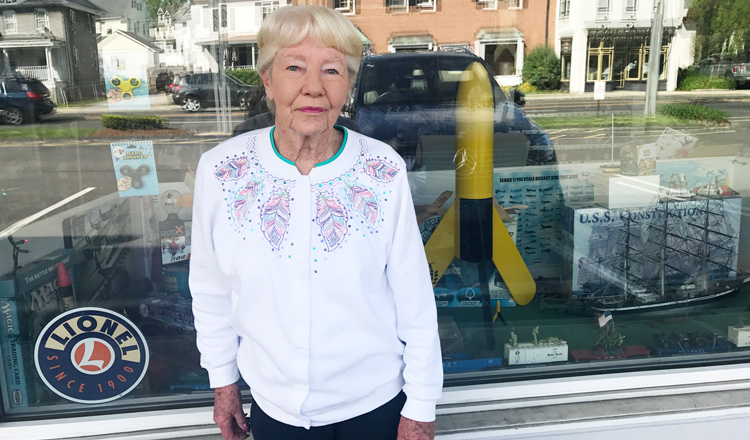 By Michelle Moskowitz
Sentinel Correspondent
Henri Matisse said, "Creativity takes courage."
While it may be difficult these days to find an adult or a child not focused on an electronic device for a welcome diversion from the day-to-day stressors, people in Greenwich are also exploring their creative sides through crafting and modeling—with the help of Ann's Hobby Center in Cos Cob.
Ann's Hobby Center, located at 405 E. Putnam Ave., has been providing a wide selection of hobby items and crafting essentials for both Fairfield and Westchester counties for over 30 years. 
As the bell chimes upon entering the hobby shop, a customer has just enough space to maneuver the aisles stockpiled with thousands of crafting tools, parts, kits and hobby essentials.
The shop brims with plastic and wood model airplanes, ships, rockets, tanks and cars, as well as myriad varieties of puzzles and collectibles for all ages and interests.
It also carries pine cars, RC, slot cars, and a vast assortment of antique dollhouses, including delicate, miniature Victorian furniture, supplies and furnishings, enabling one to build any type of scene her imagination can conjure.
Longtime proprietor Ann Suger has lived in Greenwich for almost 40 years, and her no-nonsense business approach to all things "crafty" are a true testament to the long-standing success of the store. Even after all this time, her passion for crafting is undimmed and keeps her looking forward to coming to work every day.
"I just love my customers. They are very patient, very friendly, and I love helping them find exactly what they need for their current project," said Suger.
A mother of five grown children with families of their own, Suger looks back fondly at her beginnings in the shop, and she can quickly recall when she first became a hobby enthusiast herself. 
Suger said both of her parents were crafty. Her mother made curtains and upholstered chairs, while her father could build practically anything, such as a new roof on the house. He even built the family BBQ, which Suger said "worked much better than any store-bought piece of equipment ever could, even today."
"The best Christmas present I ever received was a scroll saw when I was ten years old," said Suger.
"I made all of my own toys as a kid, mostly wood horses that I could ride around on.  It was such great fun!"
While enjoying motherhood and life in Greenwich, Suger decided to look for some part-time work that she could truly enjoy, since her children were old enough and independent enough.
Suger frequently came into the existing hobby shop (before she took it over) to buy model trains for her sons (and, she admits, for herself as well), so she knew both the merchandise and its previous owner quite well.
"My boys eventually lost interest in the model trains, but I never did. The previous owner needed help in the store, and was impressed with my knowledge of tools and materials, so it just worked out," said Suger.
She worked in the shop part-time for 15 years, often running the store on her own for weeks at a time and "just figured out how things worked if I wasn't familiar with it."
Eventually Suger took over the store, and to make it officially her own, she added her name, resulting in Ann's Hobby Center.
She also took out a loan to re-stock the shop and add merchandise, which she believed was essential for a successful, well-rounded hobby shop.
Many years later, her instincts continue to serve her well; Suger said her local business continues to be steady after all this time.
She added that many fathers and sons come in to the shop so they can build model airplanes together. 
And she has many regular customers whom she enjoys working with, both adults and children, and they have their own specialty avocations.
"Building and modeling is a great coordination between the eyes, hands and the brain and involves following directions well," said Suger.   
"Of course, when people get really good at their craft, they don't need to read the directions anymore."
When asked how the pervasiveness of technology has affected the hobby business, Suger replied, "Well, technology is important, but it's good for parents to encourage their kids to create with their hands by first coming in to the store and let the child find something that is of interest to them."
"Once they step foot in here, they always find something they like," said Suger with a chuckle.
Nestled in the back of the hobby shop, stationed near the lumberyard, one finds Skip Ford, who sells antique trains and works as a skilled repairman, specializing in Lionel model train repairs.
Suger said Ford, who is a good friend, has always served as a nice complement to her business.
Currently, Suger's most popular item is the ubiquitous fidget spinner, which has literally been flying off the shelves.
Ann's Hobby Center also carries a plethora of trade magazines and books, including manuals, guidebooks, as well as a rare assortment of history books not easily found elsewhere.
Suger said she finds joy in poring over product catalogs, talking with her distributors, and identifying what is new and improved in the hobby world. 
"I just love tools and all that you can do with them," she said. "And after all these years, I still have my train layout at home, which I still admire to this day."
Store hours are Mon. through Fri. 9:30 a.m. to 5:30 p.m. and Sat. 9:30 a.m. to 5 p.m.
For more information, call (203) 869-0969, or visit annshobby.com.