May 14, 2017
GHS Students Learn Safety From the Experts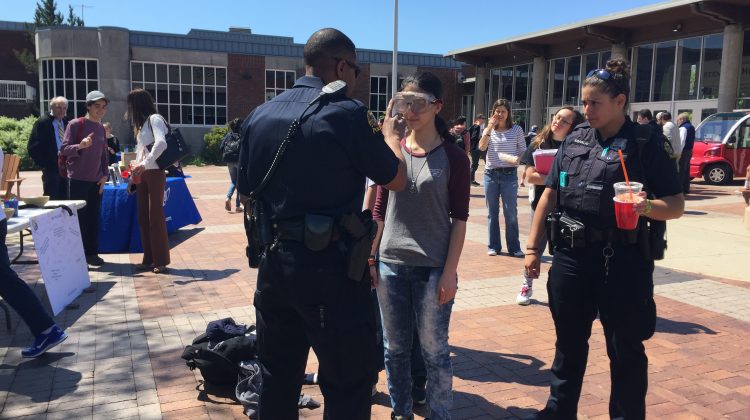 By Richard Kaufman
Sentinel Reporter
Greenwich High School held its annual Safe Driving Day event on Tuesday afternoon in the school's front courtyard, as students got the chance to interact with various public safety officials to learn and experience the importance of safe driving.
Members from the Greenwich Police Department, Greenwich Emergency Medical Services and Greenwich Fire Department were on hand to show students the implications of dangerous driving, whether that's driving drunk or under the influence of drugs, texting while driving, not wearing a seatbelt, or speeding.
Booths were set up by different organizations, such as AAA and Allstate Insurance, and local driving schools to pass out information on safety measures behind the wheel. AT&T urged students to sign a poster in order to pledge that they wouldn't text and drive. All of these entities collaborated with the GHS Outreach Club, which is a part of the Students Against Destructive Decisions (SADD) chapter.
Students had the chance to participate in mock field sobriety tests with goggles that mimicked the effect of being under the influence. They could also jump on an apparatus aptly named "The Convincer," which sent students down a short decline at about five miles per hour into a sudden stop so they could feel their seatbelt at work. A police cruiser was also on display for anyone who wanted to be handcuffed and placed inside to feel what it was like.
At the end of the event, which lasted two hours, GEMS, in conjunction with the fire and police departments, staged a car crash rescue simulation to show the harsh reality of dangerous driving.
Kathy Steiner, a wellness education teacher at GHS, believes the interactive demos are important in getting the message across. "I think any time you've got interactive events going on kids are going to want to get up, move and take part," she said.
Steiner also said that it's important for teenagers to be role models to others. "I always tell my students to be a good role model for your parents and family members," she said, especially pointing to texting and driving which has become somewhat of an epidemic.
For GPD Officer Troy Lloyd, who helped walk students through field sobriety tests, being present and proactive about driving safety is paramount, especially to young drivers in high school.
"This is very important. If they're not already at that age to start driving, they'll soon be there. This is something we need to get across to them to let them know that this is serious."
For the car crash recreation, a scene was set up in which a car full of young students had hit a pedestrian after the driver looked down at a text message for a split second.
Complete with fake blood and a real-life response by police, fire and GEMS personnel, onlookers were able to get an up close and personal view at the devastation and destruction that was caused.
The fire department used the Jaws of Life to cut the doors and roof off the car in an attempt to save two passengers. The driver was subsequently interviewed by police and arrested for texting and driving and driving under the influence.
Peyton Larkin, a senior at GHS who is in the GEMS Explorer Post, acted as the driver and said the experience of taking part in the reenactment made a big impact on him.
"I'd like to say that teenagers definitely have a sense of their own vulnerability, but doing this and being able to watch and even for me being a part of it really hits home," he said.
Larkin said that often times when he's in cars with friends he has to make sure the driver isn't using his or her phone and being distracted. "This is really big for me. This is a very important topic for me. I'm really happy we do this."
May is also Crosswalk Safety Month in the town of Greenwich. Lt. John Slusarz said he wants the driving public to understand that there will be more people on the streets as the month progresses. "This time of year more people are getting out and enjoying the nice weather. They're going out and starting to jog and walking more often," he said.
For the walking public, Slusarz warns to first walk in areas that are designated by a crosswalk. Also, in signalized crosswalk zones, only cross when you're told to do so.
There will be directed patrol of officers being assigned to crosswalks for periods of their shift during strategically selected times.
"Let's try to pay more attention to what's going on in our surroundings," Slusarz said.
Tags:
GHS
,
GPD
,
Greenwich High School
,
Greenwich Police Department
,
Safe Driving