May 13, 2017
RTM Passes Town Budget, with Controversial Cuts to Fire Study, GEMS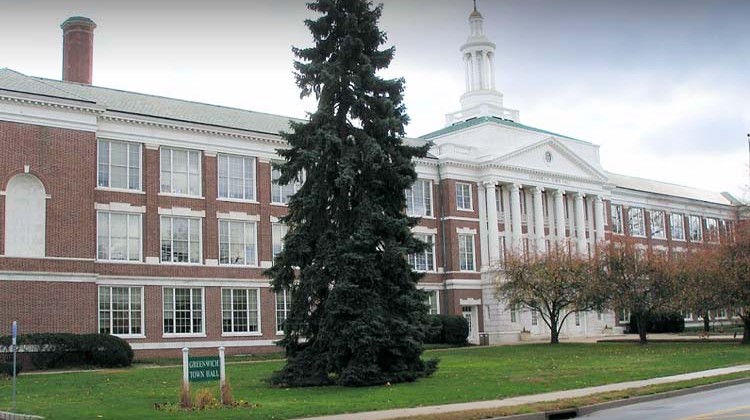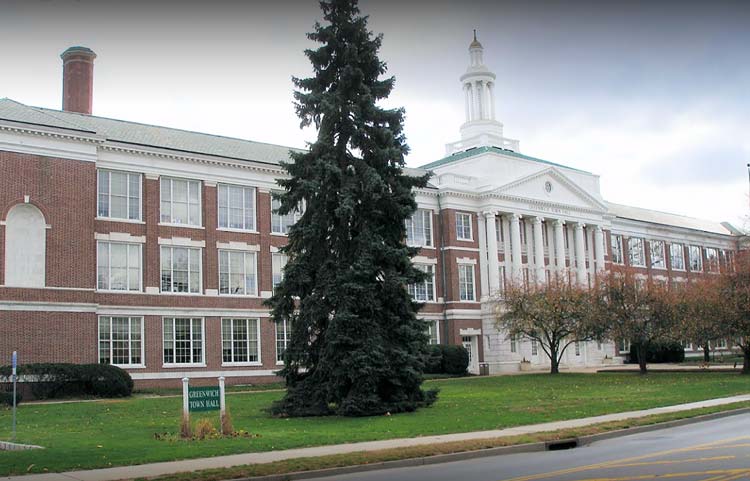 By Richard Kaufman
Sentinel Reporter
Needing a special extension and taking almost six hours, the Greenwich RTM approved the 2017-18 budget just before 1 a.m. Tuesday morning, 157-14, with one abstention.
The approval did not come without cuts, however. Most notably, $75,000 was withheld from Greenwich Emergency Medical Services (GEMS) budget for the coming year, and a motion to cut $100,000 from a study of the town's fire department and a proposed new fire station in northwest Greenwich passed by a wide margin.
"We are the last check between the town and the taxpayer, whom we represent," said Lucia Jansen, chair of the RTM Budget Overview Committee. "It is not over-reactionary to say the state, our state, is in deep financial trouble."
RTM members were also reminded to think about wants and needs when deciding on a vote.
The vote to delete $75,000 from GEMS, which is one percent of their total budget for the '17-'18 fiscal year, tallied 123 in favor, 79 opposed and three abstentions. The motion for the cut was spearheaded by the Health and Human Services Committee, which laid out three primary reasons to the RTM members.
According to HHS Committee chair Alexis Voulgaris, the HHS budget sub-committee was repeatedly rebuffed when trying to meet with GEMS; Voulgaris described it as a "friction of communications."
Next, Voulgaris explained that GEMS was unable to produce a job description for a school CPR instructor, who is paid $85,000 per year, including benefits. "The committee felt that this was an outrageous sum of money to pay a school CPR instructor." Voulgaris noted that in the summer, when school was out, the instructor helped with general office tasks such as re-organizing files and data entry.
Last, Voulgaris described the committee's concern that GEMS is using taxpayer and town money to avoid complying with Freedom of Information Act regulations. The HHS Committee said that GEMS has been trying to overturn a 1988 ruling that concluded GEMS was a public agency.
Voulgaris did say, however, that the HHS Committee understands the valuable work GEMS provides to the town, and that this was not a reactionary or petty response to cut their budget.
"Taken independently, each issue might not appear that egregious. But when you start to add them up, the committee believes there are operational deficiencies that need to be modified," she said.
There were also members of the RTM who opposed the cut, such as Karen Fassuliotis, vice-chair of the RTM Transportation Committee. Fassuliotis said that, aside from GEMS's communication problems with the HHS budget sub-committee, that GEMS plays an important role in educating students about CPR. Fassuliotis said that she herself had been a beneficiary of such CPR classes when she attended school. "I think it's a very important program because it can save a life, and I've seen it save a life."
Bill Drake, a member of the Board of Estimation and Taxation, also opposed the cut. "The message itself seems to be to discipline GEMS or teach them a lesson [about missing a meeting]," Drake said. "This action is unwise and unsafe for citizens who need emergency services."
GEMS's executive director, Tracy Schietinger, took to the podium and explained that there were extenuating circumstances that prevented communication with the HHS budget sub-committee back in December. Then-GEMS Executive Director Charlee Tufts had been hospitalized. GEMS said they have responded in a timely manner since.
Schietinger pointed out that their CPR director, an employee of GEMS for 25 years, has helped up to 15,000 students to date with CPR and first aid.
"I assure you that every member of our staff is utilized effectively and efficiently," she said.
"I've reviewed the budget myself," she added. "It is a modest increase and will allow GEMS to continue to provide the highest medical services to the town. Any reductions could have consequences that have yet to be determined. The foundation of GEMS has been for the sake of preserving life."
Next, Jansen lobbied the RTM to consider cutting $220,000 from the Board of Education budget. The cuts would have come from the management and confidential salary raises, administrative costs in the curriculum area, a media specialist position, and class size and fairness data.
"This does not represent a deep cut to a $154 million budget," Jansen said of the cuts, which were motioned by the BOC. Members from the PTA Council objected to the cuts, saying that this was an important vote that would send a troublesome message to teachers, staff, parents and students. They also mentioned how cuts to data that analyzed class size fairness and equality would hurt the Hamilton Avenue School.
The motion to cut the BOE budget failed convincingly, 72-125, with five abstentions.
The RTM approved $100,000 in cuts for a proposed study of the town's fire department to determine whether or not the town needed a new fire station. The study was also meant to analyze the overall workings of the town's fire services.
The BOC, which motioned for the cuts, said that there should be time to determine whether or not Greenwich's new three-man station policy is effective and then go from there.
"There should be time to determine the efficiency and effectiveness of the rollout and that would impact the future outcome of the study," Jansen said. "Postponing until next year would not materially impact the quality of fire services."
The RTM voted in favor of cutting the fire study budget, 122-74, with three abstentions.
One of the closest votes of the night came in determining whether to cut $600,000 from the town's annual paving program.
"My view is, when we take steps like this we take steps by degrees to hollow out our infrastructure," said Michael Warner, chair of the finance committee. "We have objective measures that tell us what condition the roads are in. Why would we want to save money, increase potholes? It's a fairly simple thing."
RTM members opposed the cut, 95-96, with two abstentions.
The other close vote of the night came when members voted, 101-100, with six abstentions, to use money for a public relations campaign to attract new residents to Greenwich and stimulate potential new businesses. The $100,000 price tag for the PR campaign calls for the town putting up $30,000 and businesses and realtors putting up $70,000.
John Dolan, chair of District 7, said that in their meeting on the matter, there was a sense between the members to categorize the PR campaign as a "want" or "like," not a "need." He also said if approved, there were concerns that the PR campaign would stretch into multiple years and costs would rise.
"It was argued that if you approve this motion, that we'll be back here next year with someone who will say, 'C'mon. We've already invested $30,000. That will have been wasted if we don't dedicate another $50,000 more for a second year.'"
Dolan also asked RTM members to consider whether or not the town already has the resources to address any PR situation internally.
"You don't solve problems by throwing money at it or hiring an outside consultant to craft what should be your own story," he said. "You solve problems by addressing the underlying problem, in this case the budget issues, and by supporting a fiscally conservative budget."
Sabine Schoenberg, a former member of the RTM who is now a member of the First Selectman's Economic Advisory Committee, which conceived the proposed PR campaign, said the initiative is necessary "in order to compete in this worldwide marketplace."
Schoenberg said that this is not a study, but a campaign designed to create a real outcome.
"You and I go online to seek answers to all kinds of things when we travel, what we buy. When you go online to find information about Greenwich, it is abysmal. It's full of negative PR."
Schoenberg addressed the various residential value problems in town, and how a campaign could attract new residents. She noted that the EAC created a survey with business leaders, and those in the financial services industry specifically requested help in attracting "young employees to come and work in Greenwich."
"We should not underestimate what we can do in terms of messaging about the vibrancy that we have going on here," she said.
In other budget cut votes, members shot down cutting $600,000 for the Steamboat Road Pier reconstruction, 44-153-0. Members also voted against cutting the town's fleet by $730,000, 37-152-3. A cut to the Nathaniel Witherell overtime costs was rejected as well, 69-113-3.
Tags:
budget
,
greenwich
,
greenwich budget
,
Greenwich RTM
,
RTM
,
town budget