May 6, 2017
Music City's Sweet for Brunswick Alum Seaton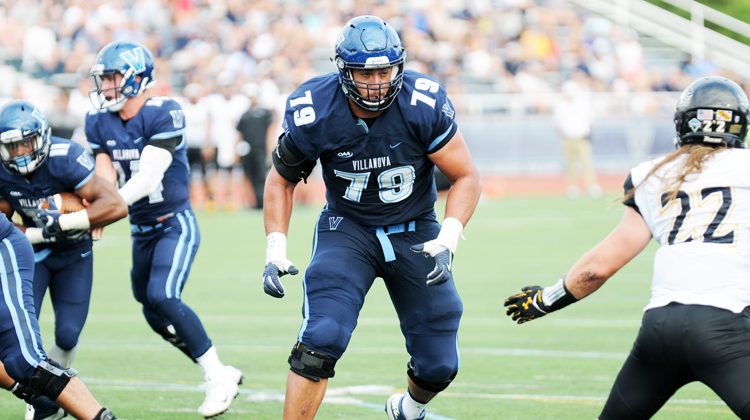 By Paul Silverfarb
Sentinel Editor
The Tennessee Titans made Brad Seaton an offer that he couldn't refuse. But let's be honest: refusing was not in the former Brunswick School and Villanova football standout's game plan.
During this year's NFL Draft, held in Philadelphia—basically in Villanova University's backyard—Seaton was nervously waiting to see if he would get that call he's been dreaming about for years.
In the seventh round of the draft, Seaton's dream came true, as the Titans picked the offensive lineman, making him the 236th overall pick.
"I was extremely proud and happy that I was getting drafted," said Seaton. "I was getting called left and right for free agency deals and other options. The Titans basically made it easy for me and gave me a home. I was extremely relieved. It's a reward for all the hard work, dedication and time I put into getting to where I needed to be. Now it's obviously on to bigger goals to achieve. It's certainly rewarding."
From the moment Seaton stepped foot at the Titans facility for Pro Day, he was hoping that Tennessee would be his new home for football.
"I was really overjoyed," Seaton said. "I fell in love with it from my visit there. It's a top-notch program that has great facilities. The coaching staff is wonderful and everything kind of aligned with who I am as a person and player. I can't be more proud to be a part of the Tennessee organization."
And it seems like the feeling is mutual.
"Big Brad Seaton played at Villanova," said Titans General Manager Jon Robinson, talking about the team's seventh-round pick. "Very, very, very large man. Really worked out well at his Pro Day and spent the day with us. Tough, competitive guy, he is a big guy with a long reach. He will work at both tackle spots, probably kick him in at guard and see how he holds up in there as well, and kind of see if he can carve out a spot for himself."
Seaton couldn't be more proud of the fact that he was drafted this year, and credits the Brunswick School football team for this opportunity to compete in the NFL.
"I wouldn't be here today if it wasn't for Brunswick School," Seaton said. "I am extremely proud and happy that they were able to send me down this path."
For Brunswick School head coach Jarrett Shine, having Seaton on the roster was one of the reasons the Bruins were such a success during his four years, noting that his athleticism was always on display while playing as a defensive lineman.
With only seven years in all playing football, his upside is incredible," said Shine in a press release from Brunswick school. "He was determined to change his life [and] with the help from the faculty here at Brunswick, his dream finally came true. He will and already has made us proud."
During his tenure as a Wildcat, Seaton was the pillar of the offensive line.
This past season Seaton started all 13 games on the offensive line and while on the offensive line, Villanova was 24th in the country in rushing offense.
During his time with the school, the Wildcats were 32-17 overall and appeared in two FCS playoffs.
"My time at Villanova was awesome," Seaton said. "It's obviously a basketball school, so it taught me a lot about playing football for myself and my teammates. It taught me a lot of characteristics that will help take me far and keep me humble and competitive."
To say that Seaton is a big pick for Tennessee is an understatement.
Even when he was attending Brunswick School, Seaton was easy to spot. He's currently 6-foot-8 and weighs in at 330 pounds.
"I am bringing to Tennessee my size, my athleticism, my competiveness and my toughness.
Next week Seaton heads down for the Tennessee Titans' rookie mini-camps and Organized Team Activities (OTA) for six weeks.
"It's going to be nothing but work, but that's what this process is all about," Seaton said. "I'm going to get out there, have practices, have team meetings, have lifts, have film and look at the playbook, but it's everything you look forward to as a player. If you're really passionate about it, then it's not really work."
From there, it's off to preseason camp. Seaton knows that there will be a lot of work during the next two months, but he's certainly up for the challenge.
"I need to keep working, keep showing that I'm competitive and keep showing them that I am big, athletic and dominant," Seaton said. "If you have a goal and do something every single day to reach that goal and you're pushing yourself to that goal, then there's no way you won't reach that goal. As far as the process, I need to stay true to it, keep working hard, stay humble and have faith that you will get there."
Tags:
Brunswick
,
Brunswick football
,
cthsfb
,
FAA
,
greenwich
,
NEPSAC
,
NFL
,
NFL Draft
,
Tennessee Titans