May 5, 2017
Greenwich High Boys' Lax Strong Heading Towards Postseason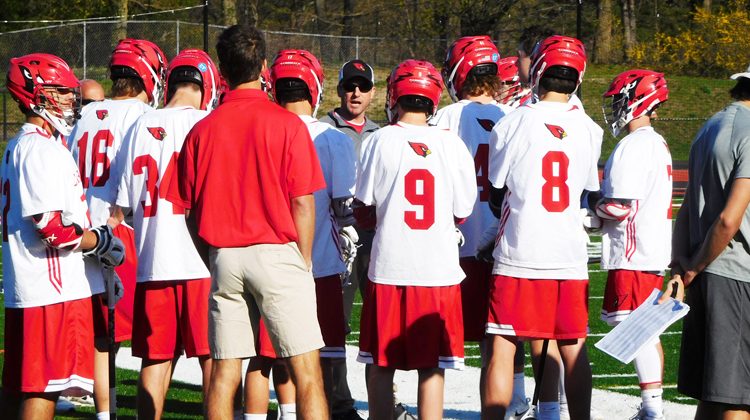 By Paul Silverfarb
Sentinel Editor
So far so good for the Greenwich High School boys' lacrosse team. With only five games left this season, head coach Bobby Lutz's team is heading in the right direction.
"We are happy," Lutz said. "I think going into the season we had the talent, but they weren't getting the name recognition. Last year, we had Will Perry and his outstanding play kind of took away the spotlight from some of those kids that were pretty good. Now that it's their turn to play, they are really stepping up and that's great to see."
At press time, Big Red had a record of 6-1 in the FCIAC and is 7-3 overall. After their season-opening loss to perennial powers St. Anthony's from Melville, N.Y., GHS went on a four-game winning streak, beating teams like Stamford (12-3), Somers (7-5) and Westhill (14-2). They also beat a tough Ridgefield team, 8-7, in overtime.
After losing a nail-biter to another top squad, Wilton High School, 8-7, in overtime, the Cards took care of Staples, 7-6, and went on to crush Fairfield Ludlowe, 12-7, and Fairfield Warde, 21-8.
"The Wilton loss is always going to haunt us throughout the entire season or until we see them again in FCIACs or States," Lutz said. "We were so close to winning that game and it was so competitive. Wilton is a great team. Darien is a clear favorite this year, but after Darien it's a total toss-up between five or six teams and that's great to see. It makes all these games exciting.
"We are a lot stronger defensively than people, or myself, were expecting. Some of it is senior leadership. We have a rotation of eight guys and six of them are seniors."
One of the keys to Greenwich's success this season has been the play of its starting goalie Andrew Triscari. Lutz said that he would rank Triscari as one of the top goalies in the FCIAC.
"He's such a smart player," Lutz said. "Of course you need the athleticism to be successful, but he's just so intelligent. It's almost like he knows where the shooters are shooting before they shoot it. He also runs the defense very well. I joke around with people, saying that he knows our offense better than our offense knows the offense. When you're that into the game and following the game at such a high lax I.Q. level, the game actually slows down for you. When that happens, he sees the ball so well."
In addition to Triscari, Lutz couldn't be any happier for the play of faceoff expert Bailey Savio, a senior.
"He's definitely our MVP this season," Lutz said. "He's winning 70 to 80 percent of our faceoffs, and that's so important for us. You get so many more possessions or more opportunities to score if you win the faceoffs. Also, it's preventing the opponent from having additional possessions where they can score. Bailey is a huge difference-maker."
Helping GHS and Triscari between the pipes is a solid defensive unit.
Lutz said that while Alex Bologna might not be the fastest kid out there, but he's a super intelligent player and a key cog in how the defense is run.
"We started the season with three captains and after four or five games I called him up and asked him to be the fourth captain," Lutz said. "He's been such a leader, both on and off the field. His knowledge of the game is amazing and he has made a huge impact for us."
Also stepping up in a big way for GHS on defense has been Holden Tiedy and Brandon Delchristo, as well as short stick defensive middies Truman Imbo and Noah Niklaus.
Offensively, Jack Feda has been leading Big Red this season. At press time, the GHS sophomore had 34 goals and seven assists.
"He's not only a decent dodger, but his off-ball finishing skills are probably some of the best in the state," Lutz said. "He has unbelievable hands. He could be a backup goalie if we need him to be. He's only a sophomore too, so when you have a younger kid like that stepping up, it motivates the other players to do well."
While Feda has been pacing the Cards, it's the offense that Lutz believes needs to work on its game and gain some valuable varsity experience. Only two seniors, Jack O'Connor and Addison Muir, comprise the offense.
"I knew that it would take a little longer to get the offense in sync and build chemistry, but they are doing a great job," Lutz said. "We played Chaminade and only had five goals, but that's against of the best teams in the country. When we go back to playing some of the top FCIAC teams, I am hoping we will be a little more successful. Now that the offense is getting better, the defense sees that and it motivates them. The defense realizes they don't have to shut down teams as much. It's less pressure on the defense."
While Lutz knows that the closer it gets to the summer, the harder it is to keep teams focused, he also said that the tough schedule for Big Red will help the team keep the eye on the prize.
"We need to stay focused," Lutz said. "We have a great schedule. We played Chaminade and we still have Cold Spring Harbor and Darien. Those three are back-to-back-to-back Saturdays. When you have those kinds of games on the schedule, you don't really have time off.
In a few short weeks, Big Red will be closing the door on the regular season and gearing up for the possibility of a deep playoff run. However, it won't be easy. The FCIAC has teams like Darien, New Canaan, Wilton, Ridgefield, Staples and others competing for the same conference championship. Throw into the mix teams like Glastonbury and Fairfield Prep competing at the state level, and a championship trophy is never a sure thing.
"I think everybody has their eye on Darien, but you watch the New Canaan and Darien game and there are areas where we can get to them a little bit," Lutz said. "But you have to beat all those other teams in order to get to them. It's going to be a super competitive FCIAC and States and I wouldn't be surprised if any of the teams advances to the finals. It's going to be fun to watch."
For Lutz, seeing the sport of lacrosse grow throughout the Nutmeg State is music to his ears. When he played for New Canaan High School, it was New Canaan and Wilton. Eventually Darien joined the party.
"Greenwich was always in the mix, but now Fairfield County has exploded with great teams," Lutz said. "It's really good for Connecticut lacrosse, because everybody is getting better together. You have schools that have kids going to top-level college programs like UNC and Hopkins, and it's fun to watch and it's exciting. It motivates the younger players to go out there and get better."
Tags:
Bobby Lutz
,
CIAC
,
ctblax
,
ctlax
,
FCIAC
,
GHS
,
greenwich
,
Greenwich lacrosse
,
lacrosse