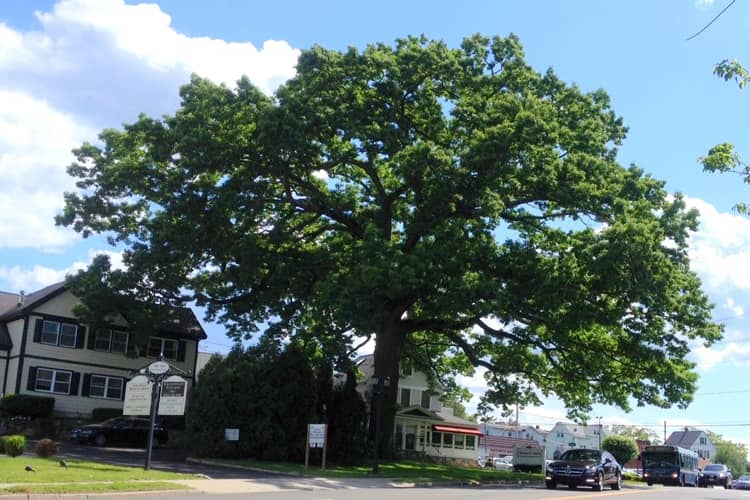 By Anne W. Semmes
Hear ye, hear ye, it's Arbor Day, it's celebration day for the tenth anniversary of the founding of the Greenwich Tree Conservancy (GTC), for its planting of 2,500 trees in our parks, our school grounds, along our town roads, and much, much, more in tree support.
So who brought us the Greenwich Tree Conservancy? Five entrepreneuring, enterprising, civic-minded founders. And each has a tree story to tell of how the seed of the Tree Conservancy grew.
Longtime resident Peter Malkin began to see 15 years ago the need for tree advocacy when he and wife Isabel saw "the wonderful maple trees that the Rockefellers had planted along Lake Avenue and on North Maple Avenue" beginning to fail. The two began a program of planting replacement trees along those avenues, encouraging their neighbors to do likewise.
"We then saw the problem aggravated," said Malkin, "by the wanton tree destruction by the electric utility that was affecting our whole town. We learned that the town was not using its annual tree planting fund because of a reduction in the staffing of the town Tree Department."
What was needed, Malkin realized, was a not-for-profit organization that would enlist private, town-wide support, "that would undertake permanently tree planting and preservation throughout Greenwich. Thus, the Greenwich Tree Conservancy was born that now works cooperatively with the Greenwich Tree Department to ensure that this special quality of Greenwich is maintained."
Malkin, the now 10-year president of GTC, had ready support in his initial efforts from co-founder Mary Hull, who has long headed Greenwich Green and Clean (as created by Malkin). "Thirty-one years ago when I started with Greenwich Clean & Clean (GC&C)," said Hull, "there was no tree planting in schools by our tree department, and trees were not being appreciated by children. We believed in celebrating Arbor Day so GC&C would plant trees in schools on Arbor Day and where they were needed in town. We'd have ceremonies for schoolchildren. We had children writing tree essays."
"There was no proper legislation in Hartford to plant trees," she continued. "Trees were being clear-cut on private property even before owners were filing to do so. It's still going on and we still need legislation."
"There were a lot of people on my GC&C board, including Peter Malkin, who felt we needed a separate tree group," Hull said. "We wanted to plant lots of trees. The GTC is now working on getting enabling legislation in the state, as without this, the individual towns can't do anything. If you look along the Boston Post Road at all those car companies, only a few are planting trees. There are many parking lots with great expanses of pavement that are still treeless.
"The GTC is such a good organization. It's so well run. It's now accomplishing so many things. We can even light up the entire downtown on our trees for winter holidays. There really is an enthusiastic group protecting our urban forest. And now with GC&C I can participate and celebrate healthy trees."
But how to involve and educate Greenwich citizenry in the importance of trees? "Many members of the GTC board had 'tree stories' of a favorite tree that they climbed or saw out their window, or that was planted by a loved one," said co-founder Cheryl Dunson, a nonprofit management professional and former head of the Connecticut League of Women Voters. "We thought, 'Why not have a Tree Contest, so others could share their own stories of special trees in Greenwich?'
"So, in 2008 the Awesome Tree Contest was born, and since then has been held five times. For each contest, the committee has great fun coming up with new categories, such as most climbable tree, most tenacious tree, a tree with a story, and picture-perfect tree. Those who live and work in Greenwich have fun sharing their favorite trees. The trees, nominated by adults and children, families and individuals, are located on public and private lands in all parts of town from downtown to back-country. We will be holding our next contest this coming fall."
Dunson and Malkin were able to interest JoAnn Messina, former chair of the Selectman's Parking and Traffic Committee and member of Selectman's Nominations Committee, to join them as founding executive director to create a viable organization to assist the town in planting trees. "They had witnessed so many properties being clear-cut in town," she recalled, "and saw a need to begin replacing the 100-year-old trees along town roads which were reaching their maturity."
"It sounded not only worthwhile, but fun," said Messina. "Having begun my life climbing trees, I thought it a wonderful way to spend a year."
One year became ten with lots of challenges for Messina. "We began and have continued with a private-public partnership with the town which has enabled us to plant those 2,500 trees on public lands. We have also partnered with over 20 community non-profit organizations to initiate tree contests, conduct forums and workshops, support speakers and organize tree walks. We have worked with garden clubs and schools as well as becoming a model for other towns' tree organizations. We continue to plant, educate and advocate but I am most proud of the 'growth' of our community relationships."
The co-founder with the most impressive green thumb is Mark Greenwald, of Maher & Greenwald Fine Gardens. "As a designer of landscapes and gardens and a former city planner," said Greenwald, "I take particular pride in finding ways to get people excited, even passionate, about the spaces they find themselves in each day. Not just at home but perhaps especially in our public places."
Greenwald expressed his "humble gratitude for the use of the platform the Greenwich Tree Conservancy provides to not only share this Magi," he said, "but to also use it for demonstrably more prosaic yet equally magical purposes. After all, who has not been delighted at the sight of billowing clouds of cherry blossoms at this time of year along an avenue or in a park?
"By the tree selections we help make for the public, or that we suggest for private spaces, we can integrate with Pollinator Pathways to help revive and sustain our populations of birds, butterflies, and bees. We can educate to help people on their own properties get the benefits of 'right trees for the right places'—for shade, for screening and energy conservation, not to mention protection against ever more frequent weather extremes."
Greenwald ends his tree talk with a word on global warming for tree lovers. "As tree and plant ranges gradually migrate northward with warming climate conditions (i.e., Beech, Oaks, Tupelo), we can plan and select and keep our parks, streets and yards both beautiful and well adapted for a newer age."
Those interested in celebrating the 10th Birthday Tree Party of the Greenwich Tree Conservancy this evening from 6:30 to 8:30 p.m. at McArdle's Greenhouse can call 203-869-1464 or visit greenwichtreeconservancy.org