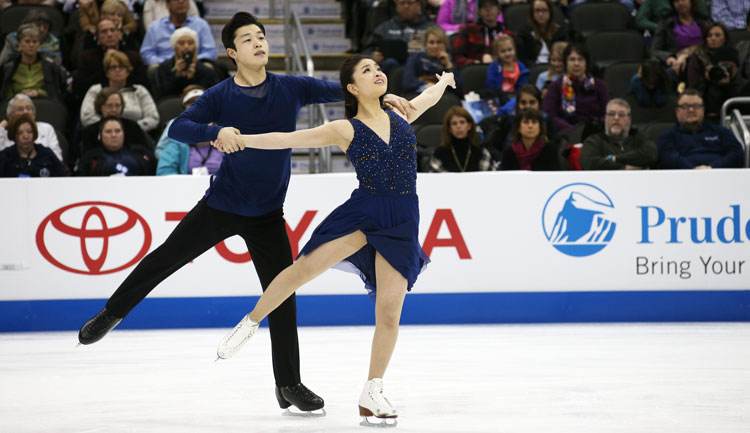 By Liz Leamy
Sentinel Correspondent
Two weeks ago Greenwich natives Maia and Alex Shibutani, the talented brother and sister ice dance duo who have risen to the apex of the sport in the past few years, won bronze at the World Championships in Helsinki, Finland.
They were the only U.S. contenders to medal at this celebrated annual figure skating event.
In their signature style, Maia, 22, and Alex, 25, skated two outstanding programs that put them on the leader board, an impressive feat considering they were part of a formidable field consisting of the top 32 international dance teams.
In the final tally, the Shibutanis trailed Tessa Virtue and Scott Moir, the Canadian 2010 Olympic gold and 2014 Olympic silver medalists, who placed first, and Gabriella Papadakis and Guillaume Cizeron, the French 2016 World champions, who were second.
The Shibutanis, who are also the 2016 World silver and 2011 World bronze medalists and 2017 and 2016 U.S. champions, racked up 185.18 total points in the short and free dance segments, putting them in third overall.
"We just focused on our performance in the long program today," said Maia, who attended Greenwich Academy growing up, at the conclusion of the free dance event. "We're so proud with how we skated at this World Championships. Our programs have grown so much over the course of the season."
The Shibutanis, who grew up in Old Greenwich and skated at the Dorothy Hamill Rink in Byram frequently during that time, performed two top-rate programs featuring intricate footwork sequences, fantastic lifts and fast and fluid spins.
"We really built a lot this year," said Alex, who attended Brunswick School when growing up in Greenwich. "We're really excited with what we've accomplished [tonight]." 
Throughout this competition, the Shibutanis were right on top of their game and skated their various steps, turns, edges and other difficult elements with the power, confidence and aptitude of leading world contenders.
The artistic narrative of their programs was equally powerful.
"What's really interesting about Maia and Alex is that they're expanding the sport with their artistry," said Greenwich resident Slavka Kohout-Button, the esteemed U.S. Figure Skating Hall of Fame member who coached Janet Lynn, the five-time U.S. champion, to bronze at the 1972 Olympics. "There's an intelligence to their skating, and they tell stories."
Clearly the Shibutanis' method is one that works, as evidenced by their results in Helsinki. Their showing is particularly significant considering that the 2018 PyeongChang, South Korea Winter Olympics are on the horizon.
"We are very excited to start preparing material for the Olympic season," said Alex. "We have grown so much during the past two seasons, we worked hard and we have dreamt about Olympic medals since childhood, so we are definitely on our way."
Hard work, big rewards
Hard work has reaped big rewards for the Shibutanis. From the time they started competing together during the 2005 season, they have achieved U.S. National podium status and have either won or medaled in every division from the juvenile through the championship (senior) levels.
According to Kohout-Button, who coached Maia and Alex when they were younger, their success owes much to their natural athletic ability and strong work ethic, as well as to their grounding in singles freestyle skating prior to their pursuit of competitive ice dancing.
"They were both freestyle skaters and I think that gave them greater depth in terms of their ice dancing," said Kohout-Button, who coaches at rinks in and around the Greenwich area. "They really understand all of the different aspects of skating."
The Shibutanis, who have been training with Marina Zoueva, the celebrated coach of 2014 Olympic champions Meryl Davis and Charlie White, at the Arctic Edge Arena in Canton, Mich., for nearly 10 years, are certainly well known for their work ethic.
Andrew Stroukoff, a 1976 U.S. Olympian who coached Maia and Alex with Susie Kelley, his wife, also a 1976 Olympian, when they were younger, said, "They just loved to perform and had a need to get better every day. It is such a pleasure to see the progress they have made year after year."
"They are committed to building who and what they are through their skating," added Kohout-Button. "That is what makes them such a force in the sport."
Certainly, it should be exciting to continue to watch the progress of these Greenwich natives over the next season, especially as they embark on the road toward the 2018 Olympics, a quest they both seem to be very much looking forward to.
"It's the competition we all grow up dreaming about," Alex said of the Olympics in a teleconference call last fall, before the 2016 Progressive Skate America International Skating Union Championship Grand Prix event, where he and Maia placed first.
The Shibutanis have done their hometown proud with all of their success in the competitive arena, but also because of their incredible level of dedication and commitment to the sport, which may be their biggest accomplishment of all.