April 10, 2017
A Dream Come True for Brunswick Alum and Blackhawk Hayden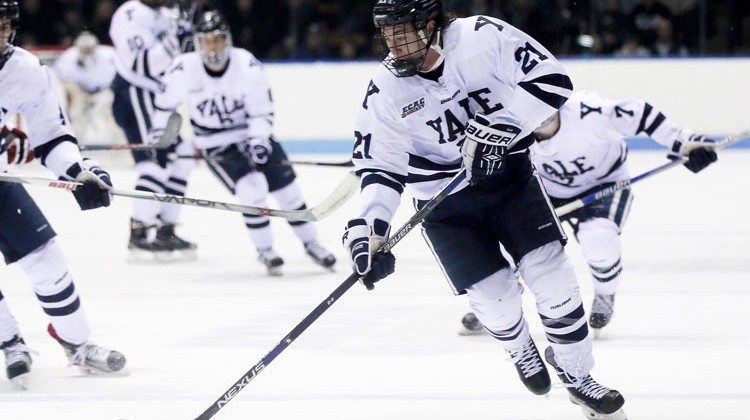 By Paul Silverfarb
Sentinel Editor
To say that the past month has been unlike anything he's experienced would be an understatement for former Brunswick School ice hockey standout and current Chicago Blackhawk John Hayden.
Since March 16, Hayden has been a member of one of the National Hockey League's best teams and is enjoying every second of it.
"It's an incredible experience so far," Hayden said. "Obviously, I am very fortunate to join such an incredible organization with a winning culture and recent championships. I have been learning a lot from the staff and the rest of the players."
After finishing out his senior season with the prestigious Yale University hockey team, Hayden was slightly disappointed, as the Bulldogs saw its season come to an end with a loss to Harvard in the quarterfinals of the ECAC Hockey Tournament.
However, a day later Hayden was on cloud nine, as he agreed to terms with the Blackhawks, the same team that picked him in the third round of the 2013 NHL draft.
Finally, Hayden got the call that he was eagerly waiting for. It was time to pack up the bags, head north to Canada and become a player on the Chicago Blackhawks for the March 16 game against the Ottawa Senators. While the excitement and nerves were through the roof, gearing up to play in his first NHL game, Hayden had a little extra nerves.
Nothing says pressure like playing in a packed house, on the road, against the Senators and Toronto Maple Leafs, two squads with a raucous fan base and are possibly playoff-bound.
"I've been waiting for that game for a very long time," Hayden said. "Obviously it's every youth player's dream. To be in Canada for my first couple of games was stressful. They have an incredible fan base for both teams. It was truly be an honor."
But Hayden took it in stride. Although he didn't register a point in his first NHL game, he had 8:44 of ice time against Ottawa and it was still an experience the young hockey player won't soon forget.
"It was a lot of fun," Hayden said. "Yeah, I was a little nervous, but I kept it pretty quick and simple. I was on a line with Jonathan Toews for my first game in the NHL, so that was pretty special. He made it a little easier for me."
But then a game later against the Maple Leafs, Hayden picked up another memory and another first. Two days after stepping foot on the ice as a professional with the Blackhwaks, Hayden netted his first goal.
Midway through the second period, and with Chicago trailing 1-0, Brent Seabrook gained control of the puck deep in the Chicago end and  had a beautiful outlet pass to Toews on the left side of the Toronto goalie just inside the blue line.
Toews then fed the cross-ice pass to Hayden, who was darting from just outside the faceoff circle. Hayden kicked the puck with his left skate to his stick and then quickly blasted a shot that beat Toronto goalie Frederik Andersen and landed in the top right corner of the net for the goal.
For his effort, and helping the Blackhawks net the 2-1 overtime victory, Hayden was named the second star of the game.
"It was a special moment, especially being in Toronto and being Hockey Night in Canada," Hayden said. "It's another big moment and again I was on the line with Jonathan Toews. I saw him and he made a great play. Everything worked out and I was able to capitalize on his pass. It's still very hard for me to describe how I feel about that moment."
During his tenure with as a member of the Yale Bulldogs, Hayden has been lights out.
This year as captain of the team, he played in 33 games and finished with 21 goals and 13 assists. Hayden also scored 12 power play goals and was clutch three times this season by scoring game-winning goals.
He also had a career-game during his senior season, scoring two goals and netting two assists in a game against RPI back on Dec. 9.
"As a team we fell short," Hayden said. "We had very high goals, but I am still very proud of my teammates. They have a very bright future and have a young team over there. They are going to carry the very hard-working tradition of Yale hockey. It was still a great season."
In his Yale career, Hayden played in 127 games and tallied 50 goals, 40 assists and has blasted 493 shots on net.
"Personally I feel like I've developed pretty steadily each year," Hayden said. "I'm glad that I stayed for all four years. It was incredibly important to stay all four years. I couldn't be happier with that decision. It was an honor to be a captain of Yale my senior season and spending that extra year with my best friends at Yale and getting an extra year to learn with head coach Keith Allain and the rest of the coaching staff. I said going into my senior year that pro hockey isn't going anywhere."
For Hayden, the difference between playing at the collegiate level and now with the National Hockey League is quite large.
"Everything is with faster and stronger players," Hayden said. "There's also more attention to detail at this level. Everybody is also in position, so you have to be sharp at this level. That being said, I am very grateful for everything that I experienced at Yale, from having coach [Keith] Allain to all the players to the academic and social community. There's a quick transition and it's been a whirlwind to me, but I finally had time to reflect and I am very thankful for what Yale had to offer."
And Hayden is in quite the solid situation. Not only have the Blackhawks clinched a playoff spot, but they have also clinched the best record in the Western Conference.
"This is a best-case scenario, to be on this organization and learn from these players and the leadership qualities that they have," Hayden said. "It's pretty exciting to be around a team that has had so much success and is having a lot of success right now."
For Hayden, getting on that playoff roster means more hard work and practicing, something that the Yale senior is certainly used to.
"I need to keep working on my game and stay hungry," Hayden said. "It's a big offseason for me coming up. On the ice, I don't want to change my game. I want the same hard-nosed, two way game that got me here. If I do that, I think I will have success."
Tags:
Brunswick Hockey
,
Brunswick School
,
Chicago Blackhawks
,
cthk
,
cthockey
,
cthshockey
,
greenwich
,
John Hayden
,
National Hockey League
,
NEPSAC
,
NHL