March 31, 2017
New Leb's Spaghetti Dinner: Meatballs, Prizes and Community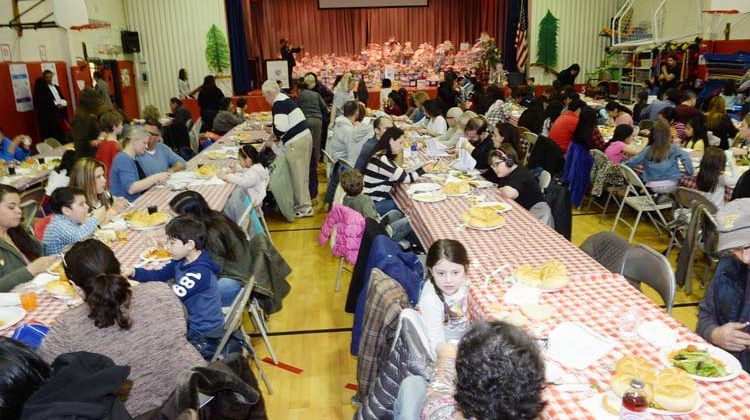 By Richard Kaufman
Sentinel Correspondent
There were nothing but smiles and tomato sauce-stained faces last Saturday night, as New Lebanon Elementary School held its biggest event of the year—the Spaghetti Dinner Fundraiser.
With five long tables stretching the length of the gymnasium floor, each with checkered red and white tablecloths and plates piled high with bread, approximately 375 students, parents and faculty all sat down to feast on spaghetti, meatballs and salad. Event-goers were even placed in the nearby cafeteria to accommodate the large crowd.
The dinner and subsequent prize giveaway, which featured over 100 prizes donated from local families and businesses, helped the school attain a 33 percent increase over last year's fundraising figure. One hundred percent of the proceeds from the event will be put back into the school, and all 265 students to help fund things like field trips, assemblies, after-school programs and new school supplies.
For PTA co-presidents Dana Rodriguez and Clare Kilgallen, along with co-treasurer Shannon Bocchino, the spaghetti dinner is used to beef up funding for the school, especially for the remaining few months of the school year, which are always busy.
"The three of us pretty much work a lot on trying to figure out different fundraising efforts, so we can provide services to kids," Rodriguez said. "The fact that we have so many donors from the community who want to help see this night a success is really cool."
Local parent and chef Mike Aguilar prepared 80 pounds of spaghetti with 40 gallons of marinara sauce and 100 pounds of meatballs, which were served by volunteers and teachers. Although it's a simple meal, it hits the spot.
"The food has always been good," said Kim Judge, a mother of five who has participated in 11 spaghetti dinners. "You really can't go wrong with spaghetti and meatballs. It's fun, it's easy. The kids get the sauce all over their face. I love it. It's great."
Judge's daughter, Emilie, who is in fourth grade at New Lebanon, had her eye on the prizes, which were nestled up on the stage for all to see. "I like the prizes a little bit more [than the food]," she said with a smile.
Two of the most sought after prizes by kids and parents alike was the $250 money tree and the wreath of $100 worth of scratch-off lottery tickets. Another big item up for grabs was tickets to the annual Greenwich Town Party. There were also themed class baskets, which were put together by each grade and contained items such as Lego sets, a razor scooter and an Apple Watch. Silence hushed over the crowd with every drawing, and cheers erupted as each winner was announced.
But aside from the shiny prizes and good food was the overwhelming feeling of community. Many in attendance view the dinner as an opportunity to come together for one night out of the year and socialize.
"We like it because it reflects the community," principal Barbara Riccio said of the fundraiser. "People live here, work here, worship here, go to school here in this community, so it's a community event. People come and eat dinner together."
Wendy Figueroa, who has been in charge with organizing seven spaghetti dinners over the years, participated in the event as a student more than 25 years ago. To come back as an adult and help the current students have fun and raise money for the school is extra rewarding for her. "[The school] helped my family out when I was younger, so now it's my turn to give back," she said.
Planning for the big night starts months in advance, and boils down to three hectic and crazy hours, something that Figueroa enjoys the most.
"[I love] the chaos. Me and my team work so hard to get [the event] to where it is. It gets a little stressful," she admitted.
With empty plates, full stomachs and a few prizes to take home, the 35th annual spaghetti dinner at New Lebanon Elementary school was once again a big hit, thanks in part to those around the community who helped make it possible.
"Everyone's happy and everyone's smiling," Figueroa said. "For me, that's the best thing."
Tags:
byram
,
fundraiser
,
greenwich
,
New Lebanon
,
new lebanon elementary school
,
Spaghetti Dinner