March 12, 2017
Second Congregational to Ordain New Minister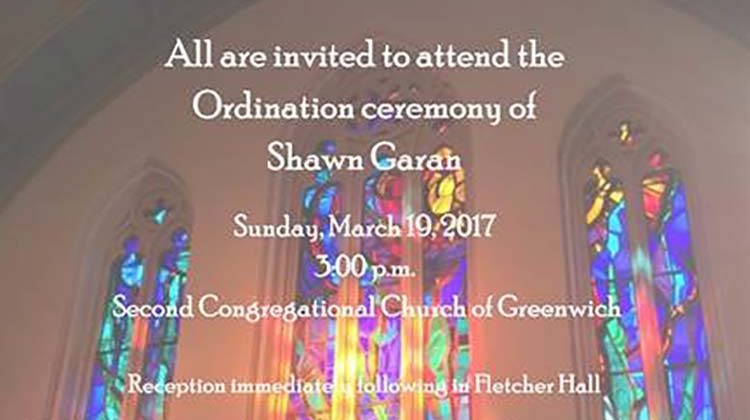 On Sunday, March 19 at 3 p.m., Second Congregational Church will host the Ordination of Shawn Garan into the ministry of the United Church of Christ.
"Shawn is a gifted pastor and a creative thinker about ministry today," says Senior Minister Maxwell Grant. "We are very grateful that he is part of the team at Second Church."
Garan, who joined the ministerial team at Second Congregational Church in 2015, is a graduate of Alliance Theological Seminary with a concentration in Missions. A military veteran and married with two young children, Garan directs two of the largest youth groups in Greenwich as well as the church's popular Confirmation Class. He and his wife Ashley are very active in church and are always looking to connect people in the community to Second Church.
As an emerging church leader, Garan kicked off his new "Dinner Stories" series on March 5, where he is encouraging members and the community who are interested to join him in making and enjoying dinner together followed by a reading from the Bible with a short discussion. Garan's vision is to share parts of the Bible each week in an intergenerational format so all are welcome and encouraged to attend.
There will be a reception and cake following the ordination service, and Garan will host Dinner Stories at 5 p.m.
Tags:
greenwich
,
New Minister
,
Ordained
,
Second Congregational