March 11, 2017
Audubon Connecticut, Donors Gift Greenwich An Osprey Webcam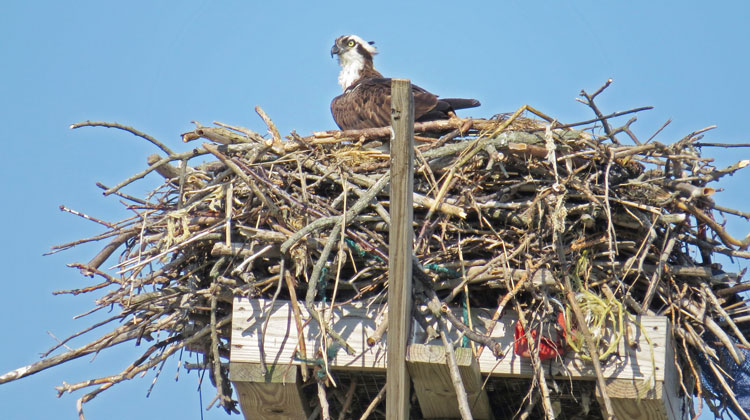 By Anne W. Semmes
Sentinel Columnist
For those who monitor the arrival of spring with the first heard dawn chorus, there has been given to us a front row seat to observe the arrival of that migrating winged wonder, the osprey, via an osprey webcam now installed on a newly renovated osprey platform in Cos Cob Harbor.
Ospreys are traveling toward us now from their wintering grounds in Florida, coastal Mexico, and the northernmost areas of South America, and if they have no habitual nest in a tree or on a manmade platform to return to, they will be on the lookout for a site—and there it will be, the now available and secure platform with its incentive-making small pile of sticks on the Cos Cob shoreline.
But, spoiler alert! As of last week the webcam had captured as first visitor the Great Horned Owl, a potential predator of the osprey, perched on the edge and boldly looking into the eye of the video webcam! This reported, with image, by Patrick Comins, Audubon Connecticut director of bird conservation, who announced the webcam arrival. It seems the owl has a reputation for going after eggs and fledglings, but Comins believes this particular owl has "shared the Cos Cob neighborhood for some time with some level of détente."
How things shake down for the lucky pair that claim this nest you can witness here, and see the drama unfold of osprey courting, nest building, stick by stick, then incubating, then raising their young over the course of the summer.
The osprey webcam, the first in Greenwich, with three others statewide, and its renovated platform comes with the compliments of Audubon Connecticut, a local and generous and anonymous donor, the money-saving efforts of John Ametta of Atlantic Marine Construction, whose barge allowed his righting the platform pole and re-constructing the platform so designed by the Menunkatuck Audubon Society, with additional hands-on help by marine personnel from the Riverside Yacht Club. (It takes a village to produce an osprey platform!)
So, now the watch is on for the ospreys' arrival. Comins reports seeing one further north in Wethersfield, and he's heard of one seen on Long Island the last week of February. But he's most expecting arrivals mid to late March as is Cynthia Ehlinger who leads the First Sunday Bird Walks at Greenwich Point. Following eBird listings at http://ebird.org/content/ebird/ is another way to catch early spottings.
Osprey watchers can also follow osprey researcher Bob Bierreggard's osprey tracking website here, where you can follow his individually satellite-tagged (and named) ospreys on a map as they migrate north in the spring and back in the fall. (Here's a thought: wouldn't it be grand if one of the new nesting osprey or their young raised on this nest in Cos Cob Harbor could be added to Bierreggard's list, tagged with satellite for us to be able to keep tabs on it!)
You can sense this girl has an investment in ospreys. I'm a volunteer osprey nest steward for the Connecticut Audubon Society's statewide Osprey Nation program. My nest is in Byram Park atop playing field floodlights—not ideal for a webcam. But now I can measure my birds nesting activity as compared with the Cos Cob Harbor one.
My duties as one of 200-plus volunteers is to send in data on my osprey arrivals, their nesting success, with number of hatchlings, and their departures. The data collected over the last three years of this program shows the amazing rebound success of the osprey. Last year there were approximately 500 fledglings reported, including my four Byram Park fledglings.
Osprey Nation also partners with the Connecticut Department of Energy and Environmental Protection (DEEP), so, as stewards, we need make sure to let both Connecticut Audubon and DEEP know if our osprey platform nests are safe and secure. And if you'd like to volunteer for a nest not already taken, just visit www.ctaudubon.org/osprey-nation.
The osprey is not only our harbinger of spring; it is our good news bird. It was in the late 1960's that coastal development and the use of DDT had reduced the Osprey population from 1,000 nests to fewer than 10 active nests in the state by 1974. But now count approximately 400 active nests in Connecticut with the number growing.
Fair warning: this new Osprey Cam, being solar powered, may exhibit "streaming interruptions during low-light conditions, overcast, and unfavorable weather—when the camera has not received enough sunlight to power up."
But keep your eyes peeled for this amazing and audacious bird as it lives out its spring and summer on our coastline. And fair notice to that local potential poacher, the Great Horned Owl—we've got our eyes out for you!
Tags:
audubon connecticut
,
Cos Cob Harbor
,
greenwich
,
osprey
,
Osprey webcam