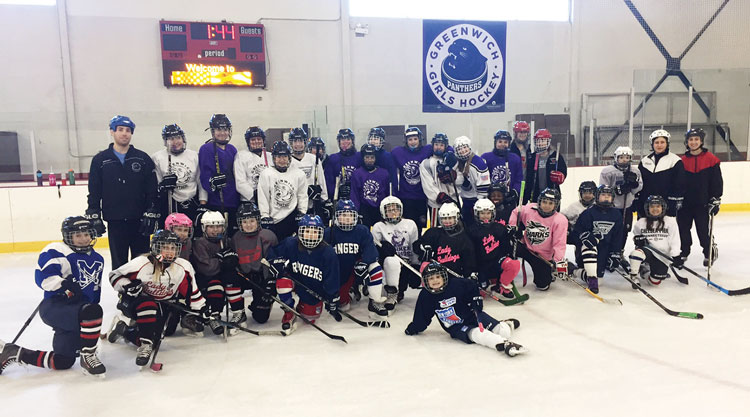 By Amanda Kleinberg
Sentinel Correspondent
On Feb. 19, an unseasonably balmy winter day in Greenwich, the Panthers Girls Hockey Association hosted a free hockey clinic for girls residing in the greater Greenwich area.
This was the fourth and final free clinic offered, with the goal of helping grow the game of hockey for girls in Fairfield and Westchester counties.
"What a great experience having so many talented players and coaches on the ice with these girls this season" said Katy Gray, president of the Panthers Girls Hockey Association. "We are grateful to all of these women who helped demonstrate that girls ice hockey can take you so much further than ever before."
The clinic took place at the Dorothy Hamill Skating Rink, named after Greenwich native and 1974-76 Olympic United States champion. Hamill grew up in the Riverside section of Greenwich.
Twenty-five girls with their own personal aspirations gave it their all during the final clinic tearing up the ice. The girls strengthened their skills and worked their edges under the expert assistance of Laura Peccia, a Laura Stamm Certified Power Skating Instructor, along with Panthers Hockey Director Seth Michelson.
"It was great to see so many girls on the ice today giving it their all," Pecchia said. "Power skating and learning the proper stride is so important in the game of hockey, and I was happy to come out today to work with the Panthers Girls Hockey Team and their friends."
In addition, there were several Greenwich High School girls' ice hockey varsity players enthusiastically teaching basic hockey skills while the young girls eagerly worked to hone their skills. Several of the young girls reported that they especially enjoyed working with the high school athletes and that they hope to play at that level one day.
Panthers Girls Hockey hopes to continue to serve as a feeder to the high school level and beyond igniting the excitement and skills to young girls playing hockey.
"Our coaches focus on the fundamentals: skating, stick handling, passing and shooting," Gray said.
Gray was excited to announce that the Panthers are adding a U-16 and U-10 squad next season to the already cohesive U-14 and U-12 teams. Gray pointed out the youngest player on the ice is just seven years old and already a proficient hockey skater.
The Panthers' hockey season runs from September through March state tournaments, with the team participating in the County Girls Hockey League (CGHL). Tryouts for the 2017-2018 season for the U-16, U-14, U-12 and U-10 teams will be held on April 21 to 23. For more information and to register, contact Gray at 917-848-8997 or email katygray39@gmail.com. To find out more information on the Panthers, visit Panthersgirlshockey.com.
The Dorothy Hamill Skating Rink can be enjoyed by Greenwich residents and is conveniently located on Sherman Avenue. The rink is in its 45th season of operation and is a fully enclosed facility offering a variety of winter programs including hockey clinics. The rink has been renovated to improve safety, comfort and accessibility.