March 3, 2017
Greenwich Delegation Supports Funding for New Lebanon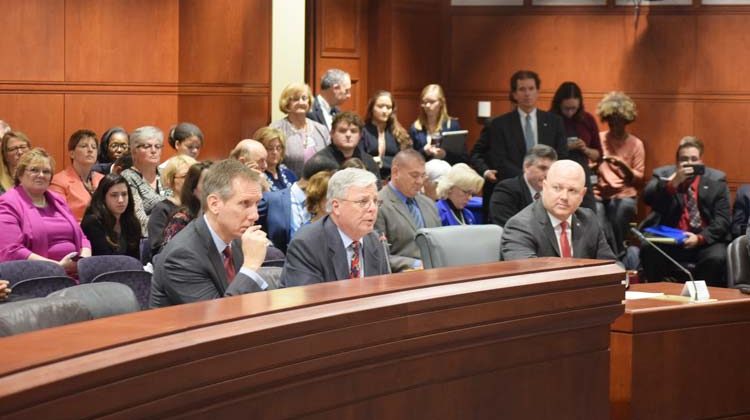 State Senator L. Scott Frantz (R-Greenwich) and State Representative Mike Bocchino (R-Greenwich), along with Superintendent of Schools Sal Corda, and Greenwich Board of Education Chair, Peter Sherr, presented testimony in support of House Bill 7158, An Act Concerning Authorization of State Grant Commitments for School Building Projects at the Legislative Office Building in Hartford on March 1. The legislation also has the support of State Representatives Livvy Floren (R-Greenwich) and Fred Camillo (R-Greenwich).
If approved, the bill would authorize funding for the reimbursement costs of the construction for the New Lebanon School. The request for repayment comes as a result of the provisions of Connecticut General Statutes Sec. 10-286h, which provides for up to an 80% reimbursement for school building project grants for diversity schools in school districts where a racial imbalance occurs. This request is the result of a long process and a great deal of work between the Greenwich School Board and the State Department of Education.
"I urge this committee to support this bill and specifically support funding for this school project. We cannot turn the town away, when it is the state that is mandating that the town complete this project in the first place," said Sen. Frantz.
"Any recommendation by any party to arbitrarily remove this project for any reason at this stage in the process is unconscionable," said Rep. Bocchino. "The project meets every requirement of the diversity grant statute, has been fully vetted by the municipality and all its departments, is supported by the State Board of Education, and was, through bipartisan support and the absence of just one member, unanimously voted for and approved by the school construction priority list committee."
"The case for construction reimbursement for New Lebanon School was factually presented at the Education Committee's public hearing this morning," said Rep. Floren. "Rep. Bocchino, Dr. Corda and Mr. Sherr were articulate in their statement that Greenwich has met, and exceeded, all the requirements imposed by the State Department of Education and the Department of Administrative Services and absolutely qualifies to receive the funding, as promised."
"We have followed the procedures, we have met the requirements, and now it is time for this project to move forward as there are children in this district that are depending on it," said Rep. Camillo. "We owe it to them and the educators who work at this school to provide a facility that has the space and resources necessary for it to function."
Tags:
construction
,
Delegation
,
funding
,
greenwich
,
hartford
,
House Bill
,
legislation
,
New Lebanon
,
New Lebanon School
,
Project
,
reimbursement
,
School Building