March 2, 2017
Greenwich High School Gymnastics Claims CIAC Class LL Gold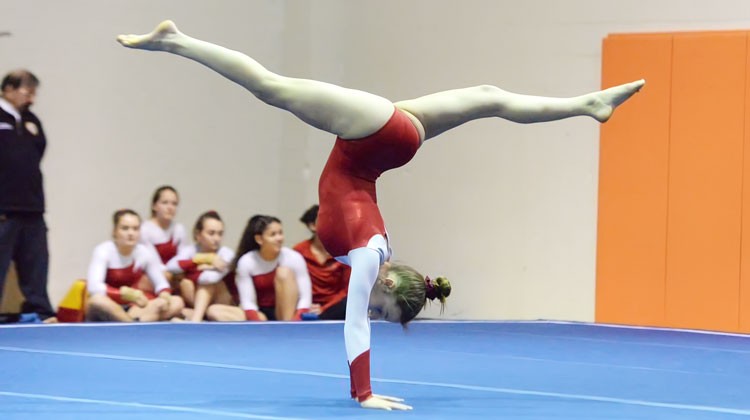 By Paul Silverfarb
Sentinel Editor
The pressure was on the Greenwich High School gymnastics team. After cruising through the FCIAC championships to pick up its second conference title in as many years, the Lady Cardinals were back in action last weekend, looking to defend its CIAC class LL crown as well.
Mission accomplished for GHS head coach Sue Knight and the rest of Big Red, as they took home their second championship trophy this season and claimed class LL gold.
"It was fun," Knight said. "I think it's a little harder because we wanted to keep our winning streak going over here. It put a little more pressure on us, but the girls handled it really well."
As a team, Greenwich took the top honors with a score of 142.575. Just like at the FCIAC championship, it was Trumbull High School that was neck-in-neck with the Lady Cardinals, taking silver at the class LL meet with a score of 140.700.
"There was definitely added pressure from coming off an FCIAC championship two weeks ago and also winning the class LL meet last year," Knight said. "We just wanted to keep the times going. They did wonderful. Some of the girls added some new skills, which is a little scary for them because they were doing those new skills at a championship meet. But they did fantastic. We had a goal of 142.500 and they met their goal, so that was special."
Another familiar foe, fellow FCIAC school Fairfield Ludlowe High School, netted third place on the day with a score of 132.00. In fourth was Southington High School with a score of 131.300 and rounding out the top five was Glastonbury High School, as they took home a score of 129.500.
Greenwich High finished tops in three of the four exercises, with Trumbull High taking home top honors on floor.
When it came to bars, Greenwich shined. Their team score of 34.100 was over a point better than the Eagles, who took second on the event with a score of 32.900.
And the bars was where GHS standout Adnerys De Jesus stepped up her game, pacing the field with a score of 9.400. Norwich Free Academy's Taylor Churchill was her closest rival, scoring 9.325. No other athlete reached the 9.000 mark in the event.
Kelsey Fedorko took home a score of 8.600, while teammate Jessica Freiheit netted a score of 8.200. Gianna Cardini rounded out the scoring for GHS with a total of 7.900.
The Lady Cardinals also grabbed some high scores on the vault, grabbing a top total score of 36.575. Leading the way once again was De Jesus, as her score of 9.600 was tops in class LL. Cardini had a standout performance on vault, netting a score of 9.050. Right on her heels was Fedorko, who finished with a score of 9.000. Not to be outdone was Freiheit's score of 8.925.
Greenwich's third gold medal apparatus was on beam; they took home a score of 36.075 and just beat out Trumbull, who took second overall with a team score of 35.800.
This time around it was Fedorko who led the Lady Cardinals, finishing first on the team with a score of 9.350. De Jesus grabbed the second spot with a score of 9.125. Overall it was Trumbull's Samantha Markland who was the best on beam, posting a score of 9.600.
"Kelsey had an amazing day on beam and did such a great job," Knight said. "She was steady and focused during her entire time on beam. Adnerys did have a fall on beam, but she got back up. She was so focused and finished so strong, which sometimes is hard to do on beam. Some times a fall sets you off, but it just shows what a great, focused gymnast Adnerys is."
Also helping Greenwich grab the top team on beam was Freiheit, who finished with a score of 9.000. Clinching the top team spot on beam was Cardini, who took home a score of 8.600.
Greenwich's lone defeat on the day was on floor, where Trumbull edged out Big Red by less than a point with a team combined score of 35.900. The Cards were neck-in-neck throughout the event, posting a team score of 35.825.
Taking the top individual spot was De Jesus, who finished best in class LL with a score of 9.600. Fedorko took second on the team with a score of 9.200, while Cardini and Freiheit were battling for the third spot on the team. At the end of the day, it was Freiheit who finished third with a score of 8.525; Cardini took home a score of 8.500.
Tomorrow Big Red returns to the gymnasium, this time at New Milford High School, for competition in the CIAC state open championship meet.
"Our goal is to clean up our routines and get them looking really strong," Knight said. "If we can do that, then we shouldn't have any problems because we have the skills. Everything is right there for the girls."
Four teams will be competing in the meet, with the top three teams representing Connecticut in the New England championships. Woodstock Academy is seeded tops, as they took home an impressive score of 151.425 during the class S meet.
Then comes Greenwich, taking the No. 2 seed with its class LL score of 142.575. Trumbull (140.700) is seeded third, while Daniel Hand High School rounded out the four teams competing, as they scored 137.300 in the class M championships.
The New England meet is slated to take place at Woodstock Academy.
Tags:
CIAC
,
class LL
,
ctgym
,
FCIAC
,
greenwich
,
Greenwich Gymnastics
,
Sue Knight