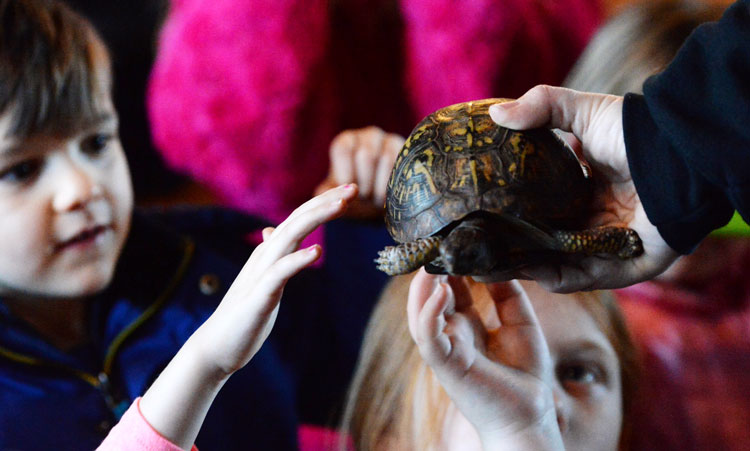 By Michelle Moskowitz
Sentinel Reporter
It was standing room only this past Sunday, a bright, crisp, winter day at the Innes Garden Cottage at Greenwich Point, where children and their parents gathered for a special program called "Wildlife in Winter."
The event, which featured a live-animal presentation, is part of a series of educational programs provided by the Friends of Greenwich Point in collaboration with the Stamford Museum & Nature Center.
On Sunday, Lisa Monachelli, director of education for the Stamford Museum & Nature Center, explained to an enthusiastic crowd how reptiles, birds and mammals adapt and survive the winter months through the processes of hibernation, migration, and brumation (a reptilian version of hibernation); by necessity, animals create new dwellings, vary their food supply sources, and alter their physical state.
Monachelli, who has been working with animals for the past 20 years, took delight in showcasing the animals on display, as kids circled round her in anticipation.
The live-animal demonstration included a salamander, an eastern box turtle, a gypsy eastern rattlesnake, an owl, and a perfectly plump and plush bunny rabbit.
"I have always been genuinely fascinated by the world of animals and the world of nature, and getting to share that with others is truly wonderful," said Monachelli.
There was a bit of apprehension among the crowd as Monachelli scooped the eastern rattlesnake from its cage—but with her soft, cheerful demeanor and gentle body language, she encouraged many of the kids to stroke it gently.
"Snakes are not slimy, maybe just a little chilly, that's all," she said after discussing how snakes "bromate" in large groups, often sleeping huddled together.
She also performed a rhythmic "migration rap song," using a woodchuck puppet, which provided both amusement and education simultaneously.
Monachelli discussed how Connecticut groundhogs sleep all though the winter, without eating, drinking or eliminating waste.
"They decrease their heart rate, their breathing rate, and lower their body temperature after stocking up on food to prepare for winter," said Monachelli.
One highlight of the afternoon was meeting "Willow," a barred owl, the second largest kind of owl behind the great horned owl.
Because Willow is a wild animal, people were unable to touch her, but onlookers were awed by her regal beauty, as the oohs and has in the crowd affirmed.
However, kids were still able to derive a sensory experience as Monachelli passed around the wing of a deceased owl for all to stroke its feathers.
As Willow spread its wings and sat perched on Monachelli's arm, she explained how owls tend to borrow nests from other animals in the winter as they move from place to place.
Last but not least was Winston, a giant Flemish rabbit who sat quite patiently for some time and let everyone in the crowd pet him for as long as they liked.
"Winston has been with people since he was a baby, so he really likes being around them," added Monachelli.
Moderator Peter Linderoth, director of education for Friends of Greenwich Point, was an eager onlooker as well, and was pleased with the turnout.
"It's truly great to use this space (at Innes Garden Cottage) to talk about the adaptation process as it pertains to our animals at Greenwich Point," said Linderoth.
"And it's such a pleasure to work with such a great local partner," he added.
Friends of Greenwich Point is an organization dedicated to stewardship and public education that aims to preserve and enhance Greenwich Point's diverse natural environment, provide safe recreation for community members, and the maintenance of its grounds.
Visit friendsofgreenwichpoint.org for information on upcoming events.
Visit stamfordmuseum.org for more information.