February 15, 2017
Greenwich Hospital Announces New Nursing Leadership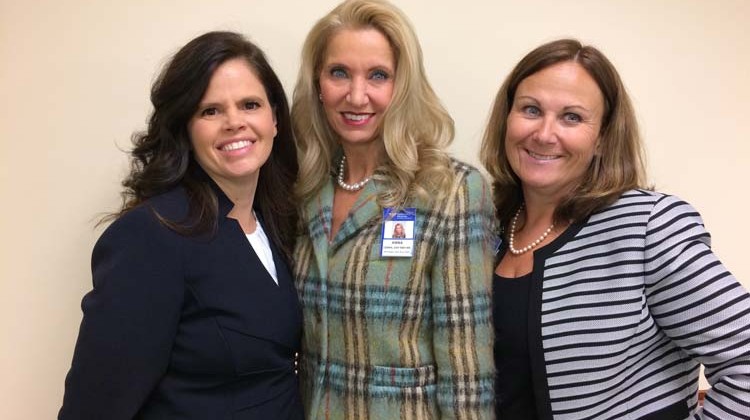 Greenwich Hospital has announced the promotion of three nurses to leadership positions effective Jan. 1.
Anna Cerra, RN, DNP was appointed vice president of Patient Care Services and chief nursing officer. Brenda Misuraca, RN, MSN was named program director for Women's and Children's Services. Peggy Lennon, RN, MSN was appointed program director for Surgical Services.
"We are privileged to have such highly skilled and seasoned nursing professionals as Anna, Brenda and Peggy to lead our organization. As a team, they are committed to fostering the high quality and safe care that our patients and community have come to expect," said Norman G. Roth, Greenwich Hospital president.
Cerra has been with Greenwich Hospital for 17 years, most recently as executive director of Women's and Children's Services as well as Surgical Services. She has been instrumental in the growth of these service lines and their standardization within Yale New Haven Health. She holds a master's degree in healthcare administration from Iona College and received a master's degree in nursing and a doctorate of nursing practice from Case Western University. Cerra assumes the post of chief nursing officer from Sue Brown, RN, MSN.
Brown will expand her role as executive vice president of Operations with full authority for day-to-day operations.
Misuraca will continue to serve as director of Greenwich Fertility as she assumes her new responsibilities for obstetrics, perinatal and pediatric services as program director for Women's and Children's Services. She has held a variety of posts during her 25 years at Greenwich Hospital, including serving as manager of labor and delivery, maternity, nursery and the neonatal intensive care unit. Misuraca received her nursing degree from Worcester State University and her master's degree in nursing from Pace University.
Lennon has made significant contributions to the growth of surgical services since joining Greenwich Hospital in 2011. In her new position as program director for Surgical Services, Lennon will be responsible for the Ambulatory Surgery Center, operating room, inpatient surgical units, post-acute care unit, the Sackler Center for Pain Management and the Sterile Processing Department. She will maintain her role as manager of the hospital's three surgical units. Lennon received a nursing degree from Helene Fuld College of Nursing and a master's degree in nursing from Walden University.
Tags:
Anna Cerra
,
Brenda Misuraca
,
greenwich
,
Greenwich Hospital
,
Nursing Leadership
,
Peggy Lennon