February 14, 2017
Brunswick Grabs Town Wrestling Crown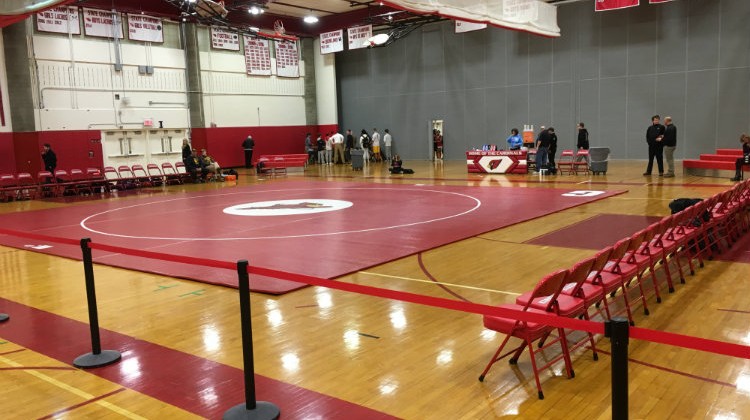 By Rob Adams
Sentinel Reporter/Broadcasting Director
The evening started well for the Greenwich wrestling squad as they squared off at Greenwich High School against Brunswick in the annual Town Crown.
Both Mitch Grimes and Dylan Ehret opened the match with pins of their respective opponents in the 113 and 120 lb. class. But the success with short-lived, as the Bruins took overall honors with a convincing 45-19 victory.
For the Bruins, it caps off a 16-1 regular season, as they look towards the WNEISWA championships on Saturday at Salisbury.
"They all wrestle their hearts out," Brunswick's Brooks Hennessey said after he defeated Kevin Jewell of GHS in the 132 lb. bout. "They're a great group of guys. It's great leaving senior year with a win against GHS."
His brother Andrew won decisively at 126 lbs. and said they know the all-time record against the crosstown friendly rival.
"We do a little bit," Andrew said. "I know it's 8-7 now, and knew it was 7-7 going in. That was a big motivation for us going into this. There's no crowd like the Greenwich High School crowd."
A three-match stretch between 152 and 170 lbs. provided some of the most excitement of the evening. In the 152 lb. match, the Bruins' John DeLucia held on to top Finbar Doyle with two late points. The match needed to be halted a few times for medical assistance, as Doyle put forth a strong effort before DeLucia won outright.
The 150 lb. match was taken by Greenwich's Mike Ceci, who topped Alex Tucker, 16-6.
"I thought I had him pinned at one point, "Ceci said. "Today was a little bit questionable. It didn't really matter. I should have worked my offense."
The 170 lb. match brought the crowd to its feet, as Tim Saunders of Brunswick took an 8-7 decision over Andrew Nanai.
"Saunders picked the kid up at the end and scored the takedown to take that," Brunswick coach Tim Ostye said. "That was huge."
"We knew it was going to be a close match. We won the close matches, so things went our way, basically. It think it's a really good rival."
Another match of note was the overtime showdown between Lachlan Rosato of Brunswick and Alex Nanai from Greenwich. The two worked hard into overtime, before late points gave Rosato a 9-3 win, with was not as decisive as the score seemed.
Greenwich coach Greg Domestico had praise for Brunswick, but also said a few things could have gone differently for his own team.
"They came out on top in a few swing matches that we knew we needed," he said. "We know we're better than them in a few weights, and we knew they're better than us in a few weights. If we split, it would be a tighter match."
"That's a testament to their program and their kids. That's where we need to be in the future. I'm really proud of our young kids. We put seven sophomores on the mat tonight. It hurts not to win, but the future is bright."
"I'll take it," Ostye said. "The kids deserve all the credit."
Domestico also had praise for the crowd.
"I've been coaching for 20 years," he said. "This was awesome. I love it. I love the atmosphere.
"Hopefully one of these years, the crowd is erupting for us as we win that match. It's something that's great for the sport."
After a Tuesday win against Ridgefield, Greenwich is now 14-9, with the FCIAC tournament looming this weekend.
"For some of us, it's a good wakeup call for the postseason," Ceci added.
Tags:
Brunswick
,
GHS
,
greenwich
,
Rob Adams
,
Sports
,
Town Crown
,
wrestling