February 4, 2017
Column: Getting to Know About the Fascinating Setons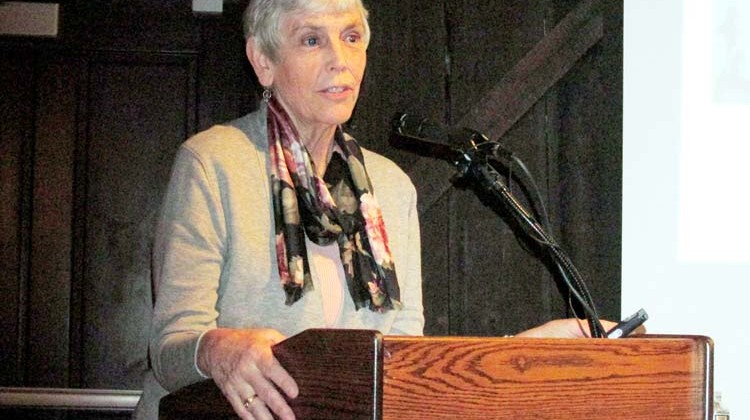 By Anne W. Semmes
Sentinel Columnist
Just as I was beginning to think we'd forgotten completely about our illustrious naturalist, artist, writer and former resident Ernest Thompson Seton, news came of two lectures on the "Setons: Authors, Builders, Artists and Individuals" to be given at the Greenwich Historical Society.
It was two Seton-inspired fellows visiting from the Czech Republic, who were so crushed to see Seton's Wyndygoul home gone and flabbergasted to learn that the famous Standing Rock on his property they flew across the ocean to see—where all that great Indian storytelling took place—had no sign or marker that gave me that feeling of great neglect for the man and his legacy.
But last week a gracious and Seton-savvy lady, Lucinda MacKethan, came up from the south and mesmerized all of us filling the Vanderbilt Education Center with her stories of the Seton family houses—yes, there were four in Greenwich.
This retired English professor from NC State University told us how Ernest's only child and daughter, the novelist Anya Seton, in her writing had "translated her own family, her own role as mother and wife. Her life fed her fictional universe." Working on her novel "Katherine" Anya had noted, "I suppose I write myself over and over again as my heroine."
It was that novel "Katherine," thought by many to be Anya's best work, that introduced Lucinda to the Setons. "I took that book with me when I went to college," she told us. While teaching at NC State she would become mentor to a Professor Blythe Forcey Toussaint, whom she learned to her delight was the granddaughter of Anya Seton—also a writer, who was present for Lucinda's lecture. Lucinda is now on her way to writing Anya Seton's biography, due to be finished in a year.
Lucinda described Ernest as "an extremely charismatic man… six-feet tall… with a ferocious temper" who "didn't bathe much." "He hated Hitler, his father, and Custer," she said, then told of Ernest's reply to his father after he wrote requesting that Ernest pay him back for each expense it had cost to raise him. "Ernest wrote him back an extra polite reply repudiating each expense, then included in the letter what his father didn't do!"
"Greenwich made the Setons," Lucinda said. In 1900 Ernest Thompson Seton purchased 220 acres in Cos Cob for $10 to 15 dollars an acre, compared to $1,000 an acre in Greenwich. Seton proceeded to build his Tudor house of stucco, "Wyndygoul," and create a 20-acre lake in the middle of which was a small island with a hollow tree that he hid in to observe wildlife, Lucinda said. The boys in the neighborhood, put out by this now fenced-off natural paradise, defaced the gate, an action that led them into becoming the Seton Indians, forerunners of the Boy Scouts.
Seton would not long after build his second great house, DeWinton, with a gardener's cottage, on Lake Avenue, both now in private hands, with Little Peequo next door, and Seton's studio—constituting a veritable compound of houses stretching along more Seton-made lakes. Yet Lucinda noted that Ernest and wife Grace and daughter Anya, who built her Sea Rune house on the water in Old Greenwich, were "house builders, not home builders." Houses were "places to write in."
The Setons were "a writing and storytelling family," Lucinda said. Ernest even wrote articles on his house-building in both the Ladies Home Journal and in House and Garden, I recently discovered. Between the three of them, Lucinda noted, they published some 60 books—Ernest's 42, with Grace Gallatin Seton publishing seven travel books, and Anya publishing a dozen novels, two of them making it to the big screen: "Dragonwyck," and "Foxfire."
All three were bitten by wanderlust, Ernest in search of wildness wherever, first in Canada and the Arctic prairies; Grace as far as Indochina and Vietnam, Bali and Egypt; and Anya to Greenland and Iceland in search of the Vikings, and to England in search of John of Gaunt for her Katherine. Anya was also in search of father figures, apparently, having hers absent so often with Ernest's lectures and storytelling tours.
And in the end it was the wilder west of New Mexico that claimed Seton, traveling there later in his life after falling in love with his much younger secretary Julia—"a fair charmer," said the southern Lucinda. He gathered together some 2,500 acres outside of Santa Fe with not much money, and built house number five—Seton Castle—destined to burn down and be built up again to be the College of Indian Wisdom, and now The Academy of the Love of Learning. "He lived there for 16 years," said Lucinda; he died in 1946 at age 86.
Seton's most famous book, noted Lucinda, was "Wild Animals I Have Known," still in print. Anya wrote of her father that "he popularized natural history and was never inaccurate," and she in her "field of human history, tried to do the same thing." Anya also wrote in her journal early in 1927 that one of her resolutions was "to publish the work of my pen and to have my name at least as famous as my parents'." Fourteen years later—in 1941—she  added in the margin to that resolution, "Getting there."
The two Seton lectures will be available in the near future on the Greenwich Historical Society's YouTube page at youtube.com/user/ElizabethWinthrop/videos
Tags:
greenwich
,
Setons