February 3, 2017
Drought Restrictions Throughout Greenwich Still in Effect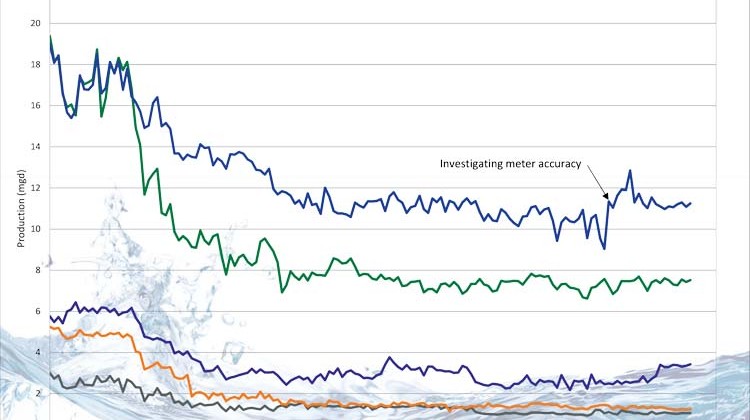 By Elizabeth White
According to the chart above, Greenwich residents have been reducing water use but with precipitation and water levels still low, the town needs to continue to conserve. The green line, which indicates Greenwich water use, shows a steady, if recently somewhat inconsistent, decline. In response to the ongoing concerns about low reservoir levels, Aquarion is responding by continuing its water conservation communications campaign to focus on proven ways to "defeat the drought" by cutting back on consumption.
They have sent direct mail and are advertising in eighteen papers across the region in an effort to get the word out about how to reduce water use. Recommendations include fixing all drips and leaks; turning off taps while washing hands, shaving and brushing teeth; shortening shower times; setting correct load levels when washing clothes; and getting drinking water from a pitcher kept chilled in the refrigerator.
"Even though the area has seen some rainfall over the past few weeks," explained Peter Fazekas, Director of Public Relations for Aquarion, "reservoir levels continue to be below normal levels for this time of year. Our mandatory outdoor water ban remains in place, and we continue to ask for our customers' help in reducing indoor water use by 20%."
Aquarion has posted more ways to save water, including an interactive water calculator, at www.aquarionwater.com/conserve.
Tags:
Drought Restrictions
,
greenwich
,
water usage