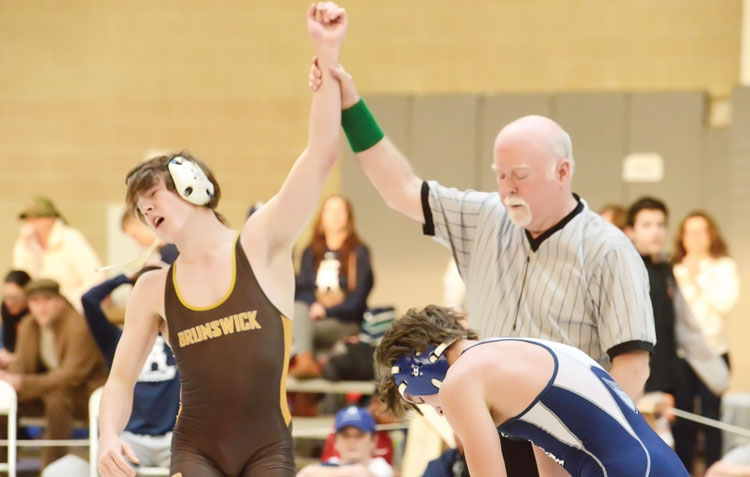 By Paul Silverfarb
Sentinel Editor
After two years of disappointment for head coach Tim Ostrye and the rest of the Brunswick School wrestling team, it was finally time for the school to shine once again, as the Bruins hosted the Brunswick Invitational Tournament.
"It was just a good day," Ostrye said. "I thought the competition was really good. We had teams from five different states represented and had 15 teams. The crowd was good and the weather was good. I couldn't have asked for a better scenario. And we won, so that made things even better."
The Bruins took top honors at its own tourney, having eight grapplers in the finals and posting a score of 298. The next closest team was Ridgefield High School, which took second place overall with 141.5 points. Noble & Greenough grabbed the bronze with 116.5 points. Episcopal was fourth overall with 116 points and rounding out the top five was Choate Rosemary Hall, tallying 108 points.
For the past two seasons, the Bruins have been gearing up for the annual BIT, a time-honored tradition at Brunswick School. However, Mother Nature had other plans the past two seasons and cancelled the tournament. With temperatures near 50 on game day this year, there was no doubt the BIT was back and better than ever.
"It's so great to be there today," Brunswick's John DeLucia said. "You can tell that coach has been bummed the past couple of years and he told us today to go out there and do our absolute best. We've been putting in a lot of hours of practice and this is the big tournament that everybody looks forward to."
The group of Will Donovan, Nadji Ngbokoli, John DeLucia, Timmy Saunders and Aidan Reynolds all emerged with individual golds.
In the 138-pound weight class, it was an all-Brunswick final, as Ngbokoli and Harry Fett battled for the championship, with Ngbokoli winning with the 8-6 decision. Ngbokoli's path to the championship started with a pinfall victory at the 1:09 mark of his match against Greens Farms' Ethan Haas and continued with the 9-2 decision over top-seeded Sebastian Zucker of Storm King School.
In the semis, Ngbokoli took care of Choate's Fallou Babou in a 2-1 decision and set up his match with teammate Fett in the finals.
Fett started the day with a pinfall victory over Hopkins' Ben Walker at the 1:40 mark and then blasted Episcopal's James Silvi in a 10-3 decision. Fett made quick work out of GFA's JC Foster in the semis with the pinfall victory at the 2:31 mark.
In the 152-pound weight class, it was all DeLucia; he dominated the competition.
"I knew that I had to take it one match at a time," DeLucia said. "I couldn't look to the finals. Coach always tells us that if we look to the finals, we won't make it. I just took it match by match and scouted out my opponents. I got a lot of encouragement from my teammates, which was awesome."
After a first-round bye, DeLucia finished off Greens Farms' Eli Michel with a pinfall victory at the 1:04 mark of the match. DeLucia was two seconds faster in the semis, taking care of Choate's Jack Fiala via pinfall at the 1:02 mark. In the championship match, DeLucia finished off Marvelwood's Chris Lane with a 9-4 decision.
"It feels great," DeLucia said. "I wrestled this guy three times this year and its always been really close. I was really looking forward to this finals match, hoping I could make it and really be aggressive."
Not to be outdone was Saunders at 170. After a first-round bye as the top seed, Saunders won his next match with Noble & Greenough's Vikram Aldykiewicz with an impressive 16-0 technical fall victory. After beating Hopkins' A.J. Marks with a 7-0 decision in the semis, Saunders capped off his championship run with a pinfall victory over Noble & Greenough's Ian Riley at the 1:59 mark.
"It felt nice to get the victory here," Saunders said. "I don't like losing too much. It just gives me a pain in my chest. Wrestling is a sport where if you lose, it's all on you. But if you win, it's also all on you. This was a team event, so you do what you have to do in order to come out with the win."
Brunswick's Reynolds also found his way to the top of the podium during the BIT.
"It means a lot to me to do so well today at the BIT," Reynolds said. "I only got to wrestle in this tournament my freshman year, since it's been cancelled the past two years. So this is just about the best tournament I could win."
As the top seed in the 182-pound weight class, Reynolds needed only 26 seconds to pin Hyde's Aaron Ayala in his first match of the day. In the semis, Reynold went the distance and picked up the 6-2 decision over Noble & Greenough's Michael Welch. In the championship match against Choate's Sam Grabowski-Clark, Reynold escaped with the thrilling 2-1 decision to claim top honors.
"This feels pretty good," Reynolds said. "I've wrestled that guy I beat in the finals quite a few times. He's beaten me twice and this is the second time I've beaten him. It's pretty even, so it will be fun to see where we go from here. I knew I needed to finish the early matches as quickly as possible so I could conserve energy."
Brunswick's other champion came from the 99-pound weight class, as Donovan pinned his way to the top spot. Against Hopkins' Dominic Roberts in the semifinals, he picked up the pinfall victory 60 seconds into the match. However, in the championship match against Long Island Lutheran's Peter Anagnostopoulos, Donovan finished the match 15 seconds quicker than the semis to strike gold.
In addition to the top finishers, Brunswick had some stellar performances from several athletes.
In the 132-pound weight class, Brooks Hennessy took the silver medal. He started the day by beating Greens Farms' Ross Mix with a pinfall 40 seconds into the match and kept the good times rolling by pinning Long Island Lutheran's Ford Filandro at the 3:37 mark of the match. In semis, Hennessy took care of Choate's Sam Madden with another pinfall at the 3:11 mark of the match. However, in the finals, Hennessy was defeated 9-1 by top-seeded Gene Naoumovsky from William Penn Charter.
Another second-place finisher was Lachlan Rosato in the 220-pound weight class. After a first-round bye, Rosato pinned Hyde's Max Hewitt at the 5:40 mark of the match. He also took care of Storm King School's Nick Budich via pinfall at the 2:26 mark of the semifinal match to advance to the finals, where Rosato fell in a tough 3-1 decision.
The trio of Antonio Rogliano (275), Jack Ocken (182) and Alex Tucker (160) each grabbed the bronze, while JoJo McCurdy (99), Rishi Das (113), Andrew Hennessy (126) and Peter Mullen (170) each finished fourth overall on the day.
"I am happy for all those kids that got high marks for us and for all those JV kids that got to wrestle and pick up a win," Ostrye said. "That's what this tournament is about. It's a family thing. The kids that have been in this room all deserve this tournament. It's about a team effort. We have the kids that we expect to do really well. But it's also about the kids that are here all the time that finally get the chance to wrestle in front of a home crowd."
For Ostrye and the rest of the Bruins, just having the Brunswick Invitational Tournament was amazing enough.
"It was great," Ostrye said. "These kids who are seniors have only been in one. It's kind of crazy, but it was nice for the seniors to get a win. It was just a good day."
For the past two years, the BIT has been cancelled due to inclement weather. If the tourney didn't take place on Saturday, it would have meant that the seniors on the roster would have only wrestled in its home event once.
"It's so important for the BIT to take place today," Reynolds said. "I couldn't have left high school only going to the BIT once."
"I worked at the tables here at this tournament when I was in seventh grade, but then it got cancelled the past two years," Saunders said. "Having it and actually being able to participate in it was a lot of fun. Knowing our coach, he's going to say that we did a good job and we still have to get ready for the rest of the season."
And there's no time to relax for the Bruins. Tomorrow Brunswick will compete in the Fairchester Athletic Association championships, which will take place at Greens Farms Academy. After a match against Canterbury School and Chase Collegiate School, the Bruins have their annual cross-town battle with Greenwich High School on Feb. 6.
From there, it's off to the WNEISWA championships on Feb. 11 at Salisbury School, and a week later the NEISWA championships at Hyde School in Maine.
"It's like a whirlwind to the end of the season," Ostrye said. "We need to get back in shape, get focused on what's really important. We want to win a state championship for the fourth consecutive season. If our heads aren't on and we are not back to work, it won't happen. These guys need to show up, get ready for practice and stay healthy."
For Saunders, he said that the team is focused on the state and New England championships.
"States and New England are our biggest meets," Reynolds said. "I don't think we have any other major dual meets, so we are just going to grind every day and work hard. I think we can do way better than people expect. We lost a bunch of really good guys to graduation last year, but I think we are doing a lot better than what people expected."