January 25, 2017
Greenwich's Gianopoulos Leads Way As Cards Bounce Stamford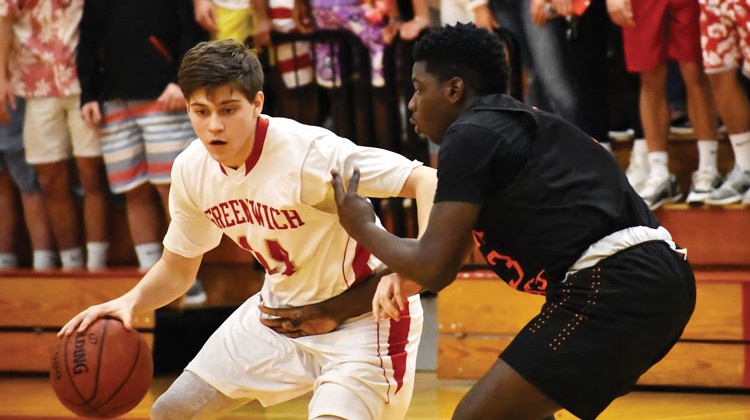 By Paul Silverfarb
Sentinel Editor
The Greenwich High School basketball team proved Tuesday night that when they have a dual threat on the court, they could be pretty hard to beat.
In front of a loud crowd at the GHS gym, senior Connor Harkin had his usual stellar performance. But also stepping up in a big way was junior Elias Gianopoulos, who led the way in scoring and helped the Cardinals net the 59-50 victory over Stamford High School in a key FCIAC match-up.
"This win was super important," Gianopoulos said. "Now that we are 6-6 overall, we can start out fresh and play like our record is 0-0. We have already started the second half of the season strong, going 2-0 and we will take it one game at a time."
Gianopoulos led Big Red with 20 points. In the first quarter alone Gianopoulos finished with eight of the team's 14 points. After a quiet second quarter and hitting four foul shots in the third, Gianopoulos exploded when it mattered most, adding another eight points in the fourth.
"He stepped up and played a great game for us tonight," Greenwich High School head coach Pat Heaton said. "[Robert] Clark got into foul trouble in the first half, and really the whole game. He's usually our second-leading scorer, so it was nice to see Elias step in."
In addition to Gianopoulos' 20 points, Connor Harkins took home 15 points. Senior Pat McTiernan added nine points, while teammate Robert Clark, a senior, added five. Both seniors Nick Pignataro and Conor Langan netted four points apiece.
"We shot the ball well tonight," Gianopoulos said. "We had nice confidence going through the game. We got a lot of offensive and defensive boards. A lot of people contributed and it was fun today. Whenever I can help take the pressure off Connor, it's a great feeling to help him out. He does a great job for us every day."
For Stamford, no one had a better day than senior Nico Leveris, as he led the way with a game-high with 22 points. Junior Tevin St. John pitched in with 14 points and senior Jerome Atkinson grabbed six points.
"I thought we were in the game and I thought we were going to be fine, but the beginning of the fourth quarter things got away from us," Stamford head coach Zach Smith said. "We have lost a lot of close games, closer than tonight. The kids are playing hard. We get a break here and there, but then we have our lapses. In the first half, Harkins passes it, we relax and they pass it back to Harkins for the three. He shoots a three and we don't box out, so he gets the rebound and puts it back in. That's five points right there and we talked about that we can't have lapses against this team, especially against a shooter like Connor."
While Greenwich was hard at work during the fourth quarter, Stamford didn't help themselves. In the final frame, the Black Knights only mustered nine points. Leading scorer Leveris only connected on a three-pointer, while St. John hit one jumper and drained two foul shots. Atkinson's bucket was the only other tally.
"We struggled to score," Smith said. "We had a bunch of shots around the rim that didn't go down. We had second and third looks at the basket that weren't falling and the free throws killed us the whole game. When you get the ball that close to the basket, whether on a drive or on an offensive rebound, we have to be able to finish it."
While the Black Knights had issues in the fourth quarter, the third quarter helped them get back into the game. Trailing by six at the break, Stamford cut the deficit to two. For Heaton the solution to regaining the lead was as simple as having the Cardinals take their time with the ball.
"We got the lead at six and then had two no pass possessions," Heaton said. "So once we stopped and gathered ourselves, we had three or four passes at least, took our time and scored. We did a much better job."
And coming out strong in the final frame lately has been a staple for Heaton's Cardinals when they have a chance to pull out the victory. In it's past three wins, Big Red has used a solid fourth quarter to put away team.
Against Fairfield Ludlowe, Greenwich won 63-53 and forced overtime against Staples and came away with the eventual victory 77-71. Tuesday night's well-rounded fourth quarter was the difference against the Black Knights, especially when Stamford cut a six-point halftime lead and trailed by only a bucket heading into the final quarter.
"In our last three wins, we had really nice fourth quarters," Heaton said. "It's something that we stressed, especially after an earlier loss this season against New Canaan. We didn't play well at all in the fourth quarter against them."
With the victory, Greenwich upped its overall record to 6-6 and moved to 5-3 in the Fairfield County Interscholastic Athletic Conference. Since the midway point of the regular season, Big Red won its past two games.
"Every game is important," Heaton said. "We are into the third game of the second half of the season and we start the second half of the FCIAC season on Friday, but for us it's one game at a time. That's our motto, so in the second half of the season we are 2-0 and we will go for 3-0 on Friday.
But keeping the good times rolling will be quite the challenge. After Greenwich battles Norwalk on Friday, it's off to Trumbull for a huge game against the Eagles on Tuesday. After games against Westhill and Bridgeport Central, Big Red will be in for stiff competition the rest of the way.
They will host Fairfield Warde High School and Danbury High School and hit the road against Wilton High School and Trinity Catholic.
"We know that we are going to see some really good teams in the future, so we need to practice, work harder, stay confident and focused."
Despite the tough second half of the season, Heaton is confident that his team will be one of the teams making a run at an FCIAC playoff appearance.
"We have some seniors that are playing better and guys are buying in," Heaton said. "I think we played everybody tonight and everybody can produce and contribute."
Tags:
boys basketball
,
CIAC
,
Connor Harkins
,
ctbb
,
Elias Gianopoulos
,
FCIAC
,
GHS
,
greenwich
,
Greenwich Basketball