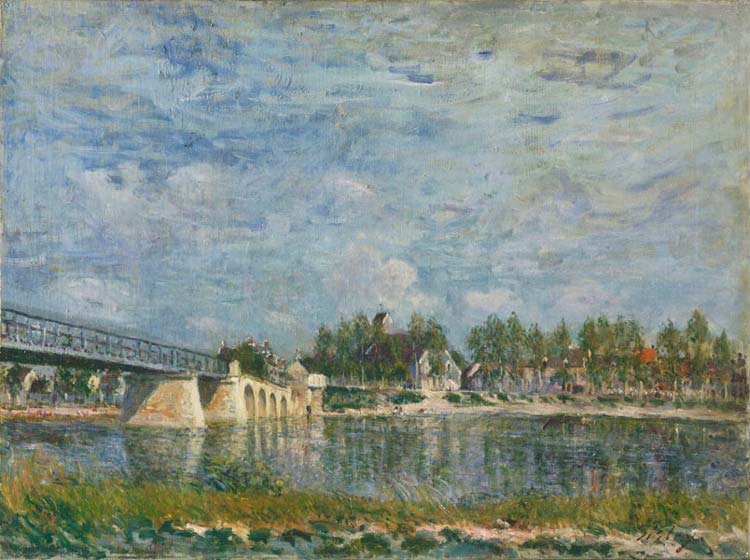 The Bruce Museum and the Hôtel de Caumont Centre d'Art in Aix-en-Provence, France, are mounting a major monographic exhibition of the art of the French Impressionist Alfred Sisley (1839-1899). The first retrospective in more than 20 years of this purest of all the major Impressionists, Alfred Sisley (1839-1899): Impressionist Master spotlights about 50 of Sisley's paintings, which come from private collections and major museums in Europe and North America. The Bruce Museum will premiere the exhibition on Saturday, Jan. 21, and is the only venue in the United States. The show will then travel to France, where it will be on exhibit from June through October.
The exhibition Alfred Sisley (1839-1899): Impressionist Master is organized by the Bruce Museum and Culturespaces. The show is curated by MaryAnne Stevens, independent art historian and curator of the 1992/3 and 2002/3 retrospective exhibitions on the artist. It is accompanied by a fully illustrated catalogue published by Editions Hazan. Contributors to this volume, Richard Shone, who wrote a book on the painter, and Kathleen Adler, a 19th-century French specialist, bring new insights that ensure the publication will be an indispensable reference on the artist and his oeuvre.
In addition to the Bruce Museum's regularly scheduled adult tours, school programs, and hands-on in- gallery family activities, special public programming to complement the exhibition in Connecticut will include a graduate student symposium, the only one of its kind in the region, featuring PhD students from leading art history programs who will present their original research on the multifaceted ways in which artists frame nature in their work. The show will also be a focus for visitors of special groups including the Museum's Lifetime of Looking program for guests with memory loss, and our community partner program through Abilis for visitors with developmental disabilities.
For more information, visit brucemuseum.org