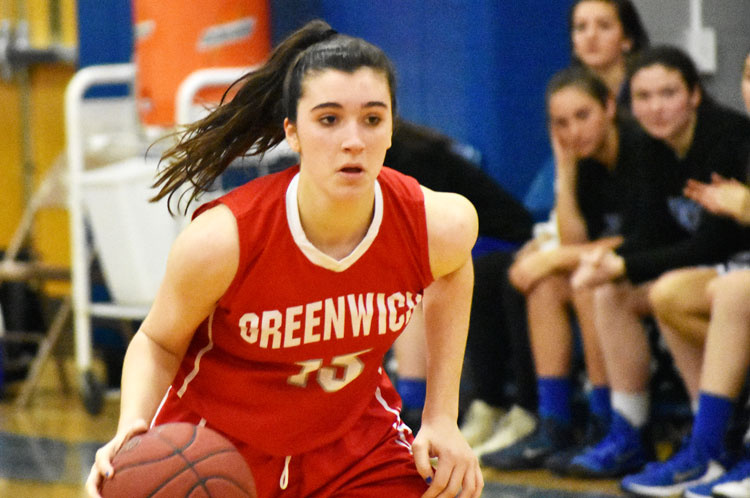 By Paul Silverfarb
Sentinel Editor
It wasn't the prettiest of wins, but for Greenwich High School girls' basketball head coach Chrys Hernandez, she will gladly take the 54-51 victory over Fairfield Ludlowe High School.
"We will take the win any night, but it definitely wasn't in the typical Greenwich fashion that we are used to," Hernandez said. "It was very sloppy and we didn't do a good job taking care of the ball. We didn't do a very good job capitalizing on opportunities, especially in the first half. Ludlowe's record doesn't indicate the type of players that they have and the intensity that they play with. I think we underestimated that a little bit."
Senior Emily Anderson led the way for Big Red, posting a team-high 15 points and 15 rebounds. Not to be outdone was junior Kim Kockenmeister, as she took home 14 points and hit two buckets from long distance. She also grabbed five rebounds.
Senior Shaye Galletta wasn't far behind, as she grabbed 12 points and had 11 rebounds, while teammate Jayla Faison, a senior, ended the day with eight points and led the team with four steals.
With the victory, Greenwich kept its seven-game winning streak alive and upped its overall record to 7-1 on the season.
"If you look at our win-loss record, it's easy to say that we are in a good place, but for me overall I look at the bigger picture," Hernandez said. "I know what we're capable of and we have not still yet achieved our full potential yet. For me, that's what we strive for."
And for the Lady Cardinals, the road isn't going to get any easier. On Friday Greenwich hosts St. Joseph High School and then host rival Ridgefield High School on Tuesday. From there the Cards hit the road for games against Staples High School on Jan. 19 and then it's a CIAC class LL finals rematch against Stamford High School on Jan. 24. All games start at 7 p.m.
"We have a pretty tough schedule coming up for us," Hernandez said. "We are really going to start to see some really top level FCIAC opponents. That will be a real measure on where we are. I need to see some resiliency. We need to have some heart. After seeing some teams in the FCIAC, that's what separates everybody. There's not one super powerhouse team or player. It's all about playing hard and whoever plays hard will win."