December 16, 2016
Column: My Daughter, Melissa Groo: Shooting (Pictures) from the Heart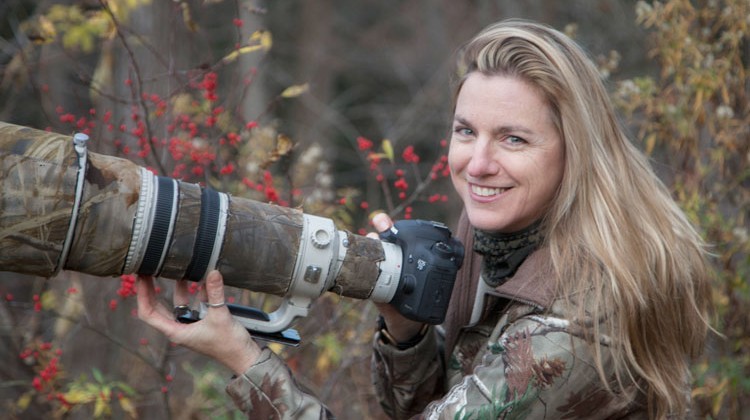 By Anne W. Semmes
Sentinel Columnist
I have the great luck to be writing about my Ithaca-based daughter, Melissa Groo, who is to be honored as wildlife photographer, writer, and conservationist by Audubon Connecticut at its annual Environment Leadership Awards benefit, "Experience Nature," on April 12.
Melissa is to share the stage with some mighty fine company: Gina McCarthy, present administrator for the U.S. Environmental Protection Agency, and Greenwich's Lesley and Bill King of the Back 40 Farm Group. (The Sentinel will flesh out their stories at a later time.)
Melissa (a Greenwich Academy graduate surely only in mid-career!), was overwhelmed learning of her Katie O'Brien Lifetime Achievement Award. She's still glowing from having won the 2015 Audubon Grand Prize for Photography with her extraordinary Great Egret photo that lately hung in the Smithsonian.
Anyone wanting an instant introduction to Melissa's work need only visit her Facebook page. There she expresses, day after day, not only her skill in capturing wildlife, but her compassion and her sense of ethical responsibility toward wild life. She's turned her Facebook page into a nature journal free-for-all. She says it best: "I consider myself a wildlife biographer almost as much as a photographer, because I aim to visually tell the stories of wild animals' lives."
Melissa first honed her observation skills and the importance of patience overlooking an elephant clearing in the Central African Republic (CAR). She was videotaping forest elephants, working with the legendary field biologist Katy Payne, who discovered how elephants communicate via infrasound: those rumbling noises too low for human ears to detect. It was there Melissa learned "to wait for a story to unfold."
That skill brought the winning Audubon Great Egret prize photo, captured in a Florida lagoon after a long wait in fading light when the Egret suddenly sailed in and commenced its preening.
How Melissa came to photograph wildlife is an intriguing tale. Picture her as a 12-year-old discovering hummingbird's nests, reading books about animals at the breakfast table, studying English literature at college, teaching children at Eagle Hill School in Greenwich, getting her masters in education at Stanford, working for the Rockefeller Foundation in School Reform in Cleveland, Ohio.
Then, on a kayaking holiday with her dad in Alaska, she discovered a passion for humpback whales, then swam with them off the Dominican Republic. Learning from the early work of Katy Payne and her then-husband Roger Payne that whales sing songs, Melissa was overjoyed to hear Katy Payne talk in Cleveland. Overnight came a career change with Melissa signing on as unpaid volunteer for Katy, where she worked at the Cornell Lab of Ornithology in the Bioacoustics Research program where the sounds of whales, elephants and birds are studied.
She became salaried as a research assistant on Payne's Elephant Listening Project, where she would live two seasons amongst forest elephants, gorillas and pygmies in the Dzanga-Ndoki National Park in CAR. (Sadly, she's learned of devastating Chinese logging of the forest home of that elephant clearing where she could name entire families of these now vanishing forest elephants.)
Melissa did not take up still photography until six years ago. Though caring for a young daughter, she found time to take up photography as a hobby with a course in "Basic Digital Photography."
"I really discovered bird and wildlife photography," she's quoted, "and it was like something exploded inside me. Every waking moment I was thinking about it, studying it, practicing it. It just became everything to me."
Everywhere she has traveled in search of special birds or wildlife. Picture her nearly six feet stretched out—in her camouflage camera gear—on the grasslands of North Dakota waiting for that Western Grebe, or leaning out a window of a Range Rover in Tanzania to capture a suddenly climbing cheetah, or sitting stone-still beside an inlet in British Columbia's Great Bear Rainforest for a shot of that rare Spirit Bear coming to fish for salmon, or standing hip-deep in water on a Bahama atoll focused on a Roseate Spoonbill preening its bright pink feathers.
She's now a mentor to young photographers, as well as older ones on the many photography workshops she conducts in this country and in Africa. Before she receives her award at the Audubon Connecticut gala in April, she'll lead a safari in Tanzania to photograph African wildlife, and another in Nebraska to photograph the great migration northward of Sandhill cranes in March. She'll accept the Vision award from the North American Nature Photography Association in Florida, and help judge entries in the 2017 Audubon photo contest in New York City. Her photos of the endangered Rothschild's giraffe will appear in the March issue of Smithsonian Magazine.
Throughout, she'll be passing on her photography ethics with her questions, "How can we get close enough to get the intimate shots we want while minimizing the disturbance our presence inevitably causes?" Her answers include camouflage clothing and the use of blinds—her favorite mobile blind is her car. "My biggest thrill comes from photographing a wild animal doing what it would be doing if I wasn't there at all."
Melissa has become a fierce advocate for "keeping the wild in wildlife photography." She is currently working with the National Audubon Society, the North American Nature Photography Association and National Wildlife magazine to create guidelines to encourage photographers to place the welfare of animals above the desire for great photos.
Over these extraordinary years, it has been simply breathtaking to see Melissa put to such good use the tools she's gathered over a lifetime. She's inspiring conservation through the use of her camera. Her calling card as wildlife photographer has become, "Tread lightly, and shoot from the heart."
Tags:
greenwich