December 10, 2016
Column: Al Primo Picks Up Gold as a Pioneering TV Newsman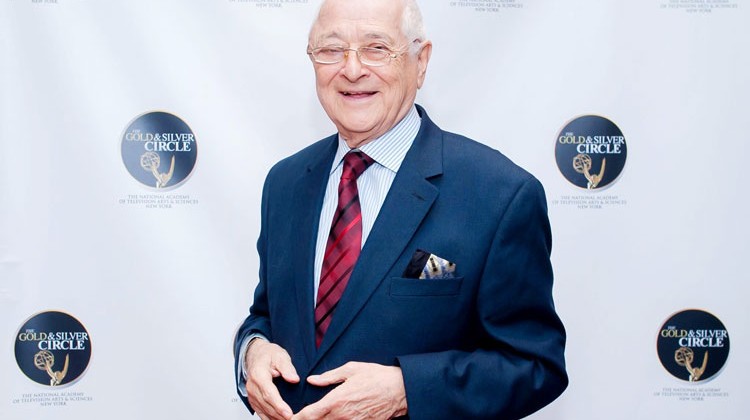 By Anne W. Semmes
Sentinel Columnist
What a good thing it was to run into Greenwich's pioneering Eyewitness newsman, Al Primo, and learn he's been celebrated again—last week in New York by The National Academy of Television Arts & Science as a new inductee of its prestigious Gold Circle for his 50-plus years devoted to the television industry.
But the way I count it, Al's been at it for 63 years, as he relates in his new oral history, done for the Greenwich Library Oral History Project, entitled "Eyewitness News— Before and After." The story goes that, as a high school grad looking for a job in his hometown of Pittsburgh, Al found himself in the wrong business office and to save face he filled out an application for the Dumont Television Network; this was when there were only two TV's on his street, not including his family's. Al got the job as mail boy, and the rest is history.
Veteran New York reporter and TV host Geraldo Rivera did the honors of introducing Al at the New York celebration and did his former boss proud with placing him properly in TV history, as seen in a video sent to me of the evening.
"Al is one of the true giants in broadcast journalism. Flash back to 1970 and Kent State University, with the killing of four unarmed students… there were cities at the edge of self-destruction. Al came to New York from Philadelphia [KDKA] and brought with him his incredible concept of eyewitness news. The genius of Al was in the gathering of a news team that was truly integrated, racially and religiously. He led the drive to integrate local news, to make news teams reflective of the communities they served. It was a monumental achievement. Life was so segregated then."
Al recruited Rivera as a Latino attorney and spokesperson for the Young Lords, a Puerto Rican activist group. "I had no idea what reporters did," said Rivera. "Al and Fred Friendly sent me to the Columbia School of Journalism."
"He gave us a new kind of dynamism, an energy, to walk and talk and sit on the curb and get to know people to reflect their reality. He created the modern TV reporter. I owe him my career. He's a pioneer for integration and modernization. He's still consulting news teams."
Rivera then relinquished the microphone to Al. He spoke of those wondrous early days as news director at the hardly watched WABC in New York, and seeing how "every station had an anchorman, a weatherman and a sports man and no one else, then walking to work on Eighth Avenue and seeing Blacks, Hispanics, Italians, Jews, women," and determining "to create the first television families so that everybody in every community could see someone on the air that looked like them…  It captured the imagination of New York City, propelling WABC to No. 1 where it has remained to this day… 47 straight years."
Al shared a momentous story he and Rivera worked on, bringing to light the "atrocious" treatment of mentally challenged people in a hospital called Willowbrook, so recorded in his oral history, of finding "poor people in chains and no help… we snuck over the wall…" The story won for them "something bigger than an Emmy… a Peabody Award… That's like the Oscars."
Other highlights of those pioneering years in Al's oral history include being sent across the country to San Francisco, Los Angeles, Detroit, and Chicago to put into play his Eyewitness News model to include a city hall reporter, an education reporter, and an entertainment reporter to go out into the field to "eyewitness" their stories and bring them to their audiences. Those reporters would then sit next to the anchorman "for the first time in history."
And then there was that aha moment about sportscasters. "Why do the sportscasters all have to be Smokey Joes? Why can't we get one of the athletes, like Frank Gifford? I call up Frank Gifford's agent. He says, 'Yes, yes…' And this is the first time anybody used athletes as sportscasters."
There are two places in the oral history that point to just what makes Al Primo tick.
It's in those years he went to college, and to do so had to work nights at his TV job all four years. He went to class from 8:30 a.m. to 1 p.m., then worked from 2 to 11 p.m. (managing to pick up a little script-writing experience with the night news manager). Primo is a hard worker.
The other shows his belief in himself and what he was doing as he reflects on his career. "When I do think about it, I know that this was divine intervention… I know that there was no fear, no trepidation… This is how we're going to do it. Do it. That's it."
For the last 14 years, Al has been endowing the next generation with his democratic eyewitness news approach in his Teen Kids News (TKN) program, which every week is sent out by satellite to 200-plus local TV stations and 10,000 schools. "We're thrilled to be doing that," he told me. "It's obviously something needed, with schools not teaching current events these days."
The TKN shows are then recycled as Al describes: "We bring it back to the studio, take out all the commercials and create a purely educational version. We insert a two-minute news-of-the-week summary with video from Fox TV. We stream it on the Internet.
"And now the Department of Defense is sending TKN out to 175 countries in 1,000 locations via the American Forces Network. Every week it goes out to all Navy ships. A lot of the military force are teenagers or they are living on bases with their families."
If ever there was a true diplomat of democracy, it is Al Primo. My thanks and congratulations to you, sir.
Tags:
Al Primo
,
gold circle
,
greenwich
,
National Academy of Television Arts & Science
,
News
,
On My Watch
,
TV
,
TV News