December 2, 2016
Greenwich Town Party Tickets On Sale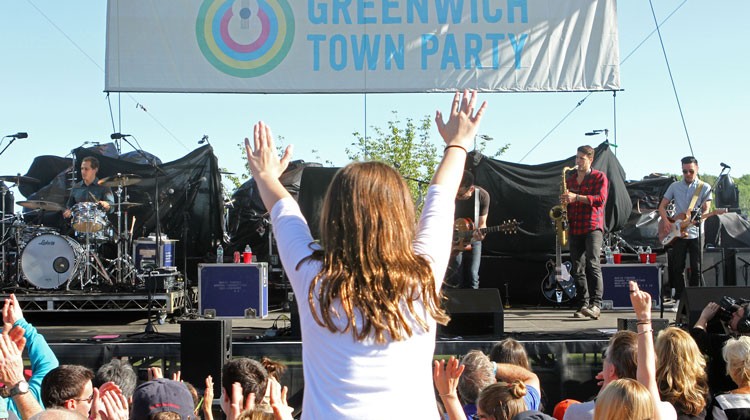 Two levels of tickets are now on sale for the 2017 Greenwich Town Party (GTP), the seventh annual day-long family music festival planned for Saturday, May 27 at Roger Sherman Baldwin Park. Since tickets traditionally sell out quickly, there are multiple options for buying tickets in order to guarantee entry into this year's party: Greenwich residents and businesses can now purchase Neighbor Tickets and Sponsor Packages online at greenwichtownparty.org.
Starting Dec. 2, the Greenwich Town Party will offer Block Party Ticket Sets, a pre-sale opportunity comprised of a set of six Community Tickets for $125 per ticket. Historically, the community tickets have sold out within hours, so this Block Party Ticket Set is an opportunity to beat the rush and ensure admission.
The Greenwich Town Party is a participating sponsor in several local events this season. GTP is offering cocoa, treats and GTP magnets at the Greenwich Holiday Stroll Weekend on Saturday, Dec. 3 from 12-3 p.m. in front of Richards (359 Greenwich Avenue). Also on Saturday, the GTP, along with Richards and Pray Body Shop, will provide free parking along Greenwich Avenue. (Parking is always free on Sundays.) On Sunday, Dec. 4, the GTP is a sponsor of the Jingle Bell Jog offering refreshments in front of Threads and Treads (17 E. Putnam Ave) from 8:30-10:30 a.m.
Additionally, the Greenwich Town Party will be at the First Light festivities in Old Greenwich on Saturday, Dec. 3 from 5 to 8 p.m., in front of Chilly Bear (180 Sound Beach Avenue); and at the annual New Year's Day Dip at Tod's Point on Jan. 1.
"The Greenwich Town Party loves to celebrate the community all year long and support these annual holiday traditions," says GTP Co-President Ray Rivers, a longtime Greenwich resident. "Also, GTP tickets make great gifts, so now is your chance to buy tickets early for your family and friends. They are always a hit – never the wrong size or color!"
 GTP Sponsor Packages for individuals and businesses start at $1,250 and provide access to the Sponsor Tent with catered food and full bar throughout the day and evening. This level also includes preferred parking in the Island Beach parking lot.
Neighbor Tickets, which cost $250 each, provides access to a the designated Houlihan Lawrence Neighborhood Area with complimentary food from Citarella, wine and beer. Ticket holders will have preferred parking.
Sponsors Packages, Neighbor Tickets and donations from town residents and local businesses provide the majority of party funding each year, allowing more people to attend. Thanks to the continued generosity of sponsors and donors, the community ticket prices have been reduced to a fraction of what they would be for such a large event.
The Block Party Ticket Set, which includes a block of six general admission tickets for $125 each, is on sale Dec. 2.
In order to purchase tickets, one must be a Greenwich resident, Greenwich business owner, or Greenwich business employee. Current ticket level opportunities will be available for purchase on a first-come, first-served basis on the GTP website. Tickets will be mailed to buyers 7-10 days after purchase.
The GTP headliner and bands will be announced in early 2017. For more information on Sponsorship Packages and tickets for the 2017 GTP, please visit greenwichtownparty.org.
The Greenwich Town Party is an annual, day-long family festival held on the Saturday of Memorial Day Weekend. Since 2011, the GTP has brought the town together to celebrate Greenwich pride and the spirit of giving with music, food, and family activities, which organizers describe as a "giant block party."  The goal of the GTP is to encourage community spirit that extends throughout the year.
Tags:
2017 Greenwich Town Party
,
community
,
greenwich
,
GTP
,
music festival