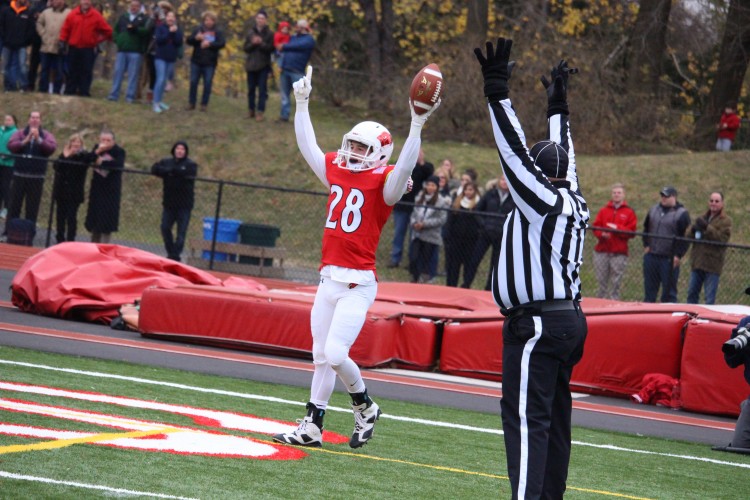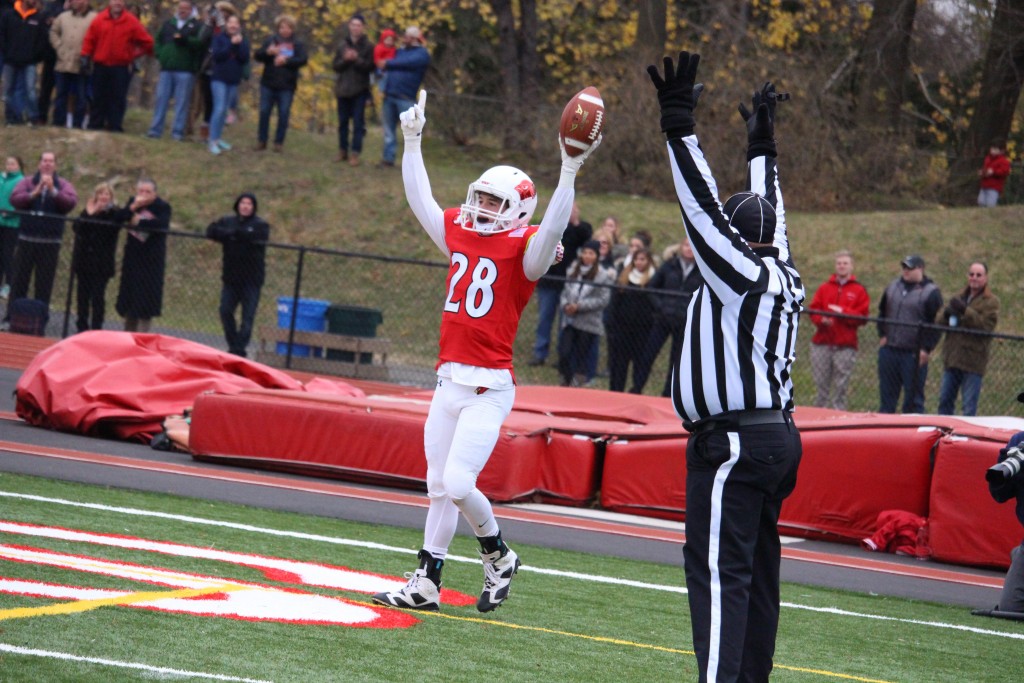 When the clock hit zero on Greenwich's Turkey day 37-10 victory over Staples, a thrilling, but surreal feeling came over the 7-3 Cardinals who sat patiently awaiting the words from the team's second-year head coach, John Marinelli.
With the team huddled together, at half past noon on Thanksgiving Day, Marinelli kept his remarks safe, giving praise to his senior class and their undefeated 5-0 season at home.
"I hope we're practicing tomorrow," said Marinelli. "Cause I'm not ready to give it up."
As players and coaches left Cardinal Stadium unsure of their future in the Class LL state playoff picture, small prayer groups took a knee while some others crowded around phones streaming updates of crucial state matchups.
"We knew we didn't control our own destiny," said Marinelli after the game. "It's a great way to send our seniors out against a really well coached team. It's a program that I respect and one that I look up to as a builder in Marce Petroccio."
Senior running back Kevin Iobbi described the feeling after the game as if the whole team was on pins and needles.
"We knew we had to do our job first, and we did it," said Iobbi. "We just gotta hope the scores turn out our way."
Matt Morganti said, "Knowing that this could be the last time I'm playing with these guys, It's emotional." 
The Cardinals marched inside their locker room, where they huddled to watch the end of two class LL matchups that would decide their postseason fate.
It wouldn't be until 40 minutes later that the Cardinals would find out they would be included in the 8-team class LL playoff.
Another 20 minutes later, they would learn of their opponent: the top-seeded Darien team.
A rollercoaster of emotions was finally over, but the Cardinals' season was extended nearly an hour after the final whistle blew on their final home game of the year.
"It's so amazing where we get a chance like this," said GHS defensive end Sam Colandro. "We're going to take this opportunity and build on it. We got this motivation to get back out there tomorrow. Darien is who we wanted."
Greenwich would escape a sloppy first quarter with a scoreless tie, despite missing a field goal try and throwing an interception. Like usual, it would take a jump start from the defense to get things started for Big Red.
Zhaire House would step in front of a pass and took the interception back to the house for the first points of the game in the early second quarter. A two-point conversion made by Cole Hartley put Greenwich up 8-0 at the 10-minute mark in the second quarter.
Greenwich would continue their groove on offense this time, as wide receiver Anthony Ferraro pulled down a 43-yard reception for a touchdown.
A span of six minutes in the second quarter would be completed by a six-play drive ending in Connor Langan taking it in himself from two yards out.
In the blink of an eye, Greenwich held a 20-0 lead.
"On defense, we didn't give up the big play," Marinelli said, before correcting himself. "We gave up one. The kids rallied and fought back. We forced them to drive the football. We rallied and tackled."
Staples' only offensive threat came with a 52-yard TD pass to Andrew Speed.
The Cardinals would hurt their cause with an intentional grounding call in the end zone, conceding a safety and two points to the Wreckers.
Up 20-10 at the half, Greenwich fired out 17 second half points and three takeaways on the defensive side to up end Staples in the Turkey Day showdown.
Bailey Ballone, Jack Feda and Jeremiah Harris all came down with interceptions in the second half for the Cardinals.
On offense, Matt Morganti made a spectacular 33-yard over-the-shoulder catch in the back right corner of the end zone to continue his impressive season.
"Coach always talks about starting a legacy," said Morganti. "We wanted to start our home 5-0 streak. Hopefully it is continued next year."
Langan hit Cole Hartley with a 20-yard touchdown pass up the middle of the field and a field goal would put the final score at 37-10.
"We've been talking about protecting our home field for a long time," said Marinelli. "We've been playing really well at home and I hope that continues."
Outside the Greenwich locker room, players emerged with smiles on their faces knowing they would play at least once more against FCIAC foe Darien.
"Our seniors were such leaders this year and they set the bar high," said Gavin Muir. "5-0 at home feels great. This feels a lot better and the turkey is going to tase a lot better today."