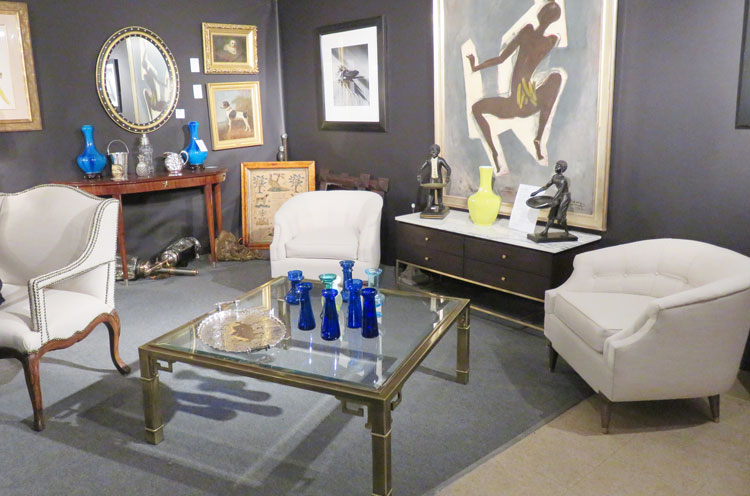 The Greenwich Historical Society and Frank Gaglio, Inc. announce the Greenwich Winter Antiques Show will be held on Saturday, Dec. 3 and Sunday, Dec. 4, in Old Greenwich. Show admission good for both days.
The forty one exhibitor event presents a diverse and intriguing array of objects from nationally and internationally recognized dealers and galleries offering period and classical American and Continental antiques to fine, vintage and estate jewelry, silver and brass, Maritime art, important ceramics, porcelain and pottery, Black Forest carvings and folk art, Mid Century Modern, Asian screens, décor and art, complete sets of beautifully bound books, Ladies specialty handbags and Gentlemen accessories, exceptional American wicker, sculptural napkin rings, fireplace accessories, clocks, important prints and maps, Oriental rugs, Quimper pottery, and more.
The weekend show begins with a festive Preview Party benefiting the Greenwich Historical Society and their capital projects campaign on Friday, Dec. 2 from 7 to 9 p.m. For tickets, visit greenwichhistory.org or call 203-869-6899, ext. 10. The preview offers the public, collectors and supporters the first opportunity to shop the show and socialize with the exhibitors and friends.
In addition to the Preview, there are two events, the first of which is an Appraisal Day conducted by Doyle Galleries on Saturday, Dec. 3 from 10 a.m. to 3 p.m. Doyle's specialists will assess and evaluate people's fine art, jewelry, furniture (photos accepted), family heirlooms and attic treasures free of charge. Show admission and appointment required for appraisals by calling Kathy Brackenridge at 203-637-6209 or email doylect@doyle.com.
On Sunday, Dec. 4, attend a presentation and new book signing of A Very Vintage Christmas Holiday Collecting, Decorating and Celebrating by author, designer and host of the TV show Flea Market Minute, Bob Richter. Attendees will have a chance to enjoy lunch specialties and beverages by Franklin Street Works Café.
The show will be held at the Eastern Greenwich Civic Center, 90 Harding Rd. For more information including exhibitor list visit barnstar.com or call 845-876-0616.