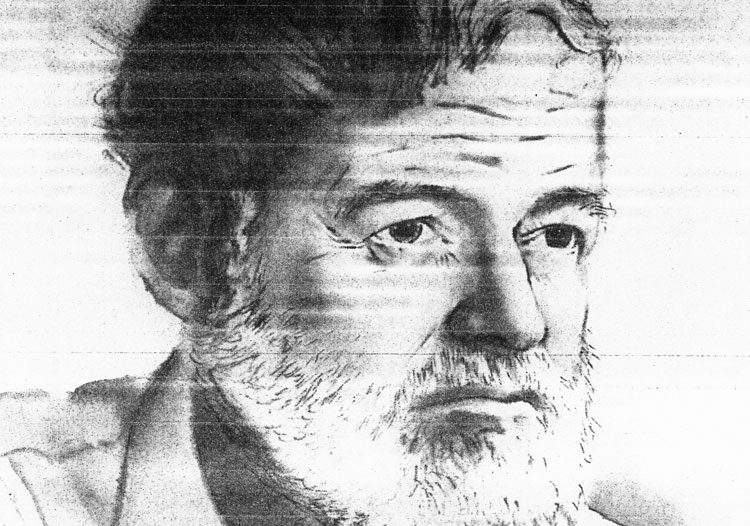 By Anne W. Semmes
Sentinel Columnist
Having lived through this toe-curling Presidential election cycle, I had often wished for a tough-guy talent like Hemingway to sound forth on what the American political arena has turned into. Hemingway was on my mind because I'd discovered another Greenwich-Hemingway connection. There are three Ernest Hemingway letters stashed away in a safety deposit box in a bank in Greenwich that this reporter has been given access to, of a kind.
They belong to a longtime Old Greenwich resident now living in Stamford, John Robben, father of the Sentinel's extraordinary photographer, John Ferris Robben, who did the introduction, knowing where my passions lie.
Father John, now 86, spent his life as a toy salesman (Robtoy, Inc.), fathering five children, and following his passion for writing as a columnist for our local daily paper. A collection of those writings, entitled "Particles of Time," can be found in our public library.
Robben, at age 21, as a senior at Fordham University, had written a rather scathing critique of some of the works of his favorite writer, Ernest Hemingway, in his college's literary magazine. The article was entitled (borrowing a Hemingway title) "In Our Time: Ernest Hemingway—The Position of America's Most Successful Writer—An Evaluation."
Robben's aim in writing the piece was to purge himself of trying to imitate Hemingway. As a critic, he is echoing a bit of today's adulation for Hemingway's third book, "The Sun Also Rises," and for his early short story collection, "In Our Time." But he goes through Hemingway's later works, pointing out where they fail in painstaking detail. "For Whom the Bell Tolls" (one of my favorites) he calls "very good reading, inasmuch as it was written with Hollywood in mind," but "not one of [Hemingway's] best."
Robben bravely sends the article to Hemingway at his Finca Vigia home in Cuba for his reaction. He gets it six days later, in a typewritten page and a half letter—single spaced.
It is surprisingly gentlemanly in tone, and generous, especially as Hemingway was never pleased with the movie version of "For Whom the Bell Tolls" (even if it did star Ingrid Bergman). "For Whom The Bell Tolls," Hemingway writes, "was not written with an eye on Hollywood. It was written as well as I could write at the time about something I truly knew about…"
He ends the short note briefly with "I know you wish me well and I will try to write something that you will really like." He ends it with "Yours very truly, Ernest Hemingway."
Then comes the P.S. that is double the length of the note.
Hemingway questions Robben, "Why was it necessary to imitate me in the first place?" He returns to Robben's "eye on Hollywood" assertion, arguing, "It makes a writer feel silly to explain what he writes about. But it is worthwhile doing it to someone as young as yourself since you took so much trouble yourself and since I wrote well yesterday and therefore can spare the time from my one and only life."
He then defends his "Death in the Afternoon" and "The Green Hills of Africa," writing, "Some day some one who does understand them will write about them and you will see what I mean."
"Do you know," Hemingway continues, "that the story 'Big Two-Hearted River' was about a boy who had come home badly wounded from the war yet the war is never mentioned? No critic has ever seen that nor ever mentioned it." Here Hemingway points to his writing "principle of the iceberg," that there are "seven-eighths more underwater," as Richard Cohen notes in his new book, "How to Write Like Tolstoy."
Robben's citing Hemingway's "Across the River and Into the Trees" as an example of his books beginning to "peter down" brings Hemingway to respond, "I cannot expect you nor any critic to bring to a book a military education, wounds before sulfa and before plasma, a knowledge of the Veneto and of the world, nor the ability to be in love. This last is very important."
Apparently, Robben was in love when his last letter from Hemingway was received in May of 1953. Robben is in the Navy serving as a chaplain's aide aboard the aircraft carrier U.S.S. Lake Champlain in the China Sea off the coast of Korea during the final days of the Korean War.
One of the ship's mailmen seeks Robben out with the Hemingway letter in hand. "Is this who I think it is?" he says to Robben, seeing the envelope's return address.
Knowing Robben is at sea, Hemingway opens with, "I was awfully glad to hear from you, kid, and hope you are fine and well," then fills Robben in on his upcoming trip with wife Mary to Africa, and his not exactly good luck in a marlin fishing tournament. "Think I sat down 40 minutes in 20 hours' fishing."
He ends the short note, "Best to you always, Ernest," following with, "Hope everything good with you and your girl. If it's rough at sea remember it's rough all over."
Yes, Ernest, that last line resonates: "It's rough all over." Thank you, John Robben, for sharing your Hemingway correspondence, for taking my mind off our turbulent times.