November 11, 2016
Commission Explains Shellfishing Safety Measures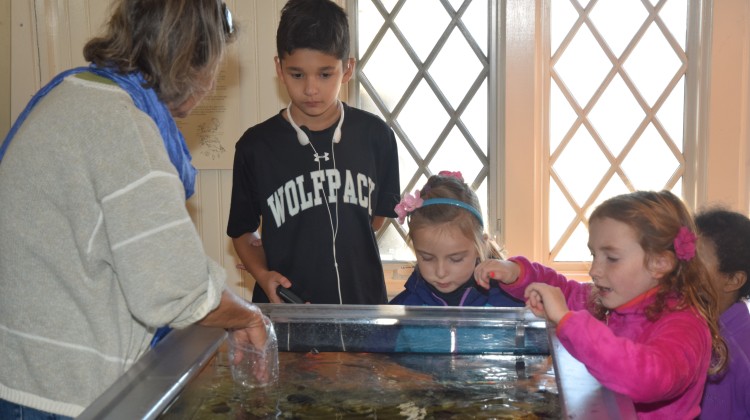 By Chéye Roberson
Sentinel Reporter
The Greenwich Shellfish Commission is increasing the availability of local recreational shellfishing sites this season by moving oysters from areas that are classified as restricted to areas that are accessible.
"We are moving oysters from areas that are classed as 'restricted' because of their location mainly due to questionable water quality, such as parts of the Mianus River. They are then taken to an offshore bed for three to six months so that they flush themselves with fresh sea water," said Greenwich Shellfish Commissioner Roger Bowgen. "We then relocate them from those beds to existing recreational beds in Greenwich Cove and to other areas in Greenwich waters to establish new oyster beds."
At last Sunday's Fred Elser First Sunday Science event at the Seaside Center in Greenwich Point Park, Bowgen explained the process of ensuring that local water shellfish are safe to eat and when and why certain shellfish beds may be closed.
"If there is a rainfall of 1.5 inches or more in any 24-hour period, the recreational and some commercial beds are closed," Bowgen said. "The water and shellfish, meat samples, are tested for bacteria that might have been ingested by them because of rain water run off into Greenwich waters."
Bowgen said that the testing takes place at the Bureau of Aquaculture in Milford, Conn., as a precaution to ensure that there is no contamination of the water or the shellfish and that they are safe to consume.
"Typically, the beds remain closed for about five days until the Bureau of Aquaculture confirms there is no problem and the samples are clean. They are then reopened and shellfish can then be taken again for consumption," said Bowgen.
In addition to sampling taken after any weather related events occur, the Greenwich Shellfish Commission is also required by state mandate to sample from 34 points in Greenwich waters a minimum of 16 times a year.
During Sunday's event, visitors were also invited to enjoy educational activities while learning how to safely and legally harvest oysters, mussels, and clams from local waters.
Bowgen also highlighted the Greenwich Shellfish Commission's partnership with the town of Greenwich and the University of Connecticut to gather research on the conditions of Long Island Sound from the Seaside Center.
"Hopefully, when scientific questions are asked, we can get the answers quickly with scientific backing," said Bowgen of the benefits of partnering with UConn.
Those interested in shellfishing must obtain a shellfishing permit; a copy of the shellfishing regulations can be purchased at Sportsman's Den in Cos Cob and at Greenwich Town Hall.
Tags:
Bruce Museum
,
First Sunday Science
,
greenwich point
,
Greenwich Shellfish Commission
,
Long Island Sound
,
Oysters
,
University of Connecticut