October 29, 2016
Brunswick Water Polo Beats Rival Greenwich High, 13-8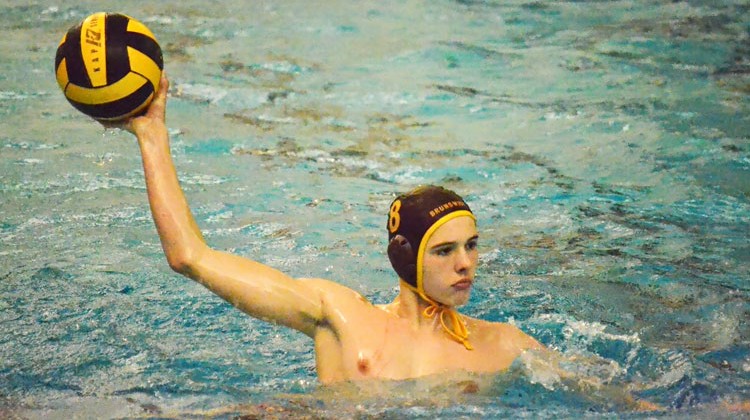 By Paul Silverfarb
Sentinel Editor
In the rubber match between the Greenwich High and Brunswick School water polo squads, it was the Bruins that built an early lead and never looked back, upending the Cardinals 13-8 in front of a raucous crowd in the Mehra Natatorium.
"The kids played so well," Brunswick head coach Eric Tillman said. "They kept their composure and it was a great day for Brunswick water polo. This was just a lot of fun. I've coached a ton of games and there are a few that sort of stick with you. This one is going to stick. That's for sure."
To start the season, Brunswick edged Big Red at Greenwich High School, winning in overtime 6-5. The two programs saw each other again during the championship game of the Cardinal Tournament back on Oct. 15 and this time it was Greenwich that won its home tourney and beat the Bruins 5-4.
"We were going goal-for-goal tonight and sharing goals," Greenwich head coach Chris Vitale said. "They always kept their lead and outside of the first quarter-and-a-half, the closest we got was within two. They were composed. When we fired back at them, they got flustered as well. But we had two bad defensive plays and our peak came down pretty fast after that."
Leading the way for the Bruins was Thacher Scannell, who finished with four goals on the day. Not to be outdone was Will Marvin, who netted a hat trick in the victory.
"This is unbelievable and words can't describe how elated we all are," Marvin said. "We thrive under this environment where the crowd goes crazy. This is when we play our best."
In addition, the duo of Keegan Drew and Kyle Yelensky each netted two goals. Rounding out the scoring was Nico Apostolides and Simon Derby, as the both took home one goal each.
"We won the series with a five-goal win," Tillman said. "That was a statement. It was great to see."
In net for Brunswick was Charlie Pang, as he finished with 13 saves on the day.
'This was amazing to do this in front of our home crowd," Pang said. "It's Brunswick pride that's on display here. The crowd meant everything for us. It's energy for us and it ignited us. It was like fuel. We weren't holding back today and let everything fly today. I was going to do my best to stop everything."
For the Cardinals, it was the trio of Andrew Triscari, Jared Livingston and Mac Baxter, as the trio each finished with two goals. Tegan D'Agostino and Brian O'Leary rounded out the GHS scoring with one goal each.
Even before the game started, it was obvious that this wasn't going to be just any other water polo game. The stands were completely packed, as both the home and away crowds made the Mehra Natatorium nearly deafening at times throughout the game.
"The fans were great," Vitale said. "The fans were out and their team was fired up. The one thing I said to my kids was not to feed into it because it's a distraction. We don't need distractions. I think the first quarter we were a little flustered by it."
Both teams exchanged goals to start the contest, but Brunswick started to pull away midway through the second quarter. With 39 seconds to play in the first, Yelenski got the ball rolling with a goal and with one second left, Scannell found the back of the net to make the score 4-2.
Marvin made the score 5-2 with a goal midway through the quarter and with 1:28 to play in the half the Bruins made the score 6-2 when Yelenski netted his second of the half.
"We executed our offense," Marvin said. "We went out and we had a game plan. Greenwich came back, but our crowd kept on pumping us with energy and fueled us to keep going."
Despite the four-goal lead, Tillman knew that it most likely wasn't going to last long. Case in point was in the first time the Bruins battled GHS, as Vitale's team was trailing and came back to tie the contest and force overtime.
"There's no way Greenwich High was going to roll over," Tillman said. "So when they came back and got a couple of goals, I thought that was to be expected. That's a proud program and they weren't going to give up and give us the victory. They got a couple of goals and had us on our heels, but we responded that was key."
Although down, Greenwich High responded in a big way. O'Leary scored with 6:30 left in the third and less than a minute later it was Triscari who added his goal. With 4:15 to play in the quarter it was D'Agostino who got Big Red within one, 6-5.
However, that's as far as Greenwich would get. After both teams exchanged goals, Brunswick pulled away for good midway through the fourth, as Marvin, Scannell, Derby and Drew all beat the GHS goalie to ice the game.
"Although we didn't come out on top, I thought we moved the ball well and we beat them on some cross passes," Vitale said. "Our man-up was very successful and we only missed one of them. I have five seniors in the starting lineup, so watching them move the ball and show some grit in that third quarter was the most important thing."
Tags:
Brunswick
,
Brunswick Water Polo
,
Chris Vitale
,
ctwp
,
Eric Tillman
,
GHS
,
greenwich
,
Greenwich High Water Polo
,
NEPSAC
,
USAWP
,
water polo