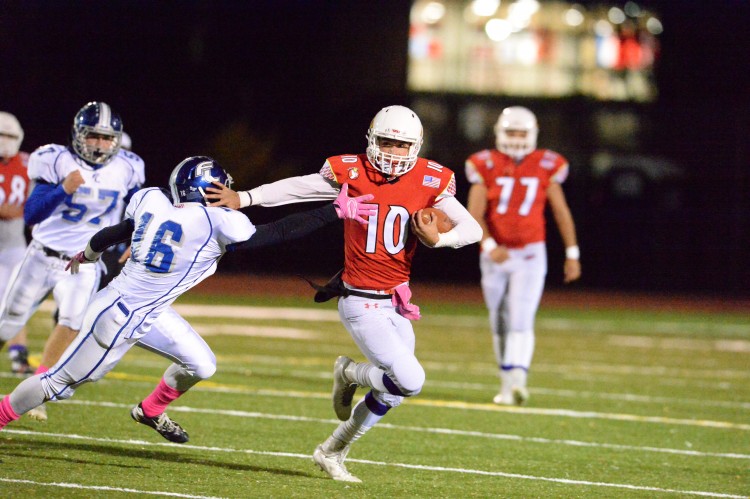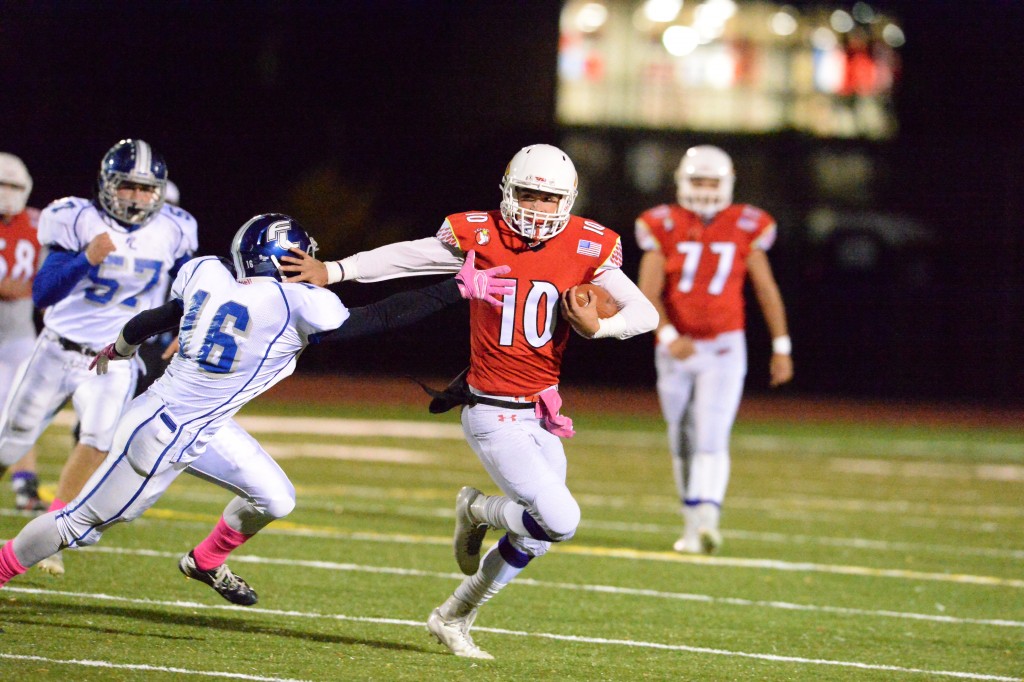 Greenwich High took care of business on Senior Night with an impressive 61-27 victory over Fairfield Ludlowe on Friday night.
Coming off their loss to New Canaan last week, the Cardinals bounced back with plenty of hunger to put the game out of reach by halftime in front of a home crowd that came to cheer on their seniors.
"We didn't have a great week of practice," admitted GHS head coach John Marinelli. "But when push comes to shove, they know what's on the line. Tonight, I think a lot of the underclassmen played for the seniors. Family pulls together and we were united for tonight."
The Cardinals wasted little time to get on the board with their opening drive resulting in a 10-play scoring drive via a 20-yard run from Cole Hartley. Zhaire House would punch in for the two-point extra try.
Greenwich would opt to go for the onside kick and it would be House who recovered it to give the Cardinal offense another go. The ensuing drive, however, stalled under sophomore quarterback Gavin Muir as the Falcons' first drive would end in a punt not too long after.
A Zach Moore field goal would make the lead 11-0 Greenwich at the end of the first quarter. 
It would be Muir, who got extended reps at quarterback, who found an open Tyler Farris for a 25-yard score to start the scoring-frenzy of the second quarter.
On the following kick return, Ludlowe's Javion Beasley took it 90-yards to the endzone to put Ludlowe on the board.
Greenwich would respond with an eight-play drive capped off by a nine-yard pass from Connor Langan to his tight end Henry Saleeby. Since missing the first six games due to a preseason injury, Saleeby didn't skip a beat returning to the starting offense as a big target for his quarterbacks.
"He's a spark plug," Marinelli said of Saleeby. "The kid is an emotional player. He hasn't missed a practice since he's been hurt. To see a kid like that be back and have success is a true mark to the character he has and holds himself to. We're very excited that he's back. He gives us another element on offense and he's got unbelievable hands."
A Ludlowe punt would set up the Cardinals at midfield with Muir back under center. The sophomore would waste no time with the first play of the drive going to Jeremiah Harris on a fly route for a 50-yard score.
Soon enough, the Cardinal defense would score the second quarter scoring party with Bailey Ballone intercepting Ludlowe's Josh Evans on a tipped pass and bringing it back for the pick-six.
"It was a great job by our defense tonight," said Marinelli. "Bailey is a kid who works so hard. Our secondary works hard and we're going to need them down the stretch. To have that confidence going into next week is good for us."
On Ludlowe's ensuing punt, it was Hartley lined up to return the kick for Greenwich. With a few blocks and shifty moves, Hartley took it 54-yards for the special teams score, putting an exclamation point on the 36-point second quarter.
Teams took to the sidelines for halftime with Greenwich on top 47-12.
Ludlowe would score as the clock ran out before halftime, and just before the clock hit zero for the full game.
Out of the half, Hartley wasn't done though. His first run from scrimmage out of the half resulted in a 26-yard rushing score as he got a generous amount of carries tonight with the Greenwich coaching staff playing it safe with starter Kevin Iobbi.
Muir got his senior receivers involved with a 4-yard score to Henry Foster, which capped off a 61-point outing from the Cardinals.
"Henry Foster had a great touchdown," said Cardinal wide receiver Matt Morganti. "It was really exciting to see that. We needed this win. After the New Canaan game we were down a little bit, and this one was much-needed. We feel good going into Norwalk because every game is a playoff game right now."
Marinelli described his backfield as a three-headed monster, despite Tysen Comizio being held out with an injury.
"Cole is a really good running back," said Marinelli. "He would be a starter anywhere else, unfortunately Kevin Iobbi is in front of him. We have to find more ways to use him because he's an electric player."
For the seniors, a big win put the mindset back on family and focusing for their remaining three games. 
On defense, senior captain Ben Kraninger came up with a few sacks and plenty of defensive pressure to keep the Falcons from coming close. Fairfield Ludlowe scored their season-high of 27 points on the season Friday night.
"It was emotional and we love being out here," said Kraninger. "Senior night came a little early for us. We worked all four years, all of us together. It's emotional but at the same time it's a great team win. We really enjoyed watching the young guys get in there. It was a must-win and like a playoff game."
"It was all clicking," Kraninger said of the team defense. "After the New Canaan loss, we kind of went back to practice and gelled again like we were against Trumbull and Trinity Catholic. Norwalk is really athletic and they have a really great quarterback and wide receiver. It's going to be another test and we're going to have to click again like we did tonight."
For Saleeby's return to the gridiron, Friday's game had an extra motivation factor for the junior tight end. On his arm sleeve read "R.I.P. Poppy" in honor of his recently deceased grandfather.
"I played for him tonight," said Saleeby. "He was my motivation."
With the win, Greenwich improved to 5-2 while Ludlowe fell to 0-7.
The Cardinals will play their next two games on the road at Norwalk (11/4) and at Ridgefield (11/11) before returning home on Thanksgiving to play Staples (11/24).