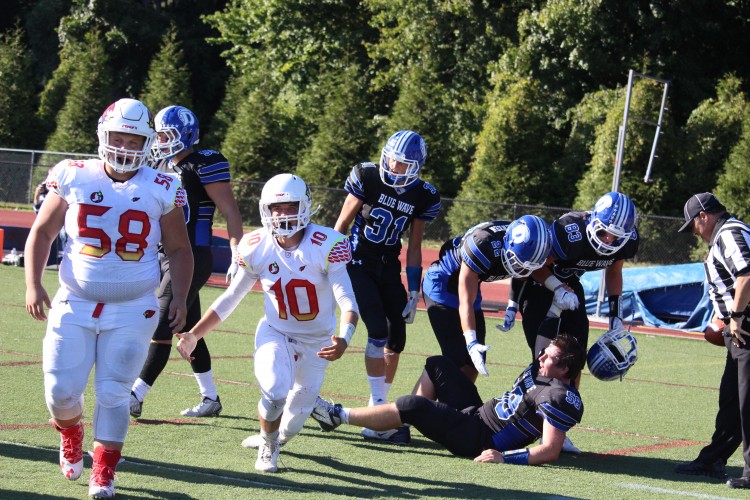 For a brief moment, the homecoming crowd turned silent on the Darien High sideline.
The Blue Wave had entered the fourth quarter with a 28-14 lead, but the state consensus No. 1 team was quickly put in unfamiliar territory after the Cardinals of Greenwich High brought the game to a tie score.
In under four minutes, Greenwich had put two drives together consisting of two scores, fueled by a key interception from the Cardinal defense.
But Darien, boasting a 14-game winning streak coming into Saturday's contest, rose to the occasion in identical fashion: two drives, two touchdowns and an interception on defense in nearly the same amount of time.
Greenwich responded yet again, but the clock hit zero on what would have been a potential game-tying drive.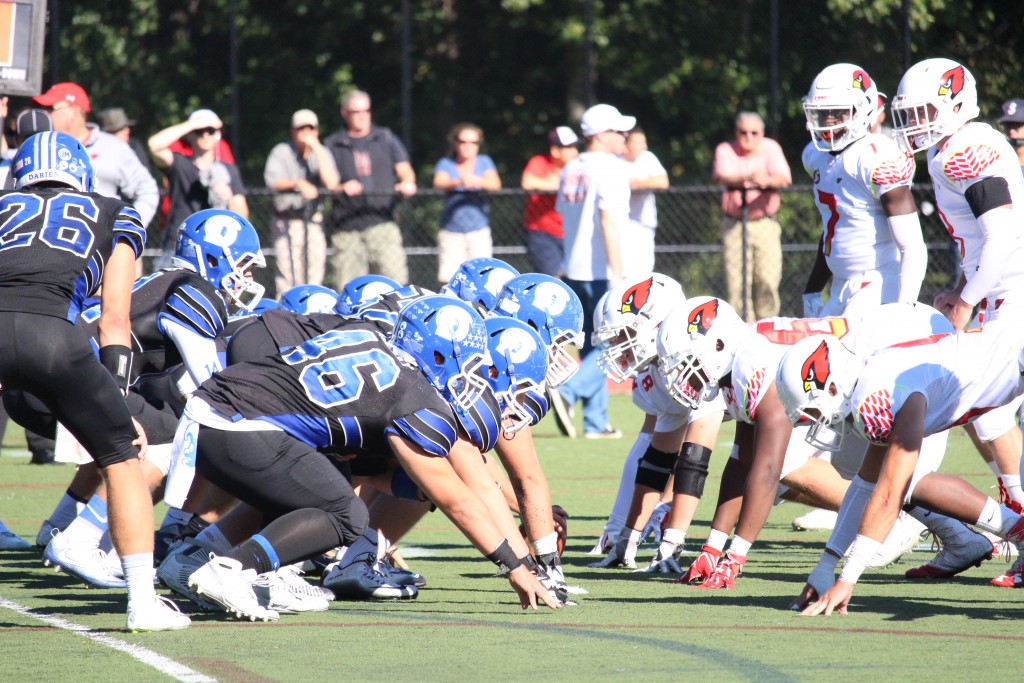 "With six minutes to go in the fourth quarter, their players came up big and made the play," said Greenwich head coach John Marinelli.
Needing a touchdown to tie, the Cardinals looked to get their senior running back Kevin Iobbi involved into an improved passing game. Senior quarterback Connor Langan hit Iobbi on two consecutive screen plays to start the drive, quickly tallying 16 yards up field. After a fourth down conversion, courtesy of Langan's all-day chemistry with receiver Matt Morganti, the Blue Wave turned the game around with a timely defensive break.
Just having crossed midfield, the Cardinals dialed in for another Iobbi screen pass, but Darien took advantage of the playcall and the lob-throw to force a collision at the point of attack.
The ball never hit the ground, rather falling into the hands of a Darien lineman.
"I didn't know how to react," said Darien senior captain and defensive end Cord Fox. "I just grabbed the ball and started running."
Cord Fox INT return for Darien #cthsfb #gamechanger pic.twitter.com/gj1DgUo2gQ

— Evan Triantafilidis (@EvanTria47) September 25, 2016
Facing the opposite direction, Fox turned around and ran for 49 yards up the right sideline to the Cardinal 2 yard line.
"I can't take any credit for that, Finlay Collins and Nick Green were in on the tackle," said Fox. "Luckily the ball ended up in my hands and I started running for my life. It was definately a game changer. It was a fun play and I'm happy I was a part of it."
Running back Mitchell Pryor would do the rest and punched it in from a yard out to put Darien up two scores.
Big Red would come within a touchdown after a two-minute nine-play touchdown drive, which included a pair of fourth down conversions, on a scramble and throw to Iobbi on fourth down.
After an almost successful onside kick and forcing a turnover on downs, Greenwich would get the ball back with just eight seconds remaining. It was too little, too late. 
"They're not the number one team in the state for any other reason than that they know how to win," said Marinelli. "We gave them a couple scores and we were sloppy at times."
After Greenwich's first drive ended in a punt, the two teams would go on to trade touchdowns twice in the first quarter resulting in 14-14. Max Grant and Pryor each had first quarter rushing scores for Darien while Greenwich took to the air for a 43-yard touchdown pass to Anthony Ferraro to get their scoring started.
Greenwich would keep up with Darien's high-powered offense with the help of a 98-yard kick return touchdown from Kevin Iobbi.
"I give us a ton of credit today," said Iobbi. "We played a great game and they made more plays in the end. This was as close as it gets."
The second quarter proved to be a defensive one, with both teams forcing punts and Greenwich's Jack Feda getting the tip drill interception.
Special teams would play a factor again on a partially blocked punt that set up Darien's go-ahead touchdown (a Nick Green 4-yard TD rush) going into halftime with the score at 20-14.
Darien's defense would pitch a scoreless second and third quarter, including a crucial pair of turnover on downs, while Green found the endzone again from two yards out.
The fourth quarter comeback for the Cardinals started with a 39-yard reception by Matt Morganti followed by a 10-yard rushing score from Langan.
Jeremiah Harris would high point the ball and come down with the interception to set up the high point for Greenwich on the day.
After a one-handed grab on a slant route, Ferraro streaked into the endzone and made an athletic play on a tipped ball to bring down the game-tying score.
Langan to Ferraro 24-yard TD #cthsfb pic.twitter.com/60XVQ1fUb1

— Evan Triantafilidis (@EvanTria47) September 25, 2016
But Darien's response was just what you would expect from the top team in the state. Tim Herget would bring down a 55-yard touchdown pass from Brian Peters and Pryor's two-yard rushing score would put the Blue Wave up 14.
The final score read 42-35, as Darien was undoubtedly tested for all four quarters on the day.
"Greenwich is an amazing team," said Fox. "I think we took it as a slap in the face. It kind of woke us up. We're not immortal."
On the Greenwich side, Marinelli said his defense played better than his offense, and that special teams played a role in this back and forth matchup.
"Being in games like this late and losing them is going to be beneficial for us down the line," said Marinelli. "Special teams with these two good teams, that's going to be the difference maker."
Langan finished the day going 25-39 with 349 passing yards.
"We kept reminding ourselves to pick our heads up during the game," said Langan. "We scored two and then they came back to score two. We found out a lot about us today. Darien is a great team."
His receivers, Anthony Ferraro (6 rec, 107 yards) and Matt Morganti (8 rec, 130 yards) each had big days, including Iobbi who caught eight passes for 94 yards. Tyler Farris recorded a single reception and supplied a big kick return to midfield early in the game.
"We need to be a lot more crisp on special teams," said Farris. "All-around, we need to be more crisp. We did a hell of a job and we're definitely going to be back."
Greenwich drops to 2-1 while Darien stays perfect at 3-0 on the season. Up next for the Cardinals will be Bridgeport Central at home on Friday at 6:00 pm.
First Quarter
D – Grant 7 yard pass (Kick good)
G – Ferraro 43 yard pass (kick good)
D – Mitchell Pryor 3 yard run (kick good)
G – Iobbi 98-yard kick return (kick good)
Second Quarter
D – Green 4 yard run (kick no good)
Third Quarter
D – Green 2 yard run (2 point xp good)
Fourth Quarter
G – Langan 10 yard run (kick good)
G – Ferraro 24 yard pass (kick good)
D – Herget 55 yard pass (kick good)
D – Pryor 1 yard run (kick good)
G – Iobbi 7 yard pass (kick good)